No recent updates in this category.
Why not...
Daisy Rock Guitars presents Pretty In Punk! hasn't earned any badges yet... have you?
General

Originally created as a one-time fundraising event, Pretty In Punk began as a benefit for breast cancer awareness and prevention. Five years later, the event has grown into an annual charity event, combining President Tish Ciravolo's mutual love and appreciation of giving back to the community and showcasing women in rock. "I wanted to create an event where female musicians could showcase their talents while at the same time uniting to support an important cause," Ciravolo said. "I feel like just yesterday we planned the first Pretty In Punk event. It's an amazing feeling to cross this 5th anniversary milestone and know all the people who have helped us make a difference through music."


Daisy Rock is excited to announce the dedication of the 5th Annual Pretty In Punk as a Tribute to The Runaways. In celebration and appreciation of their achievements and music, each slotted Pretty In Punk artist will perform a rendition of their favorite Runaways song.


Past Pretty In Punk events have been hosted at The Gig and at The Key Club in Hollywood, and have attracted sponsors of all types, including the Silverlake Conservatory of Music, Rock Me Makeup, Aveda, and Punk's Not Dead – the movie. This year Daisy Rock raises the bar by securing infamous LA venue The Roxy and sponsorship from female music and culture publication VenusZine.

Music

The Runaways The Bangles Amy Kuney Whispertown 2000 Karmina Paris Carney sASSafrASS 5 o'clock Shakedown
About me:
Daisy Rock is excited to announce Pretty In Punk – A Tribute to The Runaways & 5th Annual Charity Event on Friday, March 13, 2009 at The Roxy in Los Angeles, California, with 100% of the proceeds benefitting the Tianna Teegarden Memorial Fund through The Children's Hospital of Los Angeles and Make A Wish Foundation. ..
Daisy Rock's 5th Annual Pretty In Punk: A Tribute to The Runaways
sASSafrASS at Pretty in Punk 2006, w/Janet Robin
Join Daisy Rock for the 5th Annual Pretty In Punk: A Tribute to The Runaways! featuring The Bangles, Amy Kuney, Whispertown 2000, Karmina, Paris Carney, 5 o'clock Shakedown, and President Tish Ciravolo's band sASSafrASS with special guest Cherie Currie of The Runaways!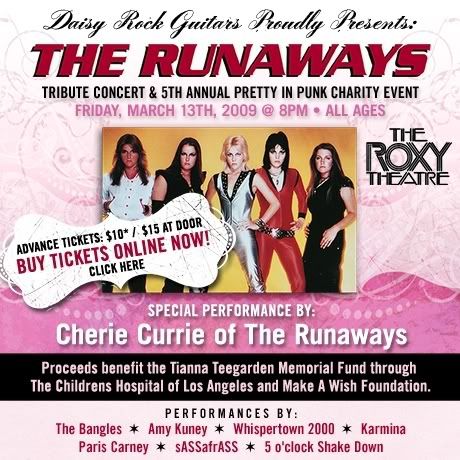 Who I'd like to meet:
Girls who ROCK!
Status:

Single

Zodiac Sign:

Gemini