No recent updates in this category.
Why not...
Dallas Bicycle Polo hasn't earned any badges yet... have you?
General

WINTER TOURNAMENT
INFORMATION:

Supply your equipment;
Bike. Mallet. Beer.



-Teams of 3 on 3.

-Foot down = ring bell at Center Court, north fence.

-Each match is played until a team reaches 3 or 5 points, depending on how hardcore it is.

-Ample beer chugging breaks, between matches.

-Right and Left Handed play allowed.

-Round Robin Tournament = will depend on number of teams present.

-$10.00 per person.

-Winning team = the money.

For press inquiries, questions regarding rules, or what it feels like to win, please contact Polo Leader, and Reigning Champion,
..Owen...

Music

Motley Crue.
Motorhead.
Michael Jackson.

Movies

Rollerball.
Mad Max.
Mad Max 2: The Road Warrior.
Mad Max: Beyond Thunderdome.
Breakin' Away.
American Flyers.
Vanishing Point.
Quicksilver.
Slapshot.
The Mighty Ducks.
The Mighty Ducks 2.

Television

Books

Heroes

Free Wheels.
Fibreglass.
Samuel Adams.

About me:
..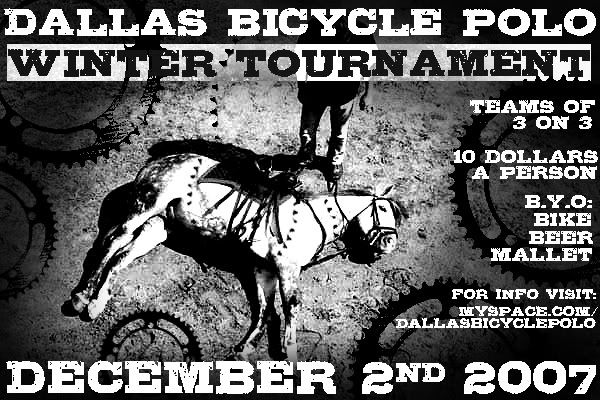 GAMES PLAYED EVERY SUNDAY NIGHT.
8:00 PM.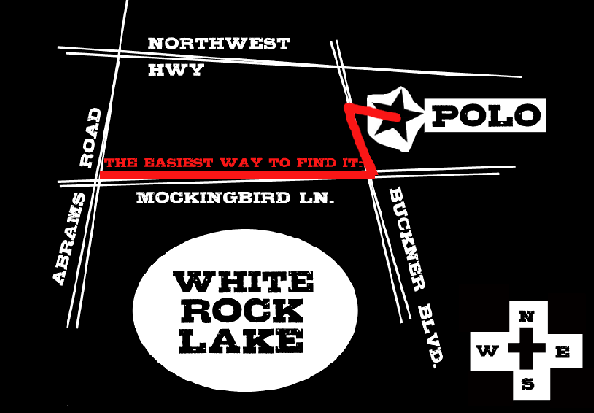 Norbuck Park, Buckner and Mockingbird.
Make a mallet, bring some beer.
Make Polo Action!!!
Make Sport!!
.. .. ..
Who I'd like to meet:
Ladies, Girls, Drunk Girls, Hot Girls, Hot Moms,
Beeramid Champions, Frank the Tank, Ralph Lauren,
Fun Good Time Action Friends.
Status:

Swinger

Here for:

Networking, Dating, Serious Relationships, Friends

Hometown:

DALLAS

Zodiac Sign:

Capricorn

Smoke / Drink:

Yes / Yes