Play

Play Next

Add to queue
Play

Play Next

Add to queue

14,761 plays

Play

Play Next

Add to queue

7,898 plays
Genre: Blues / Country / Folk

Location NASHVILLE, Tennessee, US

Profile Views: 103305

Last Login: 4/24/2008

Member Since 1/2/2006

Website http://www.davidfrizzell.com

Record Label Nashville America Records

Type of Label Indie

Bio

David Frizzell.... Biography -.... In any discussion about the greatest voices in country music, David Frizzells name is certain to come upat least among those who know country music. And its not just because he bears a vocal resemblance to his older brother, that ultimate stylist, Lefty Frizzell. While both share the forlorn, stripped-down quality of singing that is so essential to interpreting traditional country themes, Davids voice is even more resonant and nuanced, a perfect instrument for electrifying the lyrics of a song.... With the release of his 12th solo album, Confidentially, Frizzell reasserts the vocal stature that has earned him a lengthy string of radio hits, dozens of award and prominence on concert stages around the world..... Produced by Frizzell and released on his own Nashville America Records label, Confidentially features guest performances by Jimmy Fortune (of the Statler Brothers), John Cowan (New Grass Revival) and his first male/female duet in more than 10 years, the self-penned Why Wasnt It Me. Joining him in this vocal pairing is the supremely talented Amy Clawson. The album holds a particular treat for long-time Frizzell fansa previously unreleased duet with Shelly West..... While still a teenager, David Frizzell left home to perform and tour with his legendary brother. In that role, he worked the concert circuit with many of the mightiest names in country music. By his 18th birthday, Frizzell began recording country and rockabilly albums for Columbia Records. Although a four-year hitch in the military slowed his emerging musical career, Columbia immediately re-signed Frizzell after his discharge..... In spite of the difficulty of working in Leftys shadow, David gradually created his own artistic identity. He recorded and charted the first country version of L.A. International Airportmonths before Susan Raye made it a hitand followed it with a Top 40 rendition of I Just Cant Help Believing, the B. J. Thomas pop favorite. Frizzell then parlayed his recording successes into headlining country shows in Las Vegas. This bold move opened the Vegas gates for many other country acts..... In the early 1980s, Frizzell founded the musical duo of Frizzell & West. His partner in this exciting enterprise was the gorgeous and gifted Shelly West, daughter of country superstar Dottie West. After recording Youre The Reason God Made Oklahoma to showcase their fresh-as-Spring sound, Frizzell & West suffered the indignity of being turned down as an act by every major country label. Then their producer, Snuff Garrett, played the song for Clint Eastwood..... Eastwood loved it and insisted on adding Youre The Reason to the soundtrack of his forthcoming film, Any Which Way You Can. This vote of confidence soon earned Frizzell & West a record contract with Warner Bros. Then things really started to happen. A small radio station in Tulare, California was the first to play it, when it was still an album track. Other stations quickly followed, prompting Warner Bros. to release it as a single. In short order, the song that nobody wanted became a smash hit and is ..6 in CMTs list of recent 100 Greatest Duets..... Frizzell & West went on to become one of the hottest and most-awarded acts in the business. They recorded five albums together, won the Country Music Assn.s Vocal Duo of the Year prize twice and sold out arenas worldwide..... During his duet years with West, Frizzell continued his solo career. He scored a huge chart-topping hit with Im Gonna Hire A Wino To Decorate Our Home. The record, which has since become a standard, was recently featured on CMTs 40 Greatest Drinking Songs in Country Music, making ..17 in the countdown..... Besides his CMA awards, Frizzell has won numerous performing and recording trophies from the Academy of Country Music, Billboard and Music City News. In addition, he has been nominated for three Grammys, both as part of Frizzell & West duet and as a solo act..... Apart from a 14-month-long tour to support his new album, Frizzell is also working on a television tribute to Lefty Frizzell and a series of childrens records and books, projects that promise to keep this prolific artist, producer and songwriter busier than ever..... Contact:.... Jerry Adams / Manager .. Symons, Adams & Myers.. Promotion & Talent Co. LP.. 615-216-6466 TN.. 419-619-0555 OH.. 775-908-7623 Fax .... ........ *Click CD Cover to Purchase* DAVID FRIZZELL CONFIDENTIALLY - THE ULTIMATE PACKAGE.... ........CLICK HERE.. TO GET A PRE-MADE LAYOUT..

Members

Influences

Sounds Like
No recent updates in this category.
Why not...
Bio:
David Frizzell
Biography -
In any discussion about the greatest voices in country music, David Frizzells name is certain to come upat least among those who know country music. And its not just because he bears a vocal resemblance to his older brother, that ultimate stylist, Lefty Frizzell. While both share the forlorn, stripped-down quality of singing that is so essential to interpreting traditional country themes, Davids voice is even more resonant and nuanced, a perfect instrument for electrifying the lyrics of a song
With the release of his 12th solo album, Confidentially, Frizzell reasserts the vocal stature that has earned him a lengthy string of radio hits, dozens of award and prominence on concert stages around the world.
Produced by Frizzell and released on his own Nashville America Records label, Confidentially features guest performances by Jimmy Fortune (of the Statler Brothers), John Cowan (New Grass Revival) and his first male/female duet in more than 10 years, the self-penned Why Wasnt It Me. Joining him in this vocal pairing is the supremely talented Amy Clawson. The album holds a particular treat for long-time Frizzell fansa previously unreleased duet with Shelly West.
While still a teenager, David Frizzell left home to perform and tour with his legendary brother. In that role, he worked the concert circuit with many of the mightiest names in country music. By his 18th birthday, Frizzell began recording country and rockabilly albums for Columbia Records. Although a four-year hitch in the military slowed his emerging musical career, Columbia immediately re-signed Frizzell after his discharge.
In spite of the difficulty of working in Leftys shadow, David gradually created his own artistic identity. He recorded and charted the first country version of L.A. International Airportmonths before Susan Raye made it a hitand followed it with a Top 40 rendition of I Just Cant Help Believing, the B. J. Thomas pop favorite. Frizzell then parlayed his recording successes into headlining country shows in Las Vegas. This bold move opened the Vegas gates for many other country acts.
In the early 1980s, Frizzell founded the musical duo of Frizzell & West. His partner in this exciting enterprise was the gorgeous and gifted Shelly West, daughter of country superstar Dottie West. After recording Youre The Reason God Made Oklahoma to showcase their fresh-as-Spring sound, Frizzell & West suffered the indignity of being turned down as an act by every major country label. Then their producer, Snuff Garrett, played the song for Clint Eastwood.
Eastwood loved it and insisted on adding Youre The Reason to the soundtrack of his forthcoming film, Any Which Way You Can. This vote of confidence soon earned Frizzell & West a record contract with Warner Bros. Then things really started to happen. A small radio station in Tulare, California was the first to play it, when it was still an album track. Other stations quickly followed, prompting Warner Bros. to release it as a single. In short order, the song that nobody wanted became a smash hit and is ..6 in CMTs list of recent 100 Greatest Duets.
Frizzell & West went on to become one of the hottest and most-awarded acts in the business. They recorded five albums together, won the Country Music Assn.s Vocal Duo of the Year prize twice and sold out arenas worldwide.
During his duet years with West, Frizzell continued his solo career. He scored a huge chart-topping hit with Im Gonna Hire A Wino To Decorate Our Home. The record, which has since become a standard, was recently featured on CMTs 40 Greatest Drinking Songs in Country Music, making ..17 in the countdown.
Besides his CMA awards, Frizzell has won numerous performing and recording trophies from the Academy of Country Music, Billboard and Music City News. In addition, he has been nominated for three Grammys, both as part of Frizzell & West duet and as a solo act.
Apart from a 14-month-long tour to support his new album, Frizzell is also working on a television tribute to Lefty Frizzell and a series of childrens records and books, projects that promise to keep this prolific artist, producer and songwriter busier than ever.
Contact:
Jerry Adams / Manager
Symons, Adams & Myers
Promotion & Talent Co. LP
615-216-6466 TN
419-619-0555 OH
775-908-7623 Fax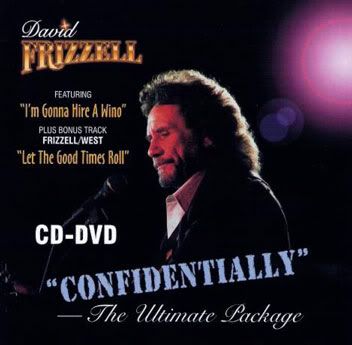 *Click CD Cover to Purchase* DAVID FRIZZELL CONFIDENTIALLY - THE ULTIMATE PACKAGE
..
CLICK HERE TO GET A PRE-MADE LAYOUT
Member Since:
January 02, 2006
Record Label:
Nashville America Records