Play

Play Next

Add to queue
Play

Play Next

Add to queue

3,097 plays

Play

Play Next

Add to queue

531 plays

Play

Play Next

Add to queue

347 plays

Play

Play Next

Add to queue

307 plays

Play

Play Next

Add to queue

181 plays
Genre: Blues / Punk / Rock

Location NEW YORK, New York, US

Profile Views: 19355

Last Login: 1/11/2010

Member Since 3/1/2007

Record Label Baylor Records, Brakeout (Germany), Leather Lung

Type of Label Indie

Bio

From the ashes of the Swamp Goblyns and the Kretins, some time around 1986 in New York City's Lower East Side, emerged Da Willys. A motley crew of trashed out punk rock rejects with a singer obsessed with Howlin Wolf and a guitarist obsessed with Johnny Thunders, they shared a love of intoxicants and produced a pungent musical brew of wailing blues, 60s garage and Ramones-style NY punk. The band was together from 1986-1990; Leon Ross passed on in 1992. In 2006 original members Willy Kerr and Lynne Von, along with special guest Alan Landis of Hammerbrain, played a reunion show to a malt-liquor soaked crowd at Otto's Shrunken Head in NYC. Lynne Von continues to flex her leather lungs with THE VONDELLS- performing songs from her extensive catalog of originals (including DaWillys classics) along with unique interpretations of punk rock favorites. .. .. .. .. .. .. ..

Members

Leon Ross-Guitar, Lynne Von-Vocals, Peter Landau-Drums, Willy Kerr-Bass (86-88), Jenna McGrath-Bass (88-90) .. .. .. .. .. .. .. ..

Influences

Covered songs by a diverse range of artists including Wayne County & the Electric Chairs, Captain Beefheart, Wanda Jackson, Eater, the New York Dolls, Teenage Head, (Seattle 1960s band) the Wailers, (60s Philly soul singer) Jackie Lee, Ike and Tina Turner, the Real Kids; rock and roll standards "Roadrunner" and "Louie Louie", and MORE!

Sounds Like

.............. In the pre-dawn of the bubble-grunge revolution, there was a weird strata of bands in New York. They had some of the revo-garage moves of earlier Midnight combos, and they shared a certain scum-dynamism with the S.I.N. Club groups, but they belonged to neither camp. They were just drunk, fucked-up punks with dreams of naught but nada, and thirsts so great they cast their own shadows. These bands represented a messy musical sub-category, only muzzily-defined around the edges, but they had a sound you could always recognize when you heard it. The Raunch Hands had it. So did the Devil Dogs. And so do Da Willys. Buckets of it. With roots in highly obscure, semi-legendary NY garage-gangs, Da Willys were guitarist Leon Ross, drummer Peter Landau, bassist Willie Kerr and singer Lynne Von. A later version of the band recorded a German album called Saturday Nite Palsey, but Get Ugly is the real deal -- the original line-up, drunk and disorderly at Wharton Tiers' Fun City Studios in the summer of '88. The combination of Lynne's deep-throat blues-belt and Leon's Thunders-damaged string-throb is an ear wreck that sounds like no other. This is growling vom blues on a par with anything Billy Childish dreamed on the wettest night of his life. The covers they tear into (the Fugs' "Frenzy" and Beefheart's '"Frying Pan") are obscure enough to tag the quartet as record scum, but hey – they do both songs like they wrote 'em, so what the hell? If Da Willys had hung around long enough it's possible they would have merited some of the attention subsequently drooled all over "grunge" bands who weren't fit to lick the bourbon-soaked tips of Willie's afro. But actually it's probably weird they existed for as long as they did. The dark streets of crack-era New York were nobody's idea of a picnic, no matter how loaded you were. And Da Willys may have been loaded as fuck, but they weren't immortal. At least they weren't until now. Get on yr knees, brothers and sisters. Get on yr knees and prepare to be anointed by Da Willys. --Byron Coley
No recent updates in this category.
Why not...
03:12 | 448 plays | Nov 4 2007
Bio:
From the ashes of the Swamp Goblyns and the Kretins, some time around 1986 in New York City's Lower East Side, emerged Da Willys. A motley crew of trashed out punk rock rejects with a singer obsessed with Howlin Wolf and a guitarist obsessed with Johnny Thunders, they shared a love of intoxicants and produced a pungent musical brew of wailing blues, 60s garage and Ramones-style NY punk. The band was together from 1986-1990; Leon Ross passed on in 1992. In 2006 original members Willy Kerr and Lynne Von, along with special guest Alan Landis of Hammerbrain, played a reunion show to a malt-liquor soaked crowd at Otto's Shrunken Head in NYC. Lynne Von continues to flex her leather lungs with THE VONDELLS- performing songs from her extensive catalog of originals (including DaWillys classics) along with unique interpretations of punk rock favorites. ..
Member Since:
March 01, 2007
Members:
Leon Ross-Guitar, Lynne Von-Vocals, Peter Landau-Drums, Willy Kerr-Bass (86-88), Jenna McGrath-Bass (88-90)
Influences:
Covered songs by a diverse range of artists including Wayne County & the Electric Chairs, Captain Beefheart, Wanda Jackson, Eater, the New York Dolls, Teenage Head, (Seattle 1960s band) the Wailers, (60s Philly soul singer) Jackie Lee, Ike and Tina Turner, the Real Kids; rock and roll standards "Roadrunner" and "Louie Louie", and MORE!
Sounds Like: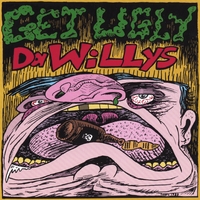 In the pre-dawn of the bubble-grunge revolution, there was a weird strata of bands in New York. They had some of the revo-garage moves of earlier Midnight combos, and they shared a certain scum-dynamism with the S.I.N. Club groups, but they belonged to neither camp. They were just drunk, fucked-up punks with dreams of naught but nada, and thirsts so great they cast their own shadows. These bands represented a messy musical sub-category, only muzzily-defined around the edges, but they had a sound you could always recognize when you heard it. The Raunch Hands had it. So did the Devil Dogs. And so do Da Willys. Buckets of it. With roots in highly obscure, semi-legendary NY garage-gangs, Da Willys were guitarist Leon Ross, drummer Peter Landau, bassist Willie Kerr and singer Lynne Von. A later version of the band recorded a German album called Saturday Nite Palsey, but Get Ugly is the real deal -- the original line-up, drunk and disorderly at Wharton Tiers' Fun City Studios in the summer of '88. The combination of Lynne's deep-throat blues-belt and Leon's Thunders-damaged string-throb is an ear wreck that sounds like no other. This is growling vom blues on a par with anything Billy Childish dreamed on the wettest night of his life. The covers they tear into (the Fugs' "Frenzy" and Beefheart's '"Frying Pan") are obscure enough to tag the quartet as record scum, but hey – they do both songs like they wrote 'em, so what the hell? If Da Willys had hung around long enough it's possible they would have merited some of the attention subsequently drooled all over "grunge" bands who weren't fit to lick the bourbon-soaked tips of Willie's afro. But actually it's probably weird they existed for as long as they did. The dark streets of crack-era New York were nobody's idea of a picnic, no matter how loaded you were. And Da Willys may have been loaded as fuck, but they weren't immortal. At least they weren't until now. Get on yr knees, brothers and sisters. Get on yr knees and prepare to be anointed by Da Willys. --Byron Coley
Record Label:
Baylor Records, Brakeout (Germany), Leather Lung