Genre: Folk / Indie / Pop

Location BROOKLYN, Un

Profile Views: 764112

Last Login: 5/6/2013

Member Since 5/12/2005

Website www.dawnlandes.com

Record Label Cooking Vinyl

Type of Label Indie

Bio

Titling her third album <i>Sweet Heart Rodeo</i> might appear a calculated risk but singer-songwriter Dawn Landes, Kentucky-born and Brooklyn-based, swears she didn't have the Byrds' pioneering 1968 country-rock classic "Sweetheart of the Rodeo" in mind. Instead she was thinking of her great-grandmother's beau, a young man who ran away to join the rodeo during the Great Depression and decades later inspired Landes to write the title song. A rodeo theme runs throughout the record, as Landes compares the ups and downs of romance to the rigours of bull riding. "I guess you could say each song is like its own bull," the twenty-eight-year-old deadpans, "each ride its own love-story...you know, trying to hang on to a wild thing isn't always graceful." Her feminist approach proved problematic when it came to turning up images of feisty cowgirls for the artwork. "There aren't many female bull riders," she admits. And with good reason. "I went to a few rodeos as research. They don't stay on those things very long." Though she grew up in Louisville her perfect variations on country and folk music have all been recorded in her adopted hometown of Brooklyn. The culture clash of urban and rural traditions is an intriguing base for Landes' material and audience. She spent most of 2008 touring with a variety of country/folk and indie-rock stalwarts like The Tindersticks, Midlake, Josh Ritter, Jason Isbell (of the Drive by Truckers), Alexi Murdoch and the Swell Season, to name a few. And though she might recognize kindred spirits in contemporaries like Conor Oberst and Jim James of My Morning Jacket, Landes is blessed with a voice as pure and ringing as any folk or country diva. The voice has always been there, but it's taken a while to be heard. Her first self-released records, simply called Dawn's Music and the EP two three four effectively proved her talent, but it was 2008's acclaimed Fireproof that revealed it to the world. Around that time her splendid bluegrass cover of Peter Bjorn and John's instant classic "Young Folks," performed with an elderly group of Texans called The WST Band ("It stands for 'we sorta tried'"), became a YouTube favorite. "Straight Lines," one of her best-known songs, sound-tracked in adverts on both sides of the Atlantic. Here it accompanied a cute campaign to encourage urban cycling. There it promoted Axe, the local equivalent of Lynx and the preferred perfume of adolescent males. Its writer was bemused. "The same song was used to promote bicycling in a childlike way and men's deodorant in a sexual way. What does that mean?" she once pondered. For a while she lived in France, learning to love Gainsbourg, Brassens and Francoise Hardy, and spent her time in Paris at the most unlikely joints. "I found myself in a lot of situations I wouldn't have been invited to otherwise," she says, "I played a lot of parties, fashion parties, one in a hotel where there was a bubble bath filled with champagne!" As you can imagine this is a world she doesn't usually inhabit. Since her last release, Landes (her surname has two syllables) has finished fitting out her own studio, Saltlands in Brooklyn. "I actually built it! Some friends and I put up the walls and floated the floors," she declares proudly, christening it with the recording of Sweet Heart Rodeo. Again working with regular collaborator, drummer and all-rounder Ray Rizzo, her recording outfit was completed by guitarist Josh Kaufman and bassist Annie Nero, a couple (of musicians) that she met on the road. A cover of Kaufman's composition, the charming, gentle "Dance Area" fits perfectly alongside Landes' own material. "Sweet Heart Rodeo" is packed with fine tunes, again beautifully sung. The opener "Young Girl" ponders gender stereotyping--competitive boys, jealous girls--over a reductive and distorted keyboard riff. The deceptively cutting "Romeo" berates a certain someone who ruined one of Landes' birthdays by standing her up. No wonder she borrows a hook from "16 Tons," Tennessee Ernie Ford's fifties nugget of resignation. The haunting 'Money In The Bank' marries down-home hippie wisdom ('the night before you die, what are you gonna buy?') to a glorious chorus bolstered by a wistful French horn. Dawn even drums on an unlikely cover of Margo Guryan's already unlikely "Love," a 1968 collision of cool jazz and nascent psychedelia. "She's amazing, one of these unsung geniuses like Vashti Bunyan was, who made one fabulous record then disappeared," she says of the woman behind the lost classic "Take A Picture." Rizzo's idiosyncratic harmonica style ("kinda cloudy--the opposite of ethereal") boosts the quirky "Wandering Eye," a rare song that combines sex and travel without causing offence, while "Little Miss Holiday" imagines a conversation between Jodie Foster and the teenage hooker that inspired her character in Scorsese's unhinged "Taxi Driver." It's tender rather than bleak. "Brighton" is a tribute to a magical day in that great Southern (English) town, yet it could hardly sound more American, Appalachian even. "I hope I captured it in the song," she says. By the album's conclusion, the wobbly wedding march of "All Dressed In White," you'll probably be thinking of giving love a try. Even if it does hurt when you fall off. .. .. .. .. .......... .. .. .......... ..ON TUMBLR!.. Check out the latest from Dawn herself, as she chimes in with tales and photos and video from the road. Or the studio. Or home. Or somewhere in between... .. .. .. .......... .. .. .. .. .. ...... .... .. .. .. .. .. .. .. ....Dawn Landes - Love (Disco Version).. by ..Cooking Vinyl.... .. .. .... .. .. .. .. .. .... .. .. .. ........ .... .. .. .. .. .. ...... .. .. Listen to dawn's music and you hear something quite rare. Whether it's in her wordplay, her kaleidoscopic live shows, her soundtrack work for motion pictures, or the studio-wizardry she's picked-up as a recording engineer, it's clear that she's an artist with a unique vision. .... The press has likened Dawn to "the grand old dames of country" and in the same breath "The Black Keys and The White Stripes" (Uncut). She's also garnered comparisons to Cat Power and Pavement, an interesting mix that made even NPR's David Dye wonder. .... Raised in the fertile musical fields of Branson, Missouri and Louisville, Kentucky, Dawn came to New York City in 1999 and did a cannonball into the music scene. While holding down several jobs to pay the rent, she abandoned university (NYU) and began to intern at some of the best studios in the city. "I had very little experience", she says. "I was just really, really curious. Dangerously curious in the studio... I picked heros like Tchad Blake and Brian Wilson and took a flying leap." .... What started as a job getting coffee for engineers has blossomed into a truly enviable resume; among others she has worked with Phillip Glass, Ryan Adams, Hem, Joseph Arthur, The Earlies and Josh Ritter in the studio. Working late into the night, and often sleeping at the same studios she was interning in, Dawn began producing and recording her own songs after hours. "I wanted to get the sounds in my head onto tape exactly as I heard them. And that's not an easy thing, there are a lot of sounds in there!" .... After meeting the band Hem in the studio, Dawn joined them on the road as an 8th band member (vocals and glockenspeil) and opening act. Her performing career started to gain speed. Her first full-length, "dawn's music" was released in France in 2005, followed by extensive touring in Europe and two other European releases; "234" a 7-song EP released in the UK and finally "Fireproof", released worldwide in 2007. Since then her music has become the stuff of whispers and internet buzz, and her touring schedule has put her on the road with artists such as Feist, Jose Gonzales, Midlake, Suzanne Vega, Martha Wainright, The Swell Season......(the list goes on) At times solo, at times with a revolving cast of musical guests, her shows have the guileless and vibrant quality of a work of art in constant creation. .... Recently, Dawn penned the end-credit song for the movie "Savage Grace" starring Julianne Moore and plucked the WST Bluegrass band from a BBQ in Austin, TX to help her record her version of the Peter, Bjorn and John classic, "Young Folks." Rumor has it, James Blunt liked it so much he covered dawns cover of the song! In 2007 Landes became the co-partner, designer and full-time dry-waller of Saltlands Studio in Brooklyn. "What if we get bored?" Dawn sings in the Fireproof gem, "Kids in a Play." In the coming months, and in-between hefty periods of touring, the one-woman-whirlwind that is dawn Landes will be in the studio that she built to record and produce new songs for her third full- length record. It doesn't seem there's any chance that she'll be bored any time soon. .... .. .... .. .. ..

Members

Influences

Beck, Neutral Milk Hotel, Willie Nelson, Linda Ronstadt

Sounds Like
now plays Tour Dates

Automatically display your band's upcoming tour dates with ticket links on your myspace profile!
"Studios showed her how hard the business is. She continued to write and perform, but she also learned how to engineer and produce… And then, as the female singer/songwriter Bible dictates, she went to Paris. Where, according to that same Bible, she got her first contract and made her first CD."
- HUFFINGTON POST profile on Dawn Landes
Kentucky born Dawn Landes first traveled to Paris to perform in the Les Femmes s'en Mêlent festival as a 22 year old songwriter. Her hand-made cds caught the attention of indie label Ocean Music who released her first album "Dawns Music" in France in 2005. She toured the country for the next few years, not speaking a word of French. Picking up bits of slang from the musicians she met on the road, Landes started to learn the songs of French greats Serge Gainsbourg, Francoise Hardy and Georges Brassens. When Paris-based label Fargo released her second album "Fireproof" in 2008, it was praised by the European press and she appeared on many French radio programs, touring the French countryside with artists such as Feist and Andrew Bird. Shortly after, Landes moved from New York to Paris into a little flat near Parc Georges Brassens. One morning she found herself at an antique book fair in the park and discovered a picture book with a 45" vinyl record titled "George Brassens Chante Pour Les Enfants" (George Brassens Sings for Children). The songbook inspired her to write the first song on this album "Mal Habillée" (Badly Dressed) in nursery rhyme style: part sweet, part sinister.
"Writing in a new language is a beautiful contrast," says Landes. "You have the wonder and vocabulary of a child but the desires of an adult." Working in collaboration with French songwriters and friends, Landes delivers a collection of eight French songs in the musical style of Yé-Yé, with guest appearances by singers Matthew Caws (Nada Surf), Tunde Adebimpe (TV on the Radio) and more. Accompanying the album is a large format picture book with translations and illustrations. It is now available as a digital e-book and also in old-fashioned print form.
---



ON TUMBLR! Check out the latest from Dawn herself, as she chimes in with tales and photos and video from the road. Or the studio. Or home. Or somewhere in between...



---
Dawn Landes - Love (Disco Version) by Cooking Vinyl

dawnlandes.com
facebook
tumblr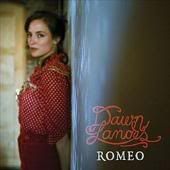 "Romeo" now on iTunes
As heard in the Oct 18th episode of HBO's
Bored to Death
BUY HERE:
Amazon
iTunes





"...songs from the seat of an aimless dreamer" PASTE MAGAZINE

"Cool and supple song-writing... Alt-folk with an imaginative lyrical tilt." TIME OUT

"Odd dream-like songs, thumb pianos and gorgeous boho-folk... Bewitching American folk siren" UNCUT