Play

Play Next

Add to queue
Play

Play Next

Add to queue

1,447 plays

Play

Play Next

Add to queue

109 plays

Play

Play Next

Add to queue

118 plays

Play

Play Next

Add to queue

57 plays

Play

Play Next

Add to queue

56 plays
Genre: Blues / Indie / Rock

Location CLEVELAND, Ohio, Un

Profile Views: 60441

Last Login: 1/5/2012

Member Since 3/12/2007

Website http://www.msplinks.com/MDFodHRwOi8vZGVhZGd1eWJsdWVzLmJhbmRjYW1wLmNvbQ==

Record Label Whiskey Island Records

Type of Label Indie

Bio

THE NEW SINGLE: "I Can Be Your Buddy But I Can't Be Your Guy (Buddy Guy Blues)" can be downloaded here. .... .......... .... THE NEW DEAD GUY BLUES CD IS HERE! .... .......... .... ..DEAD GUY BLUES LIVE...... .. .. .. .. .. .. .... .. Download all 13 songs for only $5.00!.. .... .......... .... For Song License click here: .. .. .. .. .. .. License this music for commercial use through ..Pump Audio.. .. .. .. .. .. .. This work is licensed under a ..Creative Commons Attribution 2.5 License.. .... Living as an illegal alien and partying like a rock star in Mexico City for 7 years guitarist/singer/songwriter Jeff Powers cut his teeth in various blues bands there. Though Jeff moved to Mexico City to perform and teach classical guitar he soon dropped out of the cozy and well paid classical world to live and play in the down and dirty clubs, jails, and places at the end of dirt roads (street parties). .... Barely eking out a living Jeff would cross the entire city with guitar and amp in hand by bus and subway to get to a gig or rehearsal but during his years there he wrote over 200 songs and developed his own standout style of blues guitar based around his virtuoso classical technique. .... It took a lot of gigs, tequila, beer, pulque and mota (a staple of the Mexican bluesman) to make the change but Jeff left Cleveland as a classical artist and returned a full fledged bluesman! He traded in his tux for a bad ass hat. .... Soon after returning to the Cuyahoga Delta Jeff put together Dead Guy Blues to showcase his guitar, vocal and songwriting skills. Even though Jeff loves traditional blues of all kinds his mission is to take it (the blues) somewhere else…laying down songs with twists and turns in the lyric, rhythm and chord changes, hence songs like: "Aztec Trot" (something you might encounter after drinking the Mexican water, "Roadkill", "Cold Wind in Cleveland", "I Miss My Ball and Chain" (a not so tender love song), "Bad Voodoo", "Beer and Whiskey, Coffee and Cigarettes", "Throw This Dog a Bone" and "Drunk as a Skunk". .... Their recordings show case only original songs but live they'll tear it up on anything blues or anything that can be made into blues. From Link Ray's classic "Rumble" to garage rock of the 60's even an electric version of Stephen Still's "Treetop Flyer" or a delta finger picked version of Hendrix's classic "Voodoo Chile" (it will blow your mind), hell!they'll turn a polka and into blues…nothing's sacred! They even turn surf instrumentals into something they can crank on some roaring blues. .... First Dead Guy Blues CD .... ...... .... The new DGB CD cover...release date set for January 2009 .... ......

Members

Jeff Powers: Vocal, Guitar Chris Boross: Vocal, Bass Steve Zavesky: Drums

Influences

SRV, Johnny Winter, Jimi Hendrix, Muddy Waters, Paul Butterfield, Z.Z. Top, Freddy King, Magic Sam, Albert King, Albert Collins, Otis Rush, Eric Clapton, Robert Johnson, Buddy Guy, John Lee Hooker, "Boogaloo Joe" Jones, Mississippi Fred MacDowell, Elmore James, Chuck Berry...on and on

Sounds Like

SRV meets Z.Z.Top Meets Magic Sam
No recent updates in this category.
Why not...
03:15 | 393 plays | Aug 26 2008
Bio:
THE NEW SINGLE: "I Can Be Your Buddy But I Can't Be Your Guy (Buddy Guy Blues)" can be downloaded here.
THE NEW DEAD GUY BLUES CD IS HERE!

DEAD GUY BLUES LIVE
Download all 13 songs for only $5.00!

For Song License click here:
License this music for commercial use through
Pump Audio
..
This work is licensed under a ..Creative Commons Attribution 2.5 License
Living as an illegal alien and partying like a rock star in Mexico City for 7 years guitarist/singer/songwriter Jeff Powers cut his teeth in various blues bands there. Though Jeff moved to Mexico City to perform and teach classical guitar he soon dropped out of the cozy and well paid classical world to live and play in the down and dirty clubs, jails, and places at the end of dirt roads (street parties).
Barely eking out a living Jeff would cross the entire city with guitar and amp in hand by bus and subway to get to a gig or rehearsal but during his years there he wrote over 200 songs and developed his own standout style of blues guitar based around his virtuoso classical technique.
It took a lot of gigs, tequila, beer, pulque and mota (a staple of the Mexican bluesman) to make the change but Jeff left Cleveland as a classical artist and returned a full fledged bluesman! He traded in his tux for a bad ass hat.
Soon after returning to the Cuyahoga Delta Jeff put together Dead Guy Blues to showcase his guitar, vocal and songwriting skills. Even though Jeff loves traditional blues of all kinds his mission is to take it (the blues) somewhere else…laying down songs with twists and turns in the lyric, rhythm and chord changes, hence songs like: "Aztec Trot" (something you might encounter after drinking the Mexican water, "Roadkill", "Cold Wind in Cleveland", "I Miss My Ball and Chain" (a not so tender love song), "Bad Voodoo", "Beer and Whiskey, Coffee and Cigarettes", "Throw This Dog a Bone" and "Drunk as a Skunk".
Their recordings show case only original songs but live they'll tear it up on anything blues or anything that can be made into blues. From Link Ray's classic "Rumble" to garage rock of the 60's even an electric version of Stephen Still's "Treetop Flyer" or a delta finger picked version of Hendrix's classic "Voodoo Chile" (it will blow your mind), hell!they'll turn a polka and into blues…nothing's sacred! They even turn surf instrumentals into something they can crank on some roaring blues.
First Dead Guy Blues CD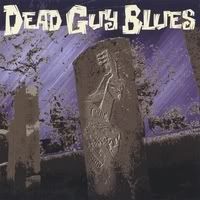 The new DGB CD cover...release date set for January 2009
Member Since:
March 12, 2007
Members:
Jeff Powers: Vocal, Guitar Chris Boross: Vocal, Bass Steve Zavesky: Drums
Influences:
SRV, Johnny Winter, Jimi Hendrix, Muddy Waters, Paul Butterfield, Z.Z. Top, Freddy King, Magic Sam, Albert King, Albert Collins, Otis Rush, Eric Clapton, Robert Johnson, Buddy Guy, John Lee Hooker, "Boogaloo Joe" Jones, Mississippi Fred MacDowell, Elmore James, Chuck Berry...on and on
Sounds Like:
SRV meets Z.Z.Top Meets Magic Sam
Record Label:
Whiskey Island Records
DEAD GUY BLUES has 7356 friends.