Play

Play Next

Add to queue
Play

Play Next

Add to queue

266 plays

Play

Play Next

Add to queue

575 plays

Play

Play Next

Add to queue

354 plays

Play

Play Next

Add to queue

38,742 plays

Play

Play Next

Add to queue

8,601 plays
Incase this passed you by....an awesome remix of my song Therapy by the inimitable Olivia Broadfield http://t.co/JQbLelgcrw on #SoundCloud

via Twitter

having some seriously lush ear time listening to my mate @shutupolivia oof shes good. get involved people. you need her in your life

via Twitter

"We do not think ourselves into new ways of living, we live ourselves into new ways of thinking." ― Richard Rohr

via Twitter

cant stop watching The Job Lot online. Lovin @russelltovey and team finishing everyone off by hand #genius #easylikesundaymorning

via Twitter
05:27 | 60 plays | Apr 25 2011
17 Songs | Dec 5, 2009

9 Songs | Sep 21, 2008
..

.. .. .. Join the mailing list to be kept updated at http://www.declanbennett.co.uk/contact Declan Bennett is a singer songwriter who writes candid pop music for a generation steeped in therapy and conversation. His penchant for sharing deeply honest tales of love and sexuality have won him a diverse and devoted fan base across the UK and America, arousing a relentless desire to listen to his unashamed, engaging lyrics again and again and again. No stranger to fame (with mainstream chart success by the age of 20 as part of a pop/rock outfit, a lead role in the award-winning pop biography 'Taboo' at 21, and an extended trip to America to star as Roger in the cult rock opera RENT), Declan released his second full-length album "An Innocent Evening Of Drinking" in April 08. He went on to open for Boy George on his 31 date UK tour, widening his ever expanding audience of listeners and soon after was asked to return to the states to join the original cast of Green Days 'American Idiot' on Broadway. He continues to gig in New York and is knee deep in recording what will become his 3rd album, tentatively titled 'Record:BREAKUP', slated for release later in 2010 and most recently performed in its entirety to a sell out crowd at Joes Pub. From the moment Declan began introducing his solo repertoire at unplugged nights around London a few years ago under the pseudonym sumladfromcov, he began to get repeated requests for recorded material from a rapidly expanding fan base. Having already experienced the frustration that writing for a major label could entail, he decided to go it alone, and, in 2005, brought out his debut album, The Painters Ball, on his own label Covboy Records, distributed by Proper, available from record shops throughout the UK and worldwide from online stores like www.amazon.co.uk and iTunes. Over the past few years has been playing numerous respected venues and festivals around the UK (as well as turning up in a few unexpected places too, including a live set for the cool festival club favourite Silent Disco) and all over America. He has supported at sell-out gigs for artists as diverse as Boy George, Seth Lakeman and Nizlopi, and has headlined his own packed gigs in places like London's Soho Revue Bar which have drawn fans from as far away as Switzerland, Germany and Norway. There is also a free live download album on his official site (www.declanbennett.co.uk)

What they've said about Declan and his music...

'Uncut ' **** (four-star review of An Innocent Evening of Drinking)
' Far more than a showbiz wannabe.. Bennett has crafted some unusual variations on the acoustic singer-songwriter template... frequently gripping lyrics' Adam Sweeting

'GT' **** (four-star review of An Innocent Evening of Drinking)
'Declan's soulful vocals glide through the chatty, reflective lyrics. His strong songwriting deserves a wider audience.'

'Rock'n'Reel' **** (four-star review of 'An Innocent Evening of Drinking')
'A writer who can move effortlessly from the conversational, the confessional, statements of intent, to the poetic, moving and tender, Bennett's songs deliver a powerful emotional punch without ever resorting to the usual singer-songwriter trap of over-introspection.' Colin Hall

'He has a voice full of emotion and yearning, his lyrics and melodies have a pop edge without being lazy or radio-desperate'
Boy George writing about Declan Bennett in 'Time Out London'

'His are unusually honest, intelligent, and subtle pieces of work. Openness and vulnerability are a running thread with him. There's a diversity of subjects but the recurrent theme is this desire for truth, integrity.'
Mercury Moon magazine 2007

'Dark and soulful, occasionally downright sinister. Deeply mature stuff '
'Attitude'

'Unlike many other peers swimming in the acoustic pool, Declan Bennett effortlessly stands apart. He's a confident and charismatic performer, with deliciously simple, welcoming melodies and captivating lyrical themes, his Midlands accent shining through to add colour and honesty to his performance. Delight in his music now before the media giants jump on board.'
Powpowpow magazine

'I'm absolutely convinced that Declan Bennett is going to be massive. I have his album on constant repeat'
'Little Britain's' Matt Lucas

'Declan is the real thing. He sings from the heart, and I defy anyone not to be touched by his songs'
Award-winning songwriter Linda Thompson

' '3 Words' is a hit single just waiting to happen, 'Thin Air' is an earnest, moody delight. He has the potential to be very big indeed'
'What's On In London'

'Acoustic soul and lyrical attack is embedded in the heart of his music'
bbc.co.uk

'A definite thumbs-up. A masterful but tasteful exposition on erotic longing and emotional turmoil'
'The Orpheus' Virgin Megastore instore magazine

'As far from the world of boyband pop as the earth is from Pluto... a startlingly fresh debut'
'Gay Times'

DEBUT ALBUM "THE PAINTERS BALL" under the name Sumladfromcov is available worldwide on ITUNES, from online stores including AMAZON.CO.UK and from record shops throughout the UK

EP "10 NELSON ROAD" available ON ITUNES ONLY
Five acoustic tracks (full band versions of four of the songs on the new album!)

PLUS OUT NOW
"AN INNOCENT EVENING OF DRINKING"

..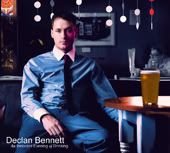 "AN INNOCENT EVENING OF DRINKING" OUT NOW ON iTUNES AND FROM ONLINE STORES WORLDWIDE, AND FROM RECORD SHOPS IN THE UK


FREE LIVE DOWNLOAD... LIVE AT ROCKWOOD MUSIC HALL NYC
Get it now from Declan's official website declanbennett.co.uk
Tracks played at the gig...
Zs & Qs, Yesterday, Thin Air, Vessel, Blu Tack, Limelight, Things Unseen and Smoke

OUT NOW IN THE UK ON iTUNES ONLY
(in USA from 27 April) -
Therapy
EP includes the 'Therapy' the single, plus two mixes - 'Olivia's Mix' featuring Olivia Broadfield and 'NYC Live Studio Mix'
..
Member Since:
October 11, 2005
Sounds Like:
'Blu Tack' Video Click here to buy Blu Tack -

'Therapy' video pretty much the coolest thing ever -
Declan Bennett has 5727 friends.