Play

Play Next

Add to queue
About me: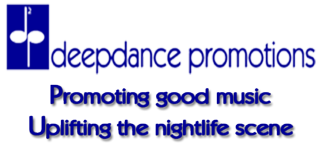 I've been a promoter for over 8 years and been involve with some of the best known Soulful Dance Parties in NYC. Here's a rundown.

Liquid Sound Lounge : Deep Space : Touch Tuesdays


Together In Spirit : ALMA : Turntables on the Hudson : Organic Grooves
And here are some of the DJs I've worked with

Jeannie Hopper : Nickodemus : Francios K : Kervyn Mark : Rich Medina : Spinna : Tommy Bones


Ron Trent : Derrick May : King Britt : Harvey : Glenn Thornton : DuLua : Sunshine Jones : MKL : Wil Milton
And here are some of the venues

Demerrara : Spirit : Cielo : Frying Pan : Canal Room : Discotechque : Bowery Ballroom : Pyramid : Sullivan Room
..
Proudly, I've been involve with the longest running prime time radio show in New York City focused on soulful based indie electronic & live music for the musically minded,(est. 1993) hosted by DJ Jeannie Hopper. WBAI 99.5fm Sat's 7p-9:30p or archived up to two weeks within 10 minutes of the b'cast at WBAI -go to listen section and follow shows cronologically as they are posted.
......


Support the radio stations that supports independent artist!!!!!

One of these stations happen to be WBAI in NYC. Where payola and inferior predictable music playlist don't exist. For other listener sponsored stations click on the Pacifica banner...
Never accept or allow stereotypes!!!!! That's only for the weak and ignorant!!!!
..
....
Status:

In a Relationship

Here for:

Networking

Hometown:

NYC!!!

Orientation:

Straight

Body type:

5' 10" / Athletic

Ethnicity:

Black / African descent

Zodiac Sign:

Capricorn

Children:

Someday

Education:

College graduate

Occupation:

Production/Promotion/Activist
General

LISTEN AND ENJOY!!

For more, visit the

WPS1

archive.

(Last Updated: December 8, 2006)

Music

I may be classified a snob on this

, but I love music that's done by people who have the ability to write and read music and someone who can play an instrument. Needless to say,

a lot of the commercial stuff I'm not too fond of

,

though there's always exceptions to the rule. Music

,

just like movies and paintings

,

have molded my thinking to believe that there's hope for humanity. So excuse me if I sound preachy

,

but I do take this seriously. My favorite genres are Soul

,

Jazz

,

Salsa

,

House

,

Hip Hop (mostly the underground and Old Skool stuff

,

) Rock and everthing in between...

Movies

Television

Heroes

Ghandi, MLK Jr., Marcus Garvey, John Lennon, Marvin Gaye, Stevie Wonder and Nina Simone to name a few...