No recent updates in this category.
Why not...
About me:
A beautiful song written for Steve Clark after he passed away by his fiance, Lorelei Shellist. You can get it at cdbaby.com. All proceeds go to the Mesa College Music Scholarship fund.

FOR DEF LEPPARD TOUR DATES, PLEASE GO TO: www.defleppard.com
Click on graphic below to join our friends list on Facebook!
..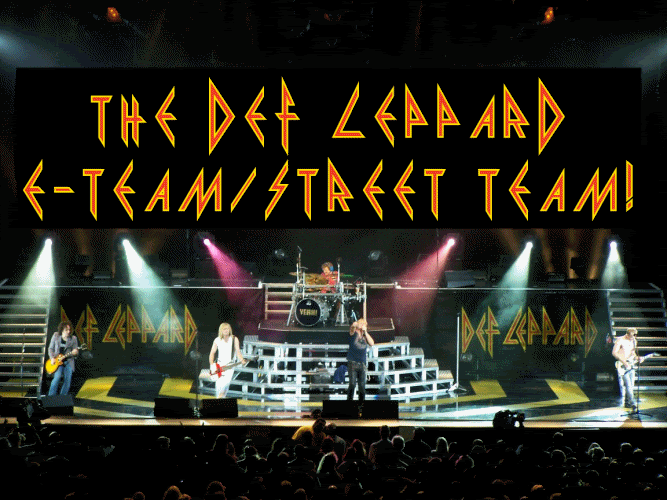 We're looking for Def Leppard fans to help us spread the word of the Leps!
Become our friend to join the team, then we expect you to:
* Spread the word online via social networking sites, chat rooms, message boards, etc. * Create, Print and Distribute promotional material to locations in your area.
* Use your artistic skills by creating promotional ads for us.
* Wear your Lep gear everywhere you go so people will notice what you're wearing. Tell them about the new album and tour.
* Call your local radio stations and request Def Leppard songs.
* Email everyone you know about Def Leppard and their new album and tour information...ask them to spread the news to everyone they know too.
Please note: we are not associated with Def Leppard or their management or promotion team. This is a fan-based "team" to help spread the word of the Leps!
* * * * * * * * * * * * * * * * * * * * * * * * * * * * * * * * * * * * * * * * * * * * * * * * * * * * * * * * * * * * * * * * * * * * * * *
Songs From The Sparkle Lounge
1. Go
2. Nine Lives
3. C'mon C'mon
4. Love
5. Tomorrow
6. Cruise Control
7. Hallucinate
8. Only The Good Die Young
9. Bad Actress
10. Come Undone
11. Gotta Let It Go
Get the lyrics at www.defleppard.com!
Get a free pikcard in specially marked CD packages and special access to www.vault.ilovethatsong.com (must have your Sparkle Lounge CD in your computer to access the site)!
..
* * * * * * * * * * * * * * * * * * * * * * * * * * * * * * * * * * * * * * * * * * * * * * * * * * * * * * * * * * * * * * * * * * * * * * *
Click above or visit
www.runwayrunaway.com
to buy Lorelei's new book. It is also available at
www.amazon.com
!
Runway RunAway by Lorelei Shellist (Steve Clark's fiance before he passed away)
Rebellious, headstrong and independent - a runaway at age 15 - Lorelei Shellist has lived a life full of gritty and glamorous extremes. While working as a coffee shop waitress in the evenings, going to school in the mornings and calling fashion photographers in the afternoons - she dreamed of traveling the world as a model. A chance meeting with a 70s SoCal Rock Star opened the A-list Hollywood doors to a wondrous world - as well as a full blown romance.
Pounding the pavements of L.A. and New York taught her the hard knocks of being a working class model. Sheer will and determination jetted her off to Europe where she proved her critics wrong and strutted the catwalks of Paris as a top model/muse to Chanel, YSL, Ungaro, Bob Mackie and Christian LaCroix; and where she met the doomed love of her life, her fiancé Steve Clark of Def Leppard.
With humor, pathos, and a world map of insight, Runway RunAway takes readers on a breathless journey around the globe with a backstage pass to high fashion, true romance, and rock and roll from some of the biggest names in the business.
* * * * * * * * * * * * * * * * * * * * * * * * * * * * * * * * * * * * * * * * * * * * * * * * * * * * * * * * * * * * * * * * * * * * * * *
********************************************************
DEF LEPPARD'S NEW ALBUM
SONGS FROM THE SPARKLE LOUNGE
RELEASED ON APRIL 29, 2008!
********************************************************
JOIN DEF LEPPARD'S OFFICIAL FAN CLUB!
* Price: 30.00 USD PER YEAR
* Presale access to Def Leppard concert tickets before public on-sale dates (maximum four tickets per single membership, two tickets per transaction)
* $15 coupon to DefLeppard.com shop
* Exclusive audio and video content, including behind-the-scenes footage, rehearsal video, interviews and more
* Monthly e-newsletter packed with exclusive features, photos and more
* Special offers and discounts from the DefLeppard.com shop
* DefLeppard.com-branded Webmail
* Members-only sweepstakes where fans can win memorabilia, merchandise, autographed photos, and more...
TO JOIN, GO TO: http://fanclub.defleppard.com
* * * * * * * * * * * * * * * * * * * * * * * * * * * * * * * * * * * * * * *
Here's a clip from VH1's Hanging with Def Leppard (2006):
......>
If you have problems viewing the video above, you may view it at: http://www.youtube.com/watch?v=46r6XVLO3tk
CLICK BANNER BELOW TO JOIN OUR GROUP!

Join the new unofficial Def Leppard E-Team/Street team! First, add us to your friends list. Then, join our group forum to get ideas on what we can do to help spread the word of the Leps!
We are a group of fans who will help promote Def Leppard online and offline. Tell all your friends to help too! Go on Def Leppard's forum and advertise our new myspace page and group! Spread the word. The more people we have on the e-team, the more we can help promoting the Leps.
This is for serious Lep fans only. Please don't join just to have another friend added to your list or if you're a musician wanting to promote your band. We made this page to promote our favorite band. You must love Def Leppard and be willing to promote the Leps as much as you can. See my main page (www.myspace.com/debleppard23) and I will be glad to add your band or business to my page there.
We are in NOT associated with the band, their management or the band's official site!
We want to help promote the Leps! We want to call our local radio stations to play Def Leppard! Buy Def Leppard merchandise! We want to tell all our friends of upcoming performances! Make e-team flyers or business cards to pass out! Because we are devoted to Def Leppard, we want to do what we can to promote their new album and tour dates!
This is a fan-based group started in March 2006 by Debbi, a fan for over 25 years.
Feel free to use any of our banners on your site and link it to us to get more Lep fans to join! More banners that members create will be posted in our blog. Be sure to subscribe to our blog to get current Lep news. No personal blogs will be posted here - only news on the Leps and graphics made by members. Be sure to check out our blog archive to see news within the last few weeks!
BE SURE JOIN OUR GROUP FORUM TOO! POST IDEAS ON HOW WE CAN PROMOTE OUR FAVORITE BAND, POST BANNERS YOU MADE, DISCUSS THE BAND, ETC!
Group URL: http://groups.myspace.com/defleppardeteam
(cut and paste the link above into your browser window)
..

Put our banner on your site! Join our group forum to get the code!
To use the banner above on your page, here is the code:

Who I'd like to meet:
Def Leppard fans all over the world and of course, the men themselves, Def Leppard!
I did meet Phil and Rick in Camden, NJ on 6/23/06 and they each signed one of our business cards and they each kept one too!

Join the UNOFFICIAL Def Leppard Fan Club, started by the e-team!

.. ..
VIP's are chosen by Debbi based on what a member contributes to the E-Team/Street Team.
..
VIP MEMBERS
of the
Def Leppard
E-Team/Street Team:
Thank you, VIP's, for all you do!
..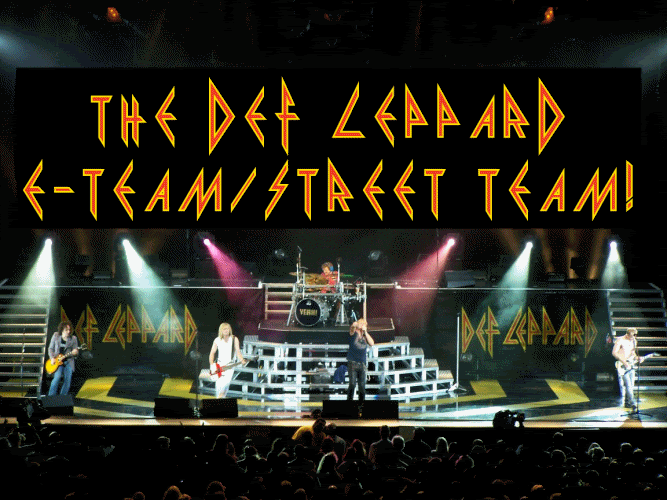 JOIN OUR YAHOO GROUP!
..
..

ADD OUR BANNER SHOWN ABOVE TO YOUR PAGE! Use the code below:
..

..
If you'd like to get more codes, please visit our group forum and look for the "banners and logos" topic. Or simply right click to save the logos and upload them to your own photo hosting site and use that code. Our banners are also under our pics photo album above.
Help us promote the Leps! Keep spreading the word of the Leps!
VISIT THE OFFICIAL SITE
Visit Def Leppard's official myspace page:

Look under our photos to see more banners that you can use on your page to help promote the Leps!
Rick Allen's wife, Lauren Monroe, has a new CD available. Go to: www.laurenmonroe.com

Phil Collen's side project: www.manraze.com

Joe and Phil's side project from 2001: http://www.5years.com/cybernauts

Vivian Campbell's website:

Support The Raven Drum Foundation, founded by Rick Allen and Lauren Monroe: www.ravendrumfoundation.org

Visit Rick Allen's site: www.stikrick.com/


Check out Lorelei Shellist's website!


Also, check out Lorelei on myspace at: www.myspace.com/71112882
Status:

Married

Here for:

Friends

Hometown:

Debbi lives in Leppardville

Zodiac Sign:

Scorpio