Play

Play Next

Add to queue
Play

Play Next

Add to queue

100,003 plays

Play

Play Next

Add to queue

102,329 plays

Play

Play Next

Add to queue

105,766 plays

Play

Play Next

Add to queue

106,996 plays

Play

Play Next

Add to queue

26,062 plays
Genre: Hip Hop / Jazz / Lyrical

Location Markham, A Diverse Metagalactic Breath, Ontario, CA

Profile Views: 1629341

Last Login: 10/30/2012

Member Since 11/6/2004

Website www.reverbnation.com/devilzspeciez

Record Label oh, you mean a respresentative? ...

Type of Label Indie

Bio

.. .. .. .. ...... ...... .. .. .. .. .. .. .. .. .. .. .. .. .. .. .. .. .. .................... .... .. .. .. .. .. .. .. .. .................... .. ...... .. ........ .. .. .. .. .. .. .... .. .. ...... .. ...... .. .... ..SNATCH THESE AVATARS!!.... ...... .. .. .... ....

Members

.... .. .... .. .. .. .. .. .. .. .. .. .. ...... .. .. .. .. .. .. .. .. .. .. .. .. .. .. .. .. .. .. .. .. .. .. .. .. .. .. .. .. .. .. .. .. .. .. .. .. .. .. .. .. .. .... ....Completed TOURS:...... Canada.. Bemidji Minnesota.. North Dakota.. South Dakota.. Wisconsin.. New Zealand.. .. .. .. .. ........TOUR.. MY ASS FOR ..THE REST OF MY LIFE, ..AND I'LL DIE HAPPY...... .... .... .. I was born innocent. innocent as the definition and grew into a behemoth hungry for exactitude. my thesis always structured itself through my art-form, this being many through my vocal-throat-piece, music-box, if i may; I've stretched my words and creative agility within canada. toured across the border with my shoes, my passion & my young pulse. 22, just shy of 23 years. Always been performing never one for a break. Self-promotion, never one for dependence. I'm the 'un-heard of style' that many spent years crafting; stolen from; I still stay grounded with my ART. selfish as it sounds, if you're not unique do not snatch the art form of others. nobody i've ever met was willing to be cognizant with my sound. while you were Busy panic-stricken, feeling obliged to the genre's of your musical passion; I was BUSY constructing a well built wall of many styles that contained my ingredients. with over 100+ performance' in my life, I am still heading in the direction of .."the people need to witness what they hear or you're just another artist online who think's he's the best DAMNED thing out there!".. well wake-up call. You're not. ...... .."REVIEWS":.... .. "Predominant with the flow, the constant message is relentless. This individual needs some recognition FAST!" - ..Source Won.. .... "How do you market truth? With Indepenence. I've known Devilz-Speciez for his hardwork all these years, Somebody needs to recognize his work ethic. He is the definition of Artist." -.. Pamela A. Jenson.. .... "I've never met an artist, who takes RISK's the way Devilz-Speciez does! He His seriously a threat to every genre!" -.. Dj.FlaxTrax.. .... "A beautiful soulful yet aggressive vocal tone, with aggressive/smooth hip-hop. Where have you been my whole life?" - ..Sanella Artoze.. .... "distinctive, rotated my head atleast a dozen times" - N.Sernz (S.Sgive) .... "followed his artistry since I acknowledged a star" - S.Mullins (FemaleMove) .... "open-minded, driven, independent.. what more can be said?" - K.Sebs (Dj, Producer) .... "Inspiration On The Rise" - L.Manoukian (Fan,Close Friend *Montreal*) .... "the genre itself need's a little flavour, this album is the definition of talent!" – Blindto; Deafto: Equivalent -J.Mettes (TrebleKey Promotions) .... "I first met Ararad at his concert which I filmed at El Mocambo during a battle of the bands concert (June/28th.2006). Needless to say he lit the stage up and was able to bring the audience to their feet. His delivery, his emotions, his difference as an artist blew me away. Ararad and I are working on a music video and I look forward to spread his talent all over this beautiful city!" .. – Hayden (Hayden Currie Inc. Skate Business, Film Business, Friend) .... "Everyone has a devil in them... For this guy the devil speaks from the heart and what's real... The devil does not need to hide behind the truth and sugar coat anything... Thats why we need the devil... Thats why the devil is here to stay!!!'' .. – Chris Companion (Bun One Productions) .... "In my many years in this music industry I have witnessed a countless number of artists spanning across many genres. I have seldom witnessed an artist with the passion, energy, and drive delivered on a nightly basis by Devilz-Speciez.".. – Derrik Jourdain,( Concrete Sound Productions) (Minnesota) .... "Make no mistake, Devilz-Speciez definitely is a freestyling genius. Through out our friendship I was very passive towards giving in, to the fact.. It was not pre-written. I use to watch him battle about 6 years ago, and till this day he always carries himself to the extent of making intrigued beyond definition. It's a matter of who's got more energy.. I know he layed his battle tactics to rest, but Im certain if it came to.. he'd puncture a win through and through. Blindto; Deafto; Equivalent ... Is one of the "classics" that will be uplifted in the future beyond our time. Dont be mistaken, this is not an over exaggeration." .. – Kyle A. (Friend, Fan, Critic) .... "Working along side Devilz-Speciez, and even producing a lot of his work, you notice a whole different class of respect, and artistry. Ararad is the only rapper I have worked with who has an open mind and tries new things, and goes for a different unique approach, then the same old trends we hear. One day, if not soon, Devilz-Speciez will be everywhere, and everyone will begin to realize what he or she have been missing out on. A fresh new sound, confidence, a great persona, and an open mind, what else can you ask for in an artist? The freestyle king, the melodic rapping king, and the rapper doing rock music king. Devilz does it all, and nobody can say they put on a show or a vocal performance such as Devilz-Speciez. A big kick in the ass, an artist that will not go unnoticed." .. – Vartevar Sarkissian (Producer, Engineer, Musician, Sadanhos/Bete Noire Entertainment) .... "Inch Bes Genank Bargeenk".... - This line is used in a recent Devilz-Speciez song. "Talkth Walkth" I was very shocked and amused when hearing this song, and his mixture of the english and Armenian language. I've always held Armenian Hip-Hop very close, just because it's great to appreciate your own culture. BUT.. every Armenian Hip-Hop artist, does not come close to the calliber of heart Ararad Sarkissian puts into his work. Ararad, Devilz-Speciez, May these words be of help to you to keep your head up always Aghbar!. you've got my ears and thoughts always. .. - Zevan Berakyan (Fan, Writer).... "My name is Laurice Debeux, currently running the official Devilz-Speciez fan page. More of my move in promotions for such an Artist. I remember meeting Ararad, 3 years ago in Montreal. Ever since then, I was intrigued by his ability. Every year, is a distinctive approach of things musically.. Maybe, I'm mistaken..EVERY SONG, Is distinctive.. Devilz-Speciez, deserves to get signed the deal he deserves... for many reasons:.... a) He Delivers.. b) His Delivery.. c) Emotions!.. d) animosity vocally.. e) HE'S THE LEGEND .... .. I've heard my fair share of underground and mainstream, I'm a fan of everything & Devilz-Speciez, covers in my EYES and opinion..EVERYTHING. keep shining star you know I love you"... - Laurice Debeaux (www.myspace.com/devilzspeciezofficialfanpage).... .... "I hope that your upcoming show helps you to get signed. The music business could use some new/actual talent.".. - Eric (Fan: Fargo, North Dakota) .. .... .. .. .. ....DOWNLOAD THE MIXTAPE FOR **FREE** AT THESE LINKS:...... ..DOWNLOAD @ MEGA-ULOAD (AS A FULL FILE).. .. ..DOWNLOAD @ Ursession.. .. ..DOWNLOAD @ Soundclick.. .. ..DOWNLOAD @ Reverbnation.. .. ..DOWNLOAD @ GarageBand.. .. ..DOWNLOAD @ ILike.. .. ..DOWNLOAD @ TheBeat.FM.. .. ..DOWNLOAD @ JukeBoxAlive.. .. .... .... .. ..Devilz-Speciez @ ReverbNation.. .. .. ..Devilz-Speciez @ Get Grounded.. .. ..Devilz-Speciez @ I-TUNES.. .. ..Devilz-Speciez Merchandise Store.. .. ..Devilz-Speciez @ ArmenianRap.Net.. .. ..Devilz-Speciez @ Ursession.com.. .. ..Devilz-Speciez @ GoodNoise.com.. .. ..Devilz-Speciez @ Number One Music.. .. ..Devilz-Speciez @ Mega City Hip-Hop.. .. ..Devilz-Speciez @ Staump .. .. ..Devilz-Speciez @ Raw Music UK!.. .. ..Devilz-Speciez @ Soundclick.. .. ..Devilz-Speciez' BAND: Sadanhos.. .. ..Devilz-Speciez @ Concrete Sound.. .. ..Devilz-Speciez @ 20Hz Music.. .. ..Devilz-Speciez @ Pure Volume.. .. ..Devilz-Speciez @ Supernova Promotions.. .. .. ....

Influences

Sounds Like
00:30 | 52 plays | Mar 11 2010
Member Since:
November 06, 2004
Members:
Completed TOURS:
Canada
Bemidji Minnesota
North Dakota
South Dakota
Wisconsin
New Zealand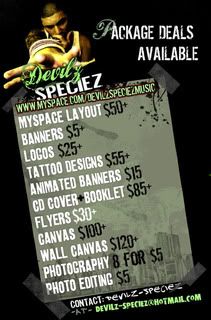 TOUR MY ASS FOR
THE REST OF MY LIFE,
AND I'LL DIE HAPPY

I was born innocent. innocent as the definition and grew into a behemoth hungry for exactitude. my thesis always structured itself through my art-form, this being many through my vocal-throat-piece, music-box, if i may; I've stretched my words and creative agility within canada. toured across the border with my shoes, my passion & my young pulse. 22, just shy of 23 years. Always been performing never one for a break. Self-promotion, never one for dependence. I'm the 'un-heard of style' that many spent years crafting; stolen from; I still stay grounded with my ART. selfish as it sounds, if you're not unique do not snatch the art form of others. nobody i've ever met was willing to be cognizant with my sound. while you were Busy panic-stricken, feeling obliged to the genre's of your musical passion; I was BUSY constructing a well built wall of many styles that contained my ingredients. with over 100+ performance' in my life, I am still heading in the direction of

"the people need to witness what they hear or you're just another artist online who think's he's the best DAMNED thing out there!"

well wake-up call. You're not.




"REVIEWS":



"Predominant with the flow, the constant message is relentless. This individual needs some recognition FAST!" - Source Won

"How do you market truth? With Indepenence. I've known Devilz-Speciez for his hardwork all these years, Somebody needs to recognize his work ethic. He is the definition of Artist." - Pamela A. Jenson

"I've never met an artist, who takes RISK's the way Devilz-Speciez does! He His seriously a threat to every genre!" - Dj.FlaxTrax

"A beautiful soulful yet aggressive vocal tone, with aggressive/smooth hip-hop. Where have you been my whole life?" - Sanella Artoze

"distinctive, rotated my head atleast a dozen times" - N.Sernz (S.Sgive)

"followed his artistry since I acknowledged a star" - S.Mullins (FemaleMove)

"open-minded, driven, independent.. what more can be said?" - K.Sebs (Dj, Producer)

"Inspiration On The Rise" - L.Manoukian (Fan,Close Friend *Montreal*)

"the genre itself need's a little flavour, this album is the definition of talent!" – Blindto; Deafto: Equivalent -J.Mettes (TrebleKey Promotions)

"I first met Ararad at his concert which I filmed at El Mocambo during a battle of the bands concert (June/28th.2006). Needless to say he lit the stage up and was able to bring the audience to their feet. His delivery, his emotions, his difference as an artist blew me away. Ararad and I are working on a music video and I look forward to spread his talent all over this beautiful city!"
– Hayden (Hayden Currie Inc. Skate Business, Film Business, Friend)

"Everyone has a devil in them... For this guy the devil speaks from the heart and what's real... The devil does not need to hide behind the truth and sugar coat anything... Thats why we need the devil... Thats why the devil is here to stay!!!''
– Chris Companion (Bun One Productions)

"In my many years in this music industry I have witnessed a countless number of artists spanning across many genres. I have seldom witnessed an artist with the passion, energy, and drive delivered on a nightly basis by Devilz-Speciez."
– Derrik Jourdain,( Concrete Sound Productions) (Minnesota)

"Make no mistake, Devilz-Speciez definitely is a freestyling genius. Through out our friendship I was very passive towards giving in, to the fact.. It was not pre-written. I use to watch him battle about 6 years ago, and till this day he always carries himself to the extent of making intrigued beyond definition. It's a matter of who's got more energy.. I know he layed his battle tactics to rest, but Im certain if it came to.. he'd puncture a win through and through. Blindto; Deafto; Equivalent ... Is one of the "classics" that will be uplifted in the future beyond our time. Dont be mistaken, this is not an over exaggeration."
– Kyle A. (Friend, Fan, Critic)

"Working along side Devilz-Speciez, and even producing a lot of his work, you notice a whole different class of respect, and artistry. Ararad is the only rapper I have worked with who has an open mind and tries new things, and goes for a different unique approach, then the same old trends we hear. One day, if not soon, Devilz-Speciez will be everywhere, and everyone will begin to realize what he or she have been missing out on. A fresh new sound, confidence, a great persona, and an open mind, what else can you ask for in an artist? The freestyle king, the melodic rapping king, and the rapper doing rock music king. Devilz does it all, and nobody can say they put on a show or a vocal performance such as Devilz-Speciez. A big kick in the ass, an artist that will not go unnoticed."
– Vartevar Sarkissian (Producer, Engineer, Musician, Sadanhos/Bete Noire Entertainment)

"Inch Bes Genank Bargeenk"

- This line is used in a recent Devilz-Speciez song. "Talkth Walkth" I was very shocked and amused when hearing this song, and his mixture of the english and Armenian language. I've always held Armenian Hip-Hop very close, just because it's great to appreciate your own culture. BUT.. every Armenian Hip-Hop artist, does not come close to the calliber of heart Ararad Sarkissian puts into his work. Ararad, Devilz-Speciez, May these words be of help to you to keep your head up always Aghbar!. you've got my ears and thoughts always.
- Zevan Berakyan (Fan, Writer)

"My name is Laurice Debeux, currently running the official Devilz-Speciez fan page. More of my move in promotions for such an Artist. I remember meeting Ararad, 3 years ago in Montreal. Ever since then, I was intrigued by his ability. Every year, is a distinctive approach of things musically.. Maybe, I'm mistaken..EVERY SONG, Is distinctive.. Devilz-Speciez, deserves to get signed the deal he deserves... for many reasons:

a) He Delivers
b) His Delivery
c) Emotions!
d) animosity vocally
e) HE'S THE LEGEND ..

I've heard my fair share of underground and mainstream, I'm a fan of everything & Devilz-Speciez, covers in my EYES and opinion..EVERYTHING. keep shining star you know I love you".
- Laurice Debeaux (www.myspace.com/devilzspeciezofficialfanpage)



"I hope that your upcoming show helps you to get signed. The music business could use some new/actual talent."
- Eric (Fan: Fargo, North Dakota)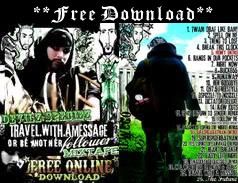 ..
DOWNLOAD THE MIXTAPE FOR **FREE** AT THESE LINKS:
..
DOWNLOAD @ MEGA-ULOAD (AS A FULL FILE)
DOWNLOAD @ Ursession
DOWNLOAD @ Soundclick
DOWNLOAD @ Reverbnation
DOWNLOAD @ GarageBand
DOWNLOAD @ ILike
DOWNLOAD @ TheBeat.FM
DOWNLOAD @ JukeBoxAlive
Devilz-Speciez @ ReverbNation
Devilz-Speciez @ Get Grounded
Devilz-Speciez @ I-TUNES
Devilz-Speciez Merchandise Store
Devilz-Speciez @ ArmenianRap.Net
..Devilz-Speciez @
Ursession.com
Devilz-Speciez @ GoodNoise.com
Devilz-Speciez @ Number One Music
Devilz-Speciez @ Mega City Hip-Hop
Devilz-Speciez @ Staump
Devilz-Speciez @ Raw Music UK!
Devilz-Speciez @ Soundclick
Devilz-Speciez' BAND: Sadanhos
Devilz-Speciez @ Concrete Sound
Devilz-Speciez @ 20Hz Music
Devilz-Speciez @ Pure Volume
Devilz-Speciez @ Supernova Promotions
Record Label:
oh, you mean a respresentative? ...
Label Type:
Indie
DEVILZ-SPECIEZ has 13135 friends.