Play

Play Next

Add to queue
Play

Play Next

Add to queue

2,845 plays

Play

Play Next

Add to queue

715 plays

Play

Play Next

Add to queue

533 plays

Play

Play Next

Add to queue

443 plays
Genre: Concrete / Live Electronics / Minimalist

Location Tijuana, Baja California, MX

Profile Views: 24752

Last Login: 7/29/2010

Member Since 10/15/2005

Website www.discosinvisibles.org

Record Label we are one :)

Type of Label Indie

Bio

...... Discos Invisibles ..es un colectivo de trabajo interesado en el uso de los nuevos lenguajes de expresión desarrollados con el avance tecnológico, y la manera en la cual estos mecanismos pueden ser implementados para romper las barreras internacionales e interpersonales. Se ha dedicado principalmente a la experimentación con el sonido y, a través de la disquera Discos Invisibles, a la generación, producción y distribución independiente de CD-R's bajo la premisa de 100% hecho en casa. .. El colectivo coexiste dentro de la cotidianidad digital, es decir, convive dentro del ambiente intermedio de la marginalidad tecnológica y el 'high tech'. Trabaja por la desmitificación de los ambientes tecnológicos como mundos avanzados y exclusivos; y se interesa por la distribución de la tecnología y los conceptos de la digitalidad a todos los ámbitos sociales. .. "El sonido nace para todos", y "El Ciberespacio como espacio público" son algunos de los lemas que marcan el rumbo de trabajo hacia una libertad estética cuidadosa de no caer dentro del mimetismo y la duplicación innecesaria. A través de su faceta como disquera independiente de CD-R's y disquera virtual, Discos Invisibles apoya y contribuye en el intercambio 'sin fines de lucro' como una variación cultural de los sistemas de 'open source', 'free culture' y de la distribución libre (a través de Creative Commons). De esta manera, continúa con la tradición y principios del acceso público a los medios de generación y distribución de material artístico y tecnológico. Dentro de esta línea de trabajo, Discos Invisibles ha participado en la organización de festivales de música electrónica en línea como: Suramérica Electrónica y Electrónica Mexicana, festivales pioneros en su género, así como con una serie de intervenciones e instalaciones artísticas en la frontera México/Americana orientadas hacia el tema de la recontextualización del audio y del arte sonoro en la zona fronteriza.......English version .. Discos Invisibles ..is a work collective interested in the use of new languages developed due to the technological advance and the way these mechanisms can be implemented to break international and interpersonal barriers. Its been devoted mainly to sonic experimentation and, through Discos Invisibles -independent record label- to the generation, production and distribution of CD-R's which are 100% home made, maybe more. The collective coexists in the digital daily life, in between high tech and digital marginality. It works in favour of the dismythification of technological environments like advanced and exclusive worlds. It is also interested in the distribution of technology and the concepts of the digital world to all social levels... "Sound is born for everyone ", and "Cyberspace as a public space" are some of the phrases that mark the way of our work towards an aesthetic liberty that is careful of not falling in to mimicry and unnecessary duplication. Through its facet as an independent CD-R label, and net label, Discos Invisibles supports and contributes the non profit exchange as a cultural variation of the open source, free culture and free distribution systems (through Creative Commons). This way, it continues with the tradition and principles of public access to the means of generation and distribution of artistic and technological material. Within this line of work, Discos Invisibles has participated in the organization of on-line music festivals like: Suramérica Electrónica and Electrónica Mexicana, pioneer festivals in their genre, and also in a series of artistic interventions and installations in the border area between the U.S. and Mexico, which have been oriented to the theme of recontextualization of audio and Sound art in the border area. ...... .. .. .. .. .. .. ........Pristina.. from ..discos invisibles.. and ..Vimeo... ................ .. .. .. .. .. .. .. ...... .... .. .... .. .. .... .... .. .. .............. .... .. ...... .... .. ...... .. .. .. .... .... .. ...... .. .. .. .... .... .. ...... .. .. .. .... .... .. ...... .. .. .. .... .... .. ...... .. .. .. ........ .... .. ...... .. .. .. .... .... .. ...... .. .. .. .... .... .. ...... .. .. .. .... .... .. ...... .. .. .. .... .... .. ...... .. .. .. ........ .... .. ...... .. .. .. .... .... .. ...... .. .. .. .... .... .. ...... .. .. .. .... .... .. ...... .. .. .. .... .... .. ...... .. .. .. ........ .... .. ...... .. .. .. .... .... .. ...... .. .. .. .... .... .. ...... .. .. .. .... .... .. ...... .. .. .. .... .... .. ...... .. .. .. ........ .... .. ...... .. .. .. .... .... .. ...... .. .. .. .... .... .. ...... .. .. .. .... .... .. ...... .. .. .. .... .... .. ...... .. .. .. ....................................Click here to make your Custom FriendsList!....

Members

asi es la presentacion de nuestros discos .. this is the presentation of our cd-r's .. son todos hechos artesanalmente .. they are all homemade .. .. .. ...... ..........you can also visit our net.label for free mp3 download.... d-i-net.org.... ....

Influences

Sounds Like

.... .. .. .. .. .. .. .. ........Ovacion.. from ..discos invisibles.. and ..Vimeo... .... Ovacion is a piece generated from applause sounds from different concerts during 2007 and is activated by the applause of the audience at the end of the event. It is set up to be a reaction to the audience's enthusiasm after the concert comes to an end. If the audience agrees it will became a combined bidirectional ovation. .. - Jose Ignacio Lopez Ramirez-Gasto
No recent updates in this category.
Why not...
01:56 | 78 plays | Apr 16 2006
Bio:
Discos Invisibles es un colectivo de trabajo interesado en el uso de los nuevos lenguajes de expresión desarrollados con el avance tecnológico, y la manera en la cual estos mecanismos pueden ser implementados para romper las barreras internacionales e interpersonales. Se ha dedicado principalmente a la experimentación con el sonido y, a través de la disquera Discos Invisibles, a la generación, producción y distribución independiente de CD-R's bajo la premisa de 100% hecho en casa.
El colectivo coexiste dentro de la cotidianidad digital, es decir, convive dentro del ambiente intermedio de la marginalidad tecnológica y el 'high tech'. Trabaja por la desmitificación de los ambientes tecnológicos como mundos avanzados y exclusivos; y se interesa por la distribución de la tecnología y los conceptos de la digitalidad a todos los ámbitos sociales.
"El sonido nace para todos", y "El Ciberespacio como espacio público" son algunos de los lemas que marcan el rumbo de trabajo hacia una libertad estética cuidadosa de no caer dentro del mimetismo y la duplicación innecesaria. A través de su faceta como disquera independiente de CD-R's y disquera virtual, Discos Invisibles apoya y contribuye en el intercambio 'sin fines de lucro' como una variación cultural de los sistemas de 'open source', 'free culture' y de la distribución libre (a través de Creative Commons). De esta manera, continúa con la tradición y principios del acceso público a los medios de generación y distribución de material artístico y tecnológico. Dentro de esta línea de trabajo, Discos Invisibles ha participado en la organización de festivales de música electrónica en línea como: Suramérica Electrónica y Electrónica Mexicana, festivales pioneros en su género, así como con una serie de intervenciones e instalaciones artísticas en la frontera México/Americana orientadas hacia el tema de la recontextualización del audio y del arte sonoro en la zona fronteriza.
English version

Discos Invisibles

is a work collective interested in the use of new languages developed due to the technological advance and the way these mechanisms can be implemented to break international and interpersonal barriers. Its been devoted mainly to sonic experimentation and, through Discos Invisibles -independent record label- to the generation, production and distribution of CD-R's which are 100% home made, maybe more. The collective coexists in the digital daily life, in between high tech and digital marginality. It works in favour of the dismythification of technological environments like advanced and exclusive worlds. It is also interested in the distribution of technology and the concepts of the digital world to all social levels.
"Sound is born for everyone ", and "Cyberspace as a public space" are some of the phrases that mark the way of our work towards an aesthetic liberty that is careful of not falling in to mimicry and unnecessary duplication. Through its facet as an independent CD-R label, and net label, Discos Invisibles supports and contributes the non profit exchange as a cultural variation of the open source, free culture and free distribution systems (through Creative Commons). This way, it continues with the tradition and principles of public access to the means of generation and distribution of artistic and technological material. Within this line of work, Discos Invisibles has participated in the organization of on-line music festivals like: Suramérica Electrónica and Electrónica Mexicana, pioneer festivals in their genre, and also in a series of artistic interventions and installations in the border area between the U.S. and Mexico, which have been oriented to the theme of recontextualization of audio and Sound art in the border area.
Member Since:
October 15, 2005
Members:
asi es la presentacion de nuestros discos
this is the presentation of our cd-r's
son todos hechos artesanalmente
they are all homemade
..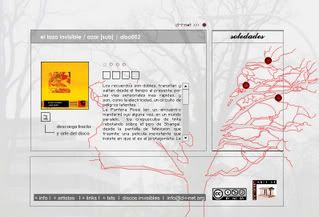 you can also visit our net.label for free mp3 download d-i-net.org
Sounds Like:
Ovacion is a piece generated from applause sounds from different concerts during 2007 and is activated by the applause of the audience at the end of the event. It is set up to be a reaction to the audience's enthusiasm after the concert comes to an end. If the audience agrees it will became a combined bidirectional ovation.
- Jose Ignacio Lopez Ramirez-Gasto
Record Label:
we are one :)