Play

Play Next

Add to queue
Play

Play Next

Add to queue

3,443 plays

Play

Play Next

Add to queue

10,876 plays

Play

Play Next

Add to queue

6,600 plays

Play

Play Next

Add to queue

9,747 plays

Play

Play Next

Add to queue

652 plays
Genre: Alternative / Grunge

Location Kuala Lumpur, MY

Profile Views: 292615

Last Login: 1/15/2013

Member Since 6/23/2005

Website myspace.com/dishband

Record Label Lunarawk Entertainment

Type of Label Indie

Bio

...... DISH is a Malaysian rock band formed in 2003. Guitarist Nizam Ashar (vocalist) drafted Ezran as bassist, Fariz Khalid as drummer, and June as guitarist to complete the group. The band was small, young, and they first began with performances in Kuala Lumpur,The band released its first EP, Homey Promo, in 2008. The group followed that release with other compilations..... ..BOOKING FOR GIG ETC;.... Hazizul : +60123929820.. Nizam : +60122407273.. Ezran : +60123013058.. Fariz : +60122744380.. ..FOLLOW TWITTER DISH;.... http://www.twitter.com/dishband.... .. .. .. .. .. .. .. .... .. .. .. .. .. .. .. Millions thx to ABSOLUTE CLOTHING for making this t-shirt happened ! .. Check out http://theabsolutelyprinting.blogspot.com dan kepada yang berminat boleh call (Nasa) 012-4559147 atau email theabsolutely@yahoo.com untuk pembelian tshit atau tempahan. .... ......

Members

chaq.. june.. deck.. lid....

Influences

Local bands.. Family.. Friends.... & many more.... .. .. .. ..Discography.... .. .... ..HOMEY PROMO EP.... ..track list.... 1.Mendongak Ke Langit.. 2.Hey! Mid 90's.. 3.Kencana Dewi.. 4.Eggs.. 5.Everyday.. 6.Late No Rules.. 7.Sofa Biru.. 8.Five Days Eating Shit.. 9.Wasted.. 10.Kawan & Rakan.... .... ..FATHULISTIWA PELAN B.... ..track list.... 1.Sofa Biru.... .... ..EXPOSE 'Volume 1'.... ..track list.... 1.Kencana Dewi..

Sounds Like
No recent updates in this category.
Why not...
Bio:
DISH is a Malaysian rock band formed in 2003. Guitarist Nizam Ashar (vocalist) drafted Ezran as bassist, Fariz Khalid as drummer, and June as guitarist to complete the group. The band was small, young, and they first began with performances in Kuala Lumpur,The band released its first EP, Homey Promo, in 2008. The group followed that release with other compilations.
BOOKING FOR GIG ETC;
Hazizul : +60123929820
Nizam : +60122407273
Ezran : +60123013058
Fariz : +60122744380
FOLLOW TWITTER DISH;
http://www.twitter.com/dishband
Millions thx to ABSOLUTE CLOTHING for making this t-shirt happened !
Check out
http://theabsolutelyprinting.blogspot.com
dan kepada yang berminat boleh call (Nasa) 012-4559147 atau email theabsolutely@yahoo.com untuk pembelian tshit atau tempahan.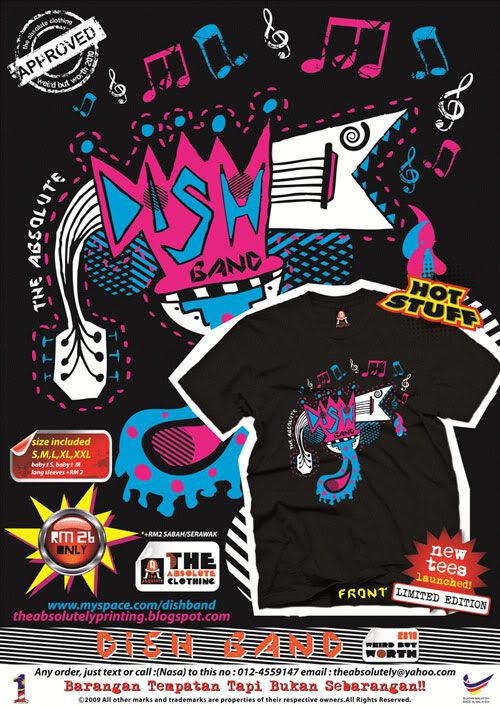 Member Since:
June 23, 2005
Members:
chaq
june
deck
lid


Influences:
Local bands
Family
Friends
& many more
..
Discography

HOMEY PROMO EP
..track list..
1.Mendongak Ke Langit
2.Hey! Mid 90's
3.Kencana Dewi
4.Eggs
5.Everyday
6.Late No Rules
7.Sofa Biru
8.Five Days Eating Shit
9.Wasted
10.Kawan & Rakan



FATHULISTIWA PELAN B
..track list..
1.Sofa Biru



EXPOSE 'Volume 1'
..track list..
1.Kencana Dewi

Record Label:
Lunarawk Entertainment
DISH ( new song upload ! ) has 24696 friends.