Play

Play Next

Add to queue
Play

Play Next

Add to queue

3,454 plays

Play

Play Next

Add to queue

1,964 plays

Play

Play Next

Add to queue

3,052 plays

Play

Play Next

Add to queue

1,892 plays

Play

Play Next

Add to queue

3,415 plays
Genre: Drum & Bass / Dub / Jungle

Location STOCKHOLM, Stockholms län, SE

Profile Views: 57844

Last Login: 12/4/2012

Member Since 9/1/2006

Website www.klubbrekyl.com

Record Label MIR RECORDS

Type of Label Indie

Bio

..BOJ LUCKI / MIR CREW (one third) ..______________________________________________________.. MIR REC / NUTTAH BEATS / DUTTY ROCK / SHOUT RECORDS / JUNGLEX / KEYNOTE REC, DIGTAL COLOURS.. .. ______________________________________________________ .. MIR RECORDS MP3 http://www.junodownload.com/labels/Mir/releases/ VINYL www.nu-urbanmusic.co.uk .. to order check Chemical Rec / Redeye Rec / Juno / etc .. ..Ljudas & Boj Lucki - Gunwar (JungleX007).. to order check www.junglex.ca or BEATPORT.COM .. .... .... .... .. .. .. .. .. .. .. .. .. .. .. .. .. .. .. .. .. .. .. .... .... .... ........You have been marked on my profile map!...... .... .... .... .... .... .... .... .... .... .... .... .... .. ..BOJ LUCKI / MIR CREW (Shout Rec, Nuttah Beats, JungleX, Bass Punch, Digital Colours, Keynote, Dutty Rock, MIR, SWEDEN) http://soundcloud.com/bojlucki www.myspace.com/djbojlucki www.myspace.com/mirrecordsdnb www.klubbrekyl.com This Stockholm based dj/producer/promoter and label owner has come a long way. Started running one of the biggest dnb nights in Scandinavia called REKYL back in 2000, and Boj Lucki has played a major role in the Swedish dnb scene ever since. Booking artists like Goldie, LTJ Bukem, Fabio & Grooverider, Dj Hype, Krust, Zinc, Bailey, Digital, YT and Ragga Twins to name just a few. Boj Lucki has kept himself real busy DJing around the world, where his dubwise selection has been heard in over 20 different countries in the past years. All from Hong Kong to Toronto, London to Moscow, Berin to Prague. In 2007 he founded his own label Mir Records under support and distribution by Nu Urban Music. MIR Crew was formed in 2006 by Boj Lucki, Ljudas and Toni Bassi. Since then the production trio has been working with artists like UK Apache, Top Cat, MC Spyda and Million Stylez to name a few. The success has been showed with their tracks getting played on dance floors all over the world and on radio stations such as BBC Radio1 / 1Xtra and Kiss100. Their music can be described as rhythmic, dance floor and base driven in many different forms: Drum n bass to dubstep, beats and house. In the making are new remixes and tracks for artists like Top Cat, MC Spyda and Daddy Freddy,Mr Williams, Dj Vadim, Big Bud, Curtis Lynch, Danjah, Ghislain Poirier, David Boomer and Kultiration so future looks defiantly bright for the MIR Crew. ..

Members

MIR CREW (Boj Lucki, Ljudas & Toni Bassi)

Influences

Sounds Like
No recent updates in this category.
Why not...
00:15 | 158 plays | Jul 5 2007
Bio:
BOJ LUCKI / MIR CREW (one third)

______________________________________________________

MIR REC / NUTTAH BEATS / DUTTY ROCK / SHOUT RECORDS / JUNGLEX / KEYNOTE REC

______________________________________________________

..FORTHCOMMING: ..

Million Stylez - Miss Fatty / MIR Crew remix (MIR 002)

Million Stylez - Frenemy / MIR Crew remix (MIR 002)

MIR Crew - Champion Sound Remix / Feat YT, Million Stylez... (Nessesary Mayhem)

MIR Crew - Decorate the dance / Kumina (Dutty Rock)

Big Bud - White widdow / MIR Crew remix (Soundtrax Dub)

MIR Crew & UK Apache - Revolution (Nuttah Beats Dub)

MIR Crew -Intercom cuts : Million Stylez, Diegojah, Chucky Bantan..

Dj Vadim - Terrorist / MIR Crew Remix

..OUT NOW:..

MIR Crew - Children of dub (JungleX)

UK Apache & MIR Crew - Everyman has a right (Nuttah Beats 04)

Joey Fever - Love around her / MIR CREW Remix (MIR001)

Ljudas & Boj Lucki - Clashy (Keynote010)

MIR CREW - Stockholm monster (Live @ Re:publik)

Million Stylez, Boj Lucki & Ljudas - Fade away (Shout Rec013)

to order check Chemical Rec / Redeye Rec / Juno / etc

Ljudas & Boj Lucki - Gunwar (JungleX007) to order check www.junglex.ca or BEATPORT.COM
..
..
..
..
..
..
..
..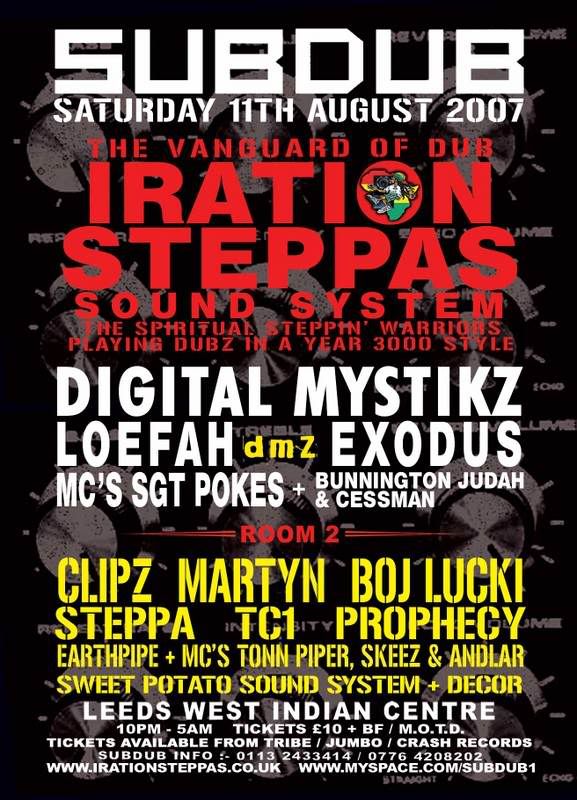 ..
..
..
..
..
..
..
..
..

BOJ LUCKI / MIR CREW (SHOUT REC, MIR REC, KEYNOTE, JUNGLEXPEDITIONS, REKYL, Sweden)

Stockholm based BOJ LUCKI has played a major role in Swedish dnb since 1999.

A newcomer in the production seat with and instant sucsess following a release in 2006 on SHOUT Recordings toghter with Ljudas, and in 2007 they released "Clashy" ..note Records / Load Media and the massive track "Gunwar" on JungleXpeditions www.junglex.ca

In 2007 Boj Lucki stated his own label MIR RECORDS under Nu Urban Music worldwide distribution. www.myspace.com/mirrecordsdnb Behind the production alias MIR Crew you find MIR Rec owners and brothers Boj Lucki and Toni Bassi plus the very talented producer and turntablist Ljudas.

Boj Lucki stared running club Rekyl in 2001, that has ever since been one of the largest dnb clubs in Scandinavia. www.klubbrekyl.com

Some of the guest artists and dj..s that have played @ Rekyl are Goldie, Fabio and Grooverider, Dj Hype (Ganja, UK), LTJ Bukem (UK), Krust (Full Cycle, UK), Dj Zinc (True Playaz, Bingo), John B (Beta, UK) D Bridge / Bad Companu UK, Bailey (Metalheadz, BBC 1Xtra), Ragga Twins, Digital, L Double (1 Xtra), Top Cat, Nu:Tone (Hospital), Aquasky (Moving Shadow, UK), Mathematics (US), Dj Phantasy & UK Apache, David Mancuso (The Loft, NYC), Alex from Tokyo, Adam Beyer, Cari Lekebush and Sumo to name a few.

Boj Lucki is a very bizzy dj aroud Europe where he and his dubwise sound has been heard in over 15 different coutnrys in the past 2 years.. In places like: UK - Movement / Bar Rumba, Subdub, HUNGARY, FINLAND, DENMARK, SLOVAKIA , LATVIA, BOSNIA, AUSTIRA, SPAIN, FRANCE, GERMANY, CZECH REP, ESTONIA, SERBIA, CANADA...
Member Since:
september 01, 2006
Record Label:
SHOUT / JUNGLE XPEDITIONS / MIR