Play

Play Next

Add to queue
Play

Play Next

Add to queue

1,283 plays

Play

Play Next

Add to queue

1,855 plays

Play

Play Next

Add to queue

3,776 plays

Play

Play Next

Add to queue

1,350 plays

Play

Play Next

Add to queue

8,744 plays
Genre: Electro / Hip Hop / R&B

Location ARLETA ARTIST, California, US

Profile Views: 51149

Last Login: 1/27/2011

Member Since 10/9/2006

Website SpinAddicts.com

Record Label Unsigned

Type of Label Major

Bio

........ ..LINK.. .... .. .... .. .. .. .. .. .. .. .. .. .. .. .. .................................................... .......... .......... .......... .......... .......... .. ..MEET DJ DAINJAZONE.... ..Like any little boy, Dainjazone had dreams on becoming a Major League Baseball player. He pitched all the way up to his senior year at New Mexico State University. This is where he unfolded the art of DJing. in 2006, He felt it was time to drop the ball and glove and continue on with his new found passion. ..From coast to coast, people are getting familiar with DJ Dainjazone and his trade mark cazal glasses to go with the name. DJ Dainjazone's name and career is swiftly growing in the entertainment scene. He was crowned champ for the month of June in the Beezo.net mix competition where the final 3 mixes were judged by one of the most popular DJs in the game, Deckstar's DJ Scene. Beezo.net rakes in over 200,00 viewers per day and is one of the most popular down loading sites. Along with his winning mix are other mixes that have generated over a thousand down loads and have exposed his skills and knowledge on music. ..Not only has Dainjazone grown popular from his mixes, he is creating quite a buzz in the Hollywood scene. He has earned a residency at Social (one of the biggest, most popular clubs on the Sunset strip) on Saturdays and continues to make appearances at other elite clubs such as Green Door and Villa Lounge, just to name a few. ..Dainjazone has also taken on the Electro style, which has made him more versatile in his sets. He spins once a month at Southern California's leading dance club, The Hiest located inside world famous, Florentine Gardens. 1800 people go to this event every thursday. ..In an era where anybody can buy a lap top and call themselves a dj, Dainjazone stresses creativity and structure to seperate him from the rest. He has traveled the country as a student of the game, inspired by the best djs to polish his style and to provoke his innovative ways. ..Dainjazone is no stranger to spinning on the road. He has worked clubs and events outside of LA in cities such as; Las Vegas, Scottsdale, Baltimore, Cleveland, Portland, Dallas, Orlando, Salt Lake City, Denver and San Diego. .. .. FOLLOW DJ DAINJAZONE ON TWITTER .. .. .. .. .. .. .. .. .. .. .. .. .. ..VIEW MY EVENTS.. ..WATCH DJ DAINJAZONE.. .. ..FOR CONTACT/BOOKING.. ..email: ..Jhamp83@aol.com.. .. .. .. .. .. .. .. .. .. .. .. .... .. .. .. .. .. .. .. .... .. .. .. .. .. .. .. .... .. .. .. .. .. .. .. .... .. .. .. .. .. .. .. .... .. .. .. .. .. .. .. .... .. .. .. .. .. .. .. .... .. .. .. .. .. .. .. .... .. .. .. .. .. .. .. .... .. .. .. .. .. .. .. .... .. .. .. .. .. .. .. .... .. .. .. .. .. .. .. .... .. .. .. .. .. .. .. .... .. .. .. .. .. .. .. .. .. ..

Members

www.spinaddicts.com www.myspace.com/spinaddictsla

Influences

EVERYONE! I learn from everyone and make my decisions in life based on what i learn from people. But if i had to call out dj's, i would have to say; Faust, Shortee, Vajra (sooo under-rated), Kid Fresh, Revoluition, Craze, A-Trak, Q-Bert, DJ Mega man, presto one and on and on. Oh yea! Bruce Lee, my little bro, DJ GAY (aka BEAST! BEAST UP BABY)! and JAY DILLA...HIS NAME REPRESENTS MY HUNGER FOR GREATNESS! "LIVE LIFE THE WAY JAY DILLA ENDED HIS!" Thank you to all who inspire me. ......

Sounds Like
No recent updates in this category.
Why not...
Bio:
LINK
.. ..
MEET DJ DAINJAZONE
Like any little boy, Dainjazone had dreams on becoming a Major League Baseball player. He pitched all the way up to his senior year at New Mexico State University. This is where he unfolded the art of DJing. in 2006, He felt it was time to drop the ball and glove and continue on with his new found passion.
From coast to coast, people are getting familiar with DJ Dainjazone and his trade mark cazal glasses to go with the name. DJ Dainjazone's name and career is swiftly growing in the entertainment scene. He was crowned champ for the month of June in the Beezo.net mix competition where the final 3 mixes were judged by one of the most popular DJs in the game, Deckstar's DJ Scene. Beezo.net rakes in over 200,00 viewers per day and is one of the most popular down loading sites. Along with his winning mix are other mixes that have generated over a thousand down loads and have exposed his skills and knowledge on music.
Not only has Dainjazone grown popular from his mixes, he is creating quite a buzz in the Hollywood scene. He has earned a residency at Social (one of the biggest, most popular clubs on the Sunset strip) on Saturdays and continues to make appearances at other elite clubs such as Green Door and Villa Lounge, just to name a few.
Dainjazone has also taken on the Electro style, which has made him more versatile in his sets. He spins once a month at Southern California's leading dance club, The Hiest located inside world famous, Florentine Gardens. 1800 people go to this event every thursday.
In an era where anybody can buy a lap top and call themselves a dj, Dainjazone stresses creativity and structure to seperate him from the rest. He has traveled the country as a student of the game, inspired by the best djs to polish his style and to provoke his innovative ways.
Dainjazone is no stranger to spinning on the road. He has worked clubs and events outside of LA in cities such as; Las Vegas, Scottsdale, Baltimore, Cleveland, Portland, Dallas, Orlando, Salt Lake City, Denver and San Diego.
FOLLOW DJ DAINJAZONE ON TWITTER


VIEW MY EVENTS
WATCH DJ DAINJAZONE
Member Since:
October 09, 2006
Influences:
EVERYONE! I learn from everyone and make my decisions in life based on what i learn from people. But if i had to call out dj's, i would have to say; Faust, Shortee, Vajra (sooo under-rated), Kid Fresh, Revoluition, Craze, A-Trak, Q-Bert, DJ Mega man, presto one and on and on. Oh yea! Bruce Lee, my little bro, DJ GAY (aka BEAST! BEAST UP BABY)! and JAY DILLA...HIS NAME REPRESENTS MY HUNGER FOR GREATNESS! "LIVE LIFE THE WAY JAY DILLA ENDED HIS!" Thank you to all who inspire me.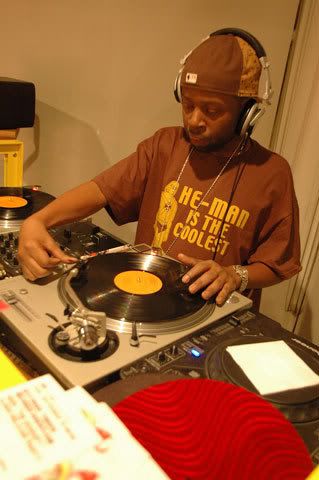 Record Label:
Unsigned