Play

Play Next

Add to queue
Play

Play Next

Add to queue

506 plays

Play

Play Next

Add to queue

997 plays

Play

Play Next

Add to queue

839 plays

Play

Play Next

Add to queue

957 plays
Genre: Drum & Bass / Grime

Location MANCHESTER THE DIRTY NORTH, Northwest, UK

Profile Views: 79282

Last Login: 11/22/2010

Member Since 11/26/2005

Website ..YOU'RE ON IT..

Record Label ..G13/CLASS A/MOTION SENSOR/HEAVYCUT..

Type of Label Indie

Bio

.. ...... .. ...... .. .. DOWNLOAD MANCHESTER MASSACRE VOLUME 1 HERE!!...... .. ...... .. ....CURRENT RELEASES: .... .. .. .. ..CLASS A 001 - DJ ROWNEY - CHATTERBOX / WOBBLE T - LET ME STAY.. .. .. .. ..MOTION SENSOR 001 - DJ ROWNEY - WE DON'T RAMP / ZERO - LETS PLAY.. .. .. .. ..G13 001 - BASSLINE TERRORIST (ROWNEY) - DEATH RATTLE / HOAX & BUTCHER - SILENT STRIKE.. .. ....ALL ABOUT ME.... .. ..FIRSTLY - PLEASE DON'T ASK FOR BEATS, UNLESS YOU ARE ONE OF MY MATES, LABEL ARTIST OR A BIG DJ OR PRODUCER.. .. ..OK NOW THATS OUT OF THE WAY - EZ I'M ROWNEY, I HAVE BEEN DJING SINCE 98 AND PRODUCING SINCE 2003, HAD TUNES PLAYED AT RAVES BY LOCAL NORTH WEST DJS AND DJS ALL OVER ENGLAND, AND VARIOUS INTERNATIONAL DJS. I AM CURRENTLY ON THE ROSTA OF 3 LABELS, G13, MOTION SENSOR AND BIG IN THE DANCE RECORDS. I SPECIALISE IN JUMPUP DNB BUT ALSO MAKE HARDER DNB AND OTHER DANCEFLOOR ORIENTATED TRACKS... .. ..DJS WHO HAVE SUPPORTED MY MUSIC INCLUDE - SLY / ORIGIN / CALLIDE / EGO TRIPPIN / CKB / COMPLEX / MUTATED FORMS / RAWTEE / JAYLINE / DUB ZERO / SENSA / DR DUB / SHIFTA / DOMINO / UNIX / STYLEE / MESSY AND MANY MORE.... .. ..MYSELF AND PROPA G DO WEEKLY SHOWS ON WWW.KRISISDNB.COM AND WWW.KOOLLONDON.COM, IN 2008 WE HAVE GAINED LISTENERS ALL OVER THE WORLD FROM CANADA TO EASTERN EUROPE, WE LIKE TO SHOWCASE THE BEST OF THE UP N COMING ARTISTS OUT THERE, SO IF YOU WANT US TO PLAY ANY OF YOUR MUSIC PLEASE HIT US UP ON OUR AIM ADRESSES..WE CAN'T GUARANTEE WE'LL PLAY EVERYTHING SO ONLY SEND YOUR BEST TUNES...I WILL OF COURSE GIVE FEEDBACK ON WHATEVER YOU SEND ME :).. .. ..AIM = djrowney / propa g uk.. .. ..FEEL FREE TO PM ME OR LEAVE COMMENTS AND FEEDBACK, ITS ALL VERY MUCH APPRECIATED, I LIKE TO KNOW WHAT PEOPLE THINK OF MY MUSIC.. .. ..PEACE.. .. .. .... .. ...... .. ...... .. ...... .. ...... .. ...... .. ...... ........ .. ...... .. ...... .. ...... .. .. .. .. .. .. .. .. .. .. .. .. ....Ste Basslineterrorist Rowney..............Create your badge.... ..!!! Start Code To Apply Top Banner !!!!.. ...... ...... .. Custom top banner code by Eileen.. .. .. .. .. ...... ...... ..!!! End Code To Apply Top Banner !!!.. .. .. ....Myspace Contact Tables.. ..

Members

Influences

..PROPA G, CKB, CALLIDE, JAYLINE, DJ PLEASURE, WES URBAN RIDDIM, MAKKA, BUGG, ROLY, ALPHA, REDEYE, BACKCHAT MC, FRISKO, S-MAN SMITH, LEVITY, ADT, KINGSIZE, B52, SENSA, MEGA, LUX, FRISK, ROBERTO, DEVAL, SUBTRAK, KIERAN JAY, EVOL, BREAKNECK, DL, BANBAN, FERO, LYPTIKAL, DUBALLEY, EVIDENCE, CARL P, SI SMITH, JAYDAN, DISFUNKTION, MEECHA, DC, WILF, HAZARD, G DUB, ROB RECORD...MANY MORE, BIGUP TO YOU ALL :)..

Sounds Like
No recent updates in this category.
Why not...
Bio:
DOWNLOAD MANCHESTER MASSACRE VOLUME 1 HERE!!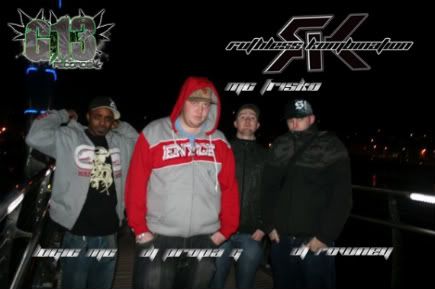 ..CURRENT RELEASES: ..
CLASS A 001 - DJ ROWNEY - CHATTERBOX / WOBBLE T - LET ME STAY

MOTION SENSOR 001 - DJ ROWNEY - WE DON'T RAMP / ZERO - LETS PLAY

G13 001 - BASSLINE TERRORIST (ROWNEY) - DEATH RATTLE / HOAX & BUTCHER - SILENT STRIKE

..ALL ABOUT ME..

FIRSTLY - PLEASE DON'T ASK FOR BEATS, UNLESS YOU ARE ONE OF MY MATES, LABEL ARTIST OR A BIG DJ OR PRODUCER

OK NOW THATS OUT OF THE WAY - EZ I'M ROWNEY, I HAVE BEEN DJING SINCE 98 AND PRODUCING SINCE 2003, HAD TUNES PLAYED AT RAVES BY LOCAL NORTH WEST DJS AND DJS ALL OVER ENGLAND, AND VARIOUS INTERNATIONAL DJS. I AM CURRENTLY ON THE ROSTA OF 3 LABELS, G13, MOTION SENSOR AND BIG IN THE DANCE RECORDS. I SPECIALISE IN JUMPUP DNB BUT ALSO MAKE HARDER DNB AND OTHER DANCEFLOOR ORIENTATED TRACKS.

DJS WHO HAVE SUPPORTED MY MUSIC INCLUDE - SLY / ORIGIN / CALLIDE / EGO TRIPPIN / CKB / COMPLEX / MUTATED FORMS / RAWTEE / JAYLINE / DUB ZERO / SENSA / DR DUB / SHIFTA / DOMINO / UNIX / STYLEE / MESSY AND MANY MORE..

MYSELF AND PROPA G DO WEEKLY SHOWS ON WWW.KRISISDNB.COM AND WWW.KOOLLONDON.COM, IN 2008 WE HAVE GAINED LISTENERS ALL OVER THE WORLD FROM CANADA TO EASTERN EUROPE, WE LIKE TO SHOWCASE THE BEST OF THE UP N COMING ARTISTS OUT THERE, SO IF YOU WANT US TO PLAY ANY OF YOUR MUSIC PLEASE HIT US UP ON OUR AIM ADRESSES..WE CAN'T GUARANTEE WE'LL PLAY EVERYTHING SO ONLY SEND YOUR BEST TUNES...I WILL OF COURSE GIVE FEEDBACK ON WHATEVER YOU SEND ME :)

AIM = djrowney / propa g uk

FEEL FREE TO PM ME OR LEAVE COMMENTS AND FEEDBACK, ITS ALL VERY MUCH APPRECIATED, I LIKE TO KNOW WHAT PEOPLE THINK OF MY MUSIC

PEACE
..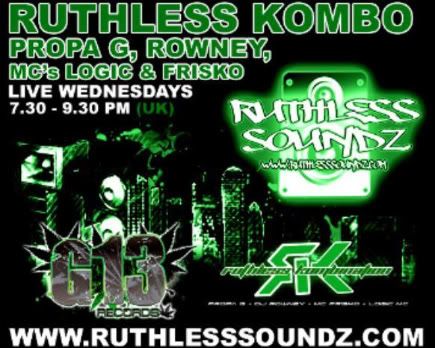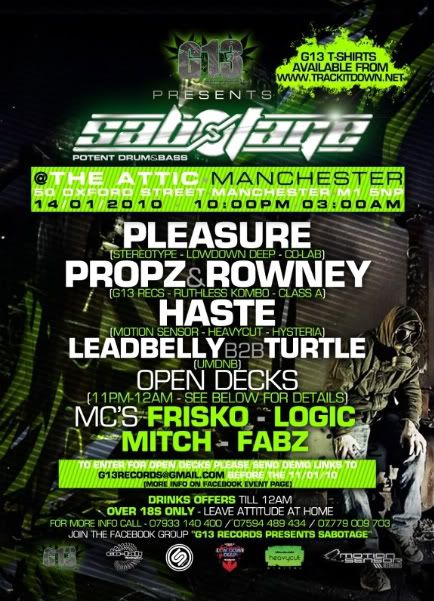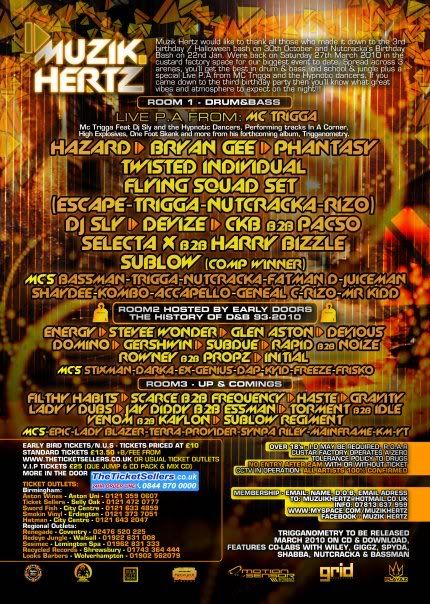 ..

..Ste Basslineterrorist Rowney


Create your badge.. !!! Start Code To Apply Top Banner !!!! ...... ...... Custom top banner code by Eileen
..
Member Since:
November 26, 2005
Influences:
PROPA G, CKB, CALLIDE, JAYLINE, DJ PLEASURE, WES URBAN RIDDIM, MAKKA, BUGG, ROLY, ALPHA, REDEYE, BACKCHAT MC, FRISKO, S-MAN SMITH, LEVITY, ADT, KINGSIZE, B52, SENSA, MEGA, LUX, FRISK, ROBERTO, DEVAL, SUBTRAK, KIERAN JAY, EVOL, BREAKNECK, DL, BANBAN, FERO, LYPTIKAL, DUBALLEY, EVIDENCE, CARL P, SI SMITH, JAYDAN, DISFUNKTION, MEECHA, DC, WILF, HAZARD, G DUB, ROB RECORD...MANY MORE, BIGUP TO YOU ALL :)
Record Label:
G13/CLASS A/MOTION SENSOR/HEAVYCUT