Play

Play Next

Add to queue
Play

Play Next

Add to queue

545,154 plays

Play

Play Next

Add to queue

542,396 plays

Play

Play Next

Add to queue

702,807 plays

Play

Play Next

Add to queue

572,903 plays

Play

Play Next

Add to queue

590,150 plays
Genre: Club / Hip Hop / Turntablism

Location Los Angeles, US

Profile Views: 3852800

Last Login: 11/11/2011

Member Since 8/3/2005

Type of Label Indie

Bio

.... .. .. Whether it's the biggest radio station in the country, the top viewed channel online at YouTube, or productions of the top artists in the world, DJ Skee has become the authoritative voice for his generation. Skee is tapped to open the Las Vegas mega-clubs, host the hottest parties, premier the newest music on the radio, produce mega budget music videos, remix artists ranging from Snoop Dog to Travis Barker, and create distinct marketing campaigns for Fortune 500 Companies like Daimler-Chrysler and T-Mobile. His unique ability to cross the lines of conception, performance, production, and promotion provides a distinct creative and strategic advantage. Whether in the club or on radio, for the mainstream or underground, advancing film or sound media, Skee's award winning work gets the word out as evidenced from MTV's TRL to CBS' 60 Minutes, alongside his 50 million yearly online views. .... DJ Skee is uniquely situated at the top of club, radio, and mixtape dj worlds and produces today's leading artists in both musically and visually. Also orchestrating marketing campaigns for Fortune 500 companies, Skee's unique niche in the market provides one of the most visible and acclaimed voices of his generation. .... Winner of the Radio DJ of the year award, he is a host on the most listened to radio station in the country, Los Angeles' KIIS FM. Skee is also the face of their new music programming with his weekly New Music show and its recently launched HD station, HD2 New. In addition, DJ Skee can be heard every Saturday night on Sirius / XM Satellite Radio as he hosts a show syndicated through Europe, Asia, and Australia, as well as on DirecTV & Dish Network that reaches over 30 million households. .... DJ Skee has now moved to the forefront of the Celebrity DJ culture. As resident DJ at the biggest clubs in Vegas including Tryst and Drai's, Skee rang in 2009 by opening and headlining XS at the Encore/Wynn Casino in Las Vegas. Skee has rocked clubs worldwide alongside Paris Hilton, Kevin Federline, Magic Johnson, Al Pacino, Robert DeNiro, Christina Aguilera, and P. Diddy amongst others while performing at events such as the Grammies, Democratic National Convention, Superbowl, NFL Pro Bowl, VMA's, NBA All Star Weekend, Icer Air, Boost Mobile Rock Corps Concert Series, North American Ski Open, and Academy Awards, alongside corporate events for Nike, MTV, Cartoon Network, Rock The Vote, Coors, and more. As a featured host for special events, his annual car show at the Los Angeles Convention Center situates products with the entertainment business to live audiences of over 10,000 people. On network television, Skee has performed on numerous shows including the NFL on Fox, MTV's Sweet 16, and NBC's Late Show. .... Skee produces and remixes today's top artists ranging from Quincy Jones to Jay-Z. He was awarded Mixtape DJ Of The Year from the Hip Hop Awards and received a record 8 nominations in the 2008 Mixtape Awards. As a definitive voice in both the underground world and the mainstream, he has collaborated with some of this generation's biggest selling artists including Akon, The Game, and Chris Cornell. .... DJ Skee is acknowledged as the king of the web amongst DJ's. His websites and social networking sites have hundreds of thousands of followers and his music has garnished over 20 million downloads and streams. In addition, his online video network, Skee.TV, is a unique production, marketing, and content distribution company specializing in creative and high production value music videos and new media marketing. .... Founded by DJ Skee, Skee.TV is a unique production, marketing, and content distribution company specializing in creative visual productions alongside new media marketing to get its content viewed by millions. Since its launch in 2007, Skee.TV has garnished over 30 million streams on its website, and is responsible for many of todays major label music videos, web content, behind the scenes pieces, and other clips of its projects. Skee.TV provides an amazing alternative promotional source for any of Skee's events, deals, and partners that no other DJ can offer. Our unique positioning allows optimal value for clients and results second to none. .... With his presence across the board on radio, the Internet, and at events, Skee is in direct touch with today's entertainment and consumer markets. He currently consults with most major labels , handling A&R and marketing strategies. After heading SRC Marketing, the company that invented the street team, Skee launched his own firm that has worked with Fortune 500 companies including Daimler-Chrysler, T-Mobile, Nike, Playboy, Universal, and Motorola to orchestrate creative marketing campaigns for them. Skee's widespread presence in the entertainment and corporate worlds gives him a unique dual business-performance edge and knowledge on how to successfully situate any project. .... As featured on CBS's 60 Minutes, MTV, NBC, The E! Network, ESPN, FOX, or in numerous publications such as The Los Angeles Times, New York Post, Rolling Stone, XXL, and Business Week, whatever Skee does, the world is watching. <.... ...... AKON- Trouble: The Mixtape.. JAY-Z- The American Godfather.. SNOOP DOGG- The Blue Carpet Treatment & Signal Flow.. CHRIS CORNELL-Scream.. R. KELLY- The Demo Tape.. THE GAME- ..You Know What It Is Volumes 3 & 4, Stop Snitchin' Stop Lyin', The Black Wall Street Journal.. TRAVIS BARKER SKINHEAD ROB PAUL WALL- Expen$ive Ta$te.. UNIVERSAL MUSIC GROUP- Strictly For The Streets.. INTERSCOPE / GEFFEN/ A&M- The Sound Of The Streets.. SRC RECORDS- Hits Vol. 1 & 2.. PLAYBOY TV- Official Mixtape.. T-MOBILE- Sidekick Soundtrack.... ...... -New Years Eve 2009: Opening of the worlds most expensive club, XS, the $100 million dollar venue inside Encore, the new Wynn tower in Las Vegas.. -New Years Eve 2008 Las Vegas at Tangerine with Kevin Federline and Club LAX with Paris & Nicky Hilton.. -DJ Skee Envy Lifestyle Show @ Los Angeles Convention Center.. -NFL Pro Bowl (Hawaii).. -2008 Democratic National Convention (Denver) w/ Fall Out Boy & N.E.R.D... -South By Southwest Music Festival (Austin, TX).. -Doug Morris & Sylvia Rhone's Official Universal Music Group Grammy Event.. -Al Pacino & Robert DiNero Honorary Gala.. -XBox / Grand Theft Auto IV Announcement Event.. -Jingle Ball 2008 @ The Anaheim Pond/Honda Center w/Rihanna, Chris Brown, and more.. -Coors Super Bowl Party with LL Cool J.. -MTV's Sweet 16 (TV- MTV).. -Mary-Kate Olsen Private Birthday Party.. -Rock The Vote Fundraiser w/ Christina Aguilera.. -NBA All Star Weekend (with P Diddy, T.I., and more).. -Academy Awards after party.. -Nike Air Force 1 ID launch event.. -Icer Air at AT&T Park (Giants Stadium).. -Halloween @ Tryst Las Vegas & Drai's After Hours.. -NY Yankees official party with Derek Jeter & Alex Rodriguez.. -DJ Skee Birthday party at Club LAX with Three-6-Mafia.. -A Midsummer Nights Magic Celebrity Basketball Tournament (with Magic Johnson, Baron Davis, Paul Pierce, Jessica Alba, etc.).. -Boost Mobile Rock Corps Concert Series.. -Nike / Cartoon launch event.. -Powerhouse @ Staples Center.. -MTV Rob & Big Party.. -Paul Mitchell 2008 North American Ski Championships (on top of mountain in Breckenridge, CO).. -Internationally (Asia, South America, Europe).. .. ...... The Game ft. Travis Barker "Dope Boys".. Chris Cornell "Long Gone".. Soulja Boy "Turn My Swag On".. David Archuletta "Hold My Hand".. Lil Wayne "Gossip (Live)".. Kardinal Offishall ft. The Clipse "Set It Off".. The New Boyz "You're A Jerk".. Charles Hamilton "Brooklyn Girls".. Xzibit/Young De "Figure It Out".. Problem "America".. B-Real/Sick Jacken "Psycho Realm Revolution".. Ca$his "Cant Move Me".. VIC "Say Bow".. Charles Hamilton "November 10th".. Snoop Dogg/DJ Quik/Terrace Martin/Kurupt "Bounce, Rock, Skate".. .. ...... .. .. .. .. .. .. ...... .. .. .. .. .. .. .. .. .... .... .... .... .... .... .. .. ........ ........ ........ ........ .. .. ........ ........ ........ ........ .. .. ..

Members

.. .................. ...... .. .. .. .. .. .. .. .. .. ...... .. .. .. .. .. .. .. .. .. .. .. .. .. .. ...... .. .. .. .. .. .. ......

Influences

..

Sounds Like
01:03 | 21 plays | Jan 12 2013
Bio:

Whether it's the biggest radio station in the country, the top viewed channel online at YouTube, or productions of the top artists in the world, DJ Skee has become the authoritative voice for his generation. Skee is tapped to open the Las Vegas mega-clubs, host the hottest parties, premier the newest music on the radio, produce mega budget music videos, remix artists ranging from Snoop Dog to Travis Barker, and create distinct marketing campaigns for Fortune 500 Companies like Daimler-Chrysler and T-Mobile. His unique ability to cross the lines of conception, performance, production, and promotion provides a distinct creative and strategic advantage. Whether in the club or on radio, for the mainstream or underground, advancing film or sound media, Skee's award winning work gets the word out as evidenced from MTV's TRL to CBS' 60 Minutes, alongside his 50 million yearly online views.

DJ Skee is uniquely situated at the top of club, radio, and mixtape dj worlds and produces today's leading artists in both musically and visually. Also orchestrating marketing campaigns for Fortune 500 companies, Skee's unique niche in the market provides one of the most visible and acclaimed voices of his generation.

Winner of the Radio DJ of the year award, he is a host on the most listened to radio station in the country, Los Angeles' KIIS FM. Skee is also the face of their new music programming with his weekly New Music show and its recently launched HD station, HD2 New. In addition, DJ Skee can be heard every Saturday night on Sirius / XM Satellite Radio as he hosts a show syndicated through Europe, Asia, and Australia, as well as on DirecTV & Dish Network that reaches over 30 million households.

DJ Skee has now moved to the forefront of the Celebrity DJ culture. As resident DJ at the biggest clubs in Vegas including Tryst and Drai's, Skee rang in 2009 by opening and headlining XS at the Encore/Wynn Casino in Las Vegas. Skee has rocked clubs worldwide alongside Paris Hilton, Kevin Federline, Magic Johnson, Al Pacino, Robert DeNiro, Christina Aguilera, and P. Diddy amongst others while performing at events such as the Grammies, Democratic National Convention, Superbowl, NFL Pro Bowl, VMA's, NBA All Star Weekend, Icer Air, Boost Mobile Rock Corps Concert Series, North American Ski Open, and Academy Awards, alongside corporate events for Nike, MTV, Cartoon Network, Rock The Vote, Coors, and more. As a featured host for special events, his annual car show at the Los Angeles Convention Center situates products with the entertainment business to live audiences of over 10,000 people. On network television, Skee has performed on numerous shows including the NFL on Fox, MTV's Sweet 16, and NBC's Late Show.

Skee produces and remixes today's top artists ranging from Quincy Jones to Jay-Z. He was awarded Mixtape DJ Of The Year from the Hip Hop Awards and received a record 8 nominations in the 2008 Mixtape Awards. As a definitive voice in both the underground world and the mainstream, he has collaborated with some of this generation's biggest selling artists including Akon, The Game, and Chris Cornell.

DJ Skee is acknowledged as the king of the web amongst DJ's. His websites and social networking sites have hundreds of thousands of followers and his music has garnished over 20 million downloads and streams. In addition, his online video network, Skee.TV, is a unique production, marketing, and content distribution company specializing in creative and high production value music videos and new media marketing.

Founded by DJ Skee, Skee.TV is a unique production, marketing, and content distribution company specializing in creative visual productions alongside new media marketing to get its content viewed by millions. Since its launch in 2007, Skee.TV has garnished over 30 million streams on its website, and is responsible for many of todays major label music videos, web content, behind the scenes pieces, and other clips of its projects. Skee.TV provides an amazing alternative promotional source for any of Skee's events, deals, and partners that no other DJ can offer. Our unique positioning allows optimal value for clients and results second to none.

With his presence across the board on radio, the Internet, and at events, Skee is in direct touch with today's entertainment and consumer markets. He currently consults with most major labels , handling A&R and marketing strategies. After heading SRC Marketing, the company that invented the street team, Skee launched his own firm that has worked with Fortune 500 companies including Daimler-Chrysler, T-Mobile, Nike, Playboy, Universal, and Motorola to orchestrate creative marketing campaigns for them. Skee's widespread presence in the entertainment and corporate worlds gives him a unique dual business-performance edge and knowledge on how to successfully situate any project.

As featured on CBS's 60 Minutes, MTV, NBC, The E! Network, ESPN, FOX, or in numerous publications such as The Los Angeles Times, New York Post, Rolling Stone, XXL, and Business Week, whatever Skee does, the world is watching. <




AKON- Trouble: The Mixtape
JAY-Z- The American Godfather
SNOOP DOGG- The Blue Carpet Treatment & Signal Flow
CHRIS CORNELL-Scream
R. KELLY- The Demo Tape
THE GAME-
You Know What It Is Volumes 3 & 4, Stop Snitchin' Stop Lyin', The Black Wall Street Journal
TRAVIS BARKER SKINHEAD ROB PAUL WALL- Expen$ive Ta$te
UNIVERSAL MUSIC GROUP- Strictly For The Streets
INTERSCOPE / GEFFEN/ A&M- The Sound Of The Streets
SRC RECORDS- Hits Vol. 1 & 2
PLAYBOY TV- Official Mixtape
T-MOBILE- Sidekick Soundtrack




-New Years Eve 2009: Opening of the worlds most expensive club, XS, the $100 million dollar venue inside Encore, the new Wynn tower in Las Vegas
-New Years Eve 2008 Las Vegas at Tangerine with Kevin Federline and Club LAX with Paris & Nicky Hilton
-DJ Skee Envy Lifestyle Show @ Los Angeles Convention Center
-NFL Pro Bowl (Hawaii)
-2008 Democratic National Convention (Denver) w/ Fall Out Boy & N.E.R.D.
-South By Southwest Music Festival (Austin, TX)
-Doug Morris & Sylvia Rhone's Official Universal Music Group Grammy Event
-Al Pacino & Robert DiNero Honorary Gala
-XBox / Grand Theft Auto IV Announcement Event
-Jingle Ball 2008 @ The Anaheim Pond/Honda Center w/Rihanna, Chris Brown, and more
-Coors Super Bowl Party with LL Cool J
-MTV's Sweet 16 (TV- MTV)
-Mary-Kate Olsen Private Birthday Party
-Rock The Vote Fundraiser w/ Christina Aguilera
-NBA All Star Weekend (with P Diddy, T.I., and more)
-Academy Awards after party
-Nike Air Force 1 ID launch event
-Icer Air at AT&T Park (Giants Stadium)
-Halloween @ Tryst Las Vegas & Drai's After Hours
-NY Yankees official party with Derek Jeter & Alex Rodriguez
-DJ Skee Birthday party at Club LAX with Three-6-Mafia
-A Midsummer Nights Magic Celebrity Basketball Tournament (with Magic Johnson, Baron Davis, Paul Pierce, Jessica Alba, etc.)
-Boost Mobile Rock Corps Concert Series
-Nike / Cartoon launch event
-Powerhouse @ Staples Center
-MTV Rob & Big Party
-Paul Mitchell 2008 North American Ski Championships (on top of mountain in Breckenridge, CO)
-Internationally (Asia, South America, Europe)





The Game ft. Travis Barker "Dope Boys"
Chris Cornell "Long Gone"
Soulja Boy "Turn My Swag On"
David Archuletta "Hold My Hand"
Lil Wayne "Gossip (Live)"
Kardinal Offishall ft. The Clipse "Set It Off"
The New Boyz "You're A Jerk"
Charles Hamilton "Brooklyn Girls"
Xzibit/Young De "Figure It Out"
Problem "America"
B-Real/Sick Jacken "Psycho Realm Revolution"
Ca$his "Cant Move Me"
VIC "Say Bow"
Charles Hamilton "November 10th"
Snoop Dogg/DJ Quik/Terrace Martin/Kurupt "Bounce, Rock, Skate"



Member Since:
August 03, 2005
Members: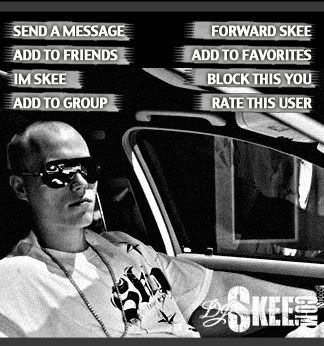 Influences:
..
DJ Skee has 109829 friends.