Play

Play Next

Add to queue
Play

Play Next

Add to queue

2,908 plays

Play

Play Next

Add to queue

3,188 plays

Play

Play Next

Add to queue

3,510 plays

Play

Play Next

Add to queue

97 plays

Play

Play Next

Add to queue

4 plays
Genre: Drum & Bass / Electronica / Hip Hop

Location London and South East, UK

Profile Views: 56496

Last Login: 11/2/2011

Member Since 5/8/2006

Website http://www.viperrecordings.co.uk/

Record Label VIPER,BAD TASTE,REMIX ALLSTARS,ABSTRACT INC&SURGE

Type of Label Indie

Bio

...... .. One of the most exciting up and coming DJ/producers, Tim aka 'Dj T-Phonic'has several forthcoming releases with Viper, Bad Taste, Abstract inc and Out of control recordings with "Keep Moving"& "Overload" (Viper) smashing up the floors for the likes of Dj Hype, Futurebound, Matrix, BCUK and J Majik due for release in March 2008. As well as"Can't stop it"(Bad Taste) not only being played all over the world but also getting radio play on Radio 1, 1xtra and Kiss by the likes of Hype, Bailey, Futurebound & Matrix and Probe to name a few proving his brand of musical and upfront drum and bass electronica is looking set to make waves. .. ...... .. He has been expressing himself musically for over twelve years, drawing on early exposure to mid nineties hardcore and jungle for his influences and playing the saxophone as a child for his musical intuition. This passion for playing and creating music started from the age of 11, and has since enabled to him smash venues at home and in Europe as a DJ. Previously in the studio, and under the 'Kinetics' alias Tim was responsible for the huge "Back 2 My Other Life" remix, which was the signature tune for Bobby Friction & Nihal's BBC Radio 1 show for over a year. The track was also licensed to their "Presents…" LP selling over 200,000 copies to date. No longer using the 'Kinetics' alias, T-Phonic is currently pushing his musical boundaries further and further still. This year has seen Tim hook up with 'The Remix Allstars' who alongside the likes of Mampi Swift, BCUK & Sylo, Kenny Ken & Mace, Lemon D, Ray Keith & Navigator are currently reworking an album for the legendary Chuck D. T has put his DnB style to one of New Zealand's biggest breakbeat groups 'MINUIT' and their classic track "ROOM FULL OF CUTE" (forthcoming on ABSTRACT inc.) as well as remixing the soulfoul voice of Elpinicki for "OUT OF HAND RECORDINGS". Along with producing and DJ'ing, Tim is also finding time writing his debut hip hop album as part of "Kaned & Able". So 2008 looks to be a very big year for T. .. To book T Phonic please use the following info: .. Email: QCAgency@hotmail.co.uk .. Direct Tel: +44 (0) 7908979875 .. .. Alternatively: .. [.. QC Agency .. [msn]: QCAgency@hotmail.co.uk.. ...... ..

Members

...... ...... T-PHONIC IN COLLABORATION WITH: RUMPUS, STACEY SMITH, SIGMA, BAIZWARN, ROLLIN, SYLO & G ON THE KEYS

Influences

Michael Jackson, Public Enemy, Stevie Wonder, Sub Focus, Cypress Hill, Raul Midon, Ratpack, Biggie, Pendulum, Bob Marley, Happy Mondays, High Contrast, Ian Brown, Bad Company, Prodigy, Ed Rush & Optical, The Game, Dillinja, Total Science, Wu Tang and logistics to name but a few

Sounds Like
Bio: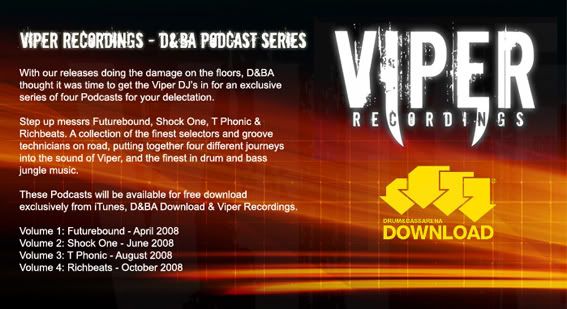 One of the most exciting up and coming DJ/producers, Tim aka 'Dj T-Phonic'has several forthcoming releases with Viper, Bad Taste, Abstract inc and Out of control recordings with "Keep Moving"& "Overload" (Viper) smashing up the floors for the likes of Dj Hype, Futurebound, Matrix, BCUK and J Majik due for release in March 2008. As well as"Can't stop it"(Bad Taste) not only being played all over the world but also getting radio play on Radio 1, 1xtra and Kiss by the likes of Hype, Bailey, Futurebound & Matrix and Probe to name a few proving his brand of musical and upfront drum and bass electronica is looking set to make waves.
He has been expressing himself musically for over twelve years, drawing on early exposure to mid nineties hardcore and jungle for his influences and playing the saxophone as a child for his musical intuition. This passion for playing and creating music started from the age of 11, and has since enabled to him smash venues at home and in Europe as a DJ. Previously in the studio, and under the 'Kinetics' alias Tim was responsible for the huge "Back 2 My Other Life" remix, which was the signature tune for Bobby Friction & Nihal's BBC Radio 1 show for over a year. The track was also licensed to their "Presents…" LP selling over 200,000 copies to date. No longer using the 'Kinetics' alias, T-Phonic is currently pushing his musical boundaries further and further still. This year has seen Tim hook up with 'The Remix Allstars' who alongside the likes of Mampi Swift, BCUK & Sylo, Kenny Ken & Mace, Lemon D, Ray Keith & Navigator are currently reworking an album for the legendary Chuck D. T has put his DnB style to one of New Zealand's biggest breakbeat groups 'MINUIT' and their classic track "ROOM FULL OF CUTE" (forthcoming on ABSTRACT inc.) as well as remixing the soulfoul voice of Elpinicki for "OUT OF HAND RECORDINGS". Along with producing and DJ'ing, Tim is also finding time writing his debut hip hop album as part of "Kaned & Able". So 2008 looks to be a very big year for T.
To book T Phonic please use the following info:
Email: QCAgency@hotmail.co.uk
Direct Tel: +44 (0) 7908979875
Alternatively:
[.. QC Agency
[msn]: QCAgency@hotmail.co.uk

..
Member Since:
May 08, 2006
Members:
T-PHONIC IN COLLABORATION WITH: RUMPUS, STACEY SMITH, SIGMA, BAIZWARN, ROLLIN, SYLO & G ON THE KEYS
Influences:
Michael Jackson, Public Enemy, Stevie Wonder, Sub Focus, Cypress Hill, Raul Midon, Ratpack, Biggie, Pendulum, Bob Marley, Happy Mondays, High Contrast, Ian Brown, Bad Company, Prodigy, Ed Rush & Optical, The Game, Dillinja, Total Science, Wu Tang and logistics to name but a few
Record Label:
VIPER,BAD TASTE,REMIX ALLSTARS,ABSTRACT INC&SURGE
DJ T-PHONIC has 16563 friends.