Play

Play Next

Add to queue
Play

Play Next

Add to queue

235 plays

Play

Play Next

Add to queue

415 plays

Play

Play Next

Add to queue

312 plays

Play

Play Next

Add to queue

248 plays

Play

Play Next

Add to queue

275 plays
Genre: Disco House / Post punk

Location San Francisco, California, US

Profile Views: 36961

Last Login: 8/11/2011

Member Since 4/23/2007

Record Label -none-

Bio

.. ...... ..PAST EVENTS...... .. .. ..DANCE TO ZE BEAT 1 YEAR ANNIVERSARY & FIST OF FACTS RELEASE PARTY @ THE KNOCK OUT MAY 14....... ..Ken Man.., not only a legendary post punk member of Liquid Idiot, the predecessor to Liquid Liquid who penned what would later become a smash hit repackaged as "White Lines", but also a member of Fist of Facts, an early 1980s Balearic-dub-punk fusion group in the PiL vein which is finally getting a rerelease & Mudd edit treatment on the disco edits label Claremont 56. For the "Dance to ZE Beat" 1 year anniversary party Ken will be banging out some unreleased FoF jams along with some other classics from his no wave and post punk past! Also dj sets by Pam (Sugar and Gold), Rob (Bronze), & Tristes Tropiques..... .. .. .. Fist Of Facts began life in a basement studio on Ludlow Street, downtown Manhattan, in the mid-80s. The bastard child of Liquid Liquid's Salvatore Prinicipato & Ken Man Caldeira (part of the Liquid Liquid extended family and original Liquid Idiot member) the band lasted nearly a decade during which they created a uniquely downtown New York sound evoking a musical, cultural and political construct that could only have evolved at that particular time in that particular place. .. .. The Fist Of Facts sound was mostly captured on a 4-track recorder synched to some long expired sequencing software, however, in performance the band could consist of Sal, Ken Man Caldeira and a computer or a nine piece ensemble replete with a horn section. Never standing still long enough to be defined, Fist Of Facts defied any attempt to stifle the spirit of their music and strove to avoid compromise, digging deep into the idiosyncracies of their personal experiences, political understandings and musical sensibilities. .. .. The band developed through it's ever changing lineup of significant contributors who passed through the studio or took to the stage to help decorate the sound and make their mark. Amongst those who contributed to this evolution were Mark Cunningham, Felice Rosser, Don Dowdye, Carlos Vivanco, Genevieve Boulet De Monvel and many more. Fist Of Facts strived to evoke the philosophy of the early Soviet film-maker Dziga Vertov who, in his cinematic manifesto, stated: .... Simply: the factory of facts. Filming facts. Sorting facts. Disseminating facts. Agitating facts. Fists made of facts. Mountains of facts. Hurricanes of facts and individual little factlets. .... http://claremont56.oki-ni.com/2009/03/fist-of-facts-unreleased-tracks/ .... ...................................................................................................... .. .. .. .. .. .. .. .. .. .. .. .. .. .. .. .. .. .. .. .. .. .. .. .. .. .. .. .. .. .. .. .. .. .. .. .. .. .. .. .. ..DANCE TO ZE BEAT SO FAR....... .. ..Dance to ZE Beat 8: 12/31/08.... Sal Principato (DFA/Liquid Liquid, NYC).. DJ Spun (Rong, NYC).. Nate B (Tussle, SF).. Conor (Red Dot, SF).. .. ..Dance to ZE Beat 7: 11/21/08.... Moe! Staiano (Mute Socialite/Sleepytime Gorilla Museum).. Jason P (Nary Guman).. Screening: Amos Poe's "Unmade Beds".. .. ..Dance to ZE Beat 6: Out Come ZE Freaks. 11/1/08.... Cole Palme (Factrix).. Goutroy(A Viable Commercial).. Josh Cheon(WAR/Honey Snd Systm).. Screening: Tsukerman's "Liquid Sky".. .. ..Dance to ZE Beat 5: 9/13/08.... Kim West (Death Sentence: Panda).. Alona (West Add Radio).. Rob Spector (Bronze).. Screening: Roberto Faenza's "Copkiller".. .. ..Dance to ZE Beat 4: 8/15/08.... Ellie Erickson (Erase Errata).. Weasel Walter ("No Wave" book/XbXrX/Flying Luttenbachers).. Screening: James Nares' "Rome '78".. .. ..Dance to ZE Beat 3: 7/19/08.... Josh Cheon (West Add Radio/Honey Soundsystem).. Nicole Ginelli (KUSF).. Screening: Kiki Smith's "Cave Girls" & Eric Mitchell's "Red Italy".. .. ..Dance to ZE Beat 2: 6/14/08.... Weasel Walter ("No Wave" book/XbXrX/Flying Luttenbachers).. Screening: Amos Poe's "The Foreigner".. .. ..Dance to ZE Beat: 5/17/08.... Ellie Erickson (Erase Errata/Kill Rock Stars).. Pickpocket (Donuts/West Add Radio).. Damon P & Daniel M-M (Mi Ami).. Screening: Bertoglio's "Downtown '81".. .. .. .. .. ..

Members

.. ..WAY MORE RECENT SHIT HERE:.... radiorhythm.org.. .. .. ..DANCE TO ZE BEAT 11/21/08...... Hercule - Sunday Morning Fever - Hercule .. The Fitzcarraldo Variations - Gamma Model.. Maximum Joy - Man of Tribes - Crippled Dick Hot Wax.. King Sunny Ade - Synchro System - Mango.. Visible - Essor Assure - Born Bad.. Six Sed Red - Bang Em Right - Sire.. A.P.B. - All Your Life With Me - Soul Jazz.. Herb Alpert - Rise - A&M.. Pulsallama - Ungawa Part II - Soul Jazz.. James White and the Contortions - Tropical Heatwave - ZE.. Bush Tetras - Snakes Crawl - ROIR.. Glass Candy - Bicicleta Emocional - Troubleman Unlimited.. Glaxo Babies - Shake the Foundations - Soul Jazz.. Kid Creole and the Cocoanuts - Something Wrong in Paradise (Larry Levan Remix) - ZE.. Billy Idol - Hot in the City (Exterminator Mix) - Crysalis.. .. .. ..OUT COME ZE FREAKS 11/1/08...... Jah Wobble/Liebezeit/Czukay - How Much Are They? (Peter Black Edit) - Electropolis.. Tangerine Dream - Dr. Destructo - Elektra.. Agentss - Agentes (Glimmers Remix) - Man Recordings.. Fockewulf 190 - Body Heat - Skylax.. Pop Dell'Arte - Querelle - Bloop.. Chris Stein - 15 Minutes - Recall.. The Plastics - Copy - Recall.. Charles de Goal - Exposition - Born Bad Records.. Tuxedomoon - Desire - Ralph.. Garcons - Re Bop Electronic - ZE.. Trans-X - Living on Video - Matra.. Shriekback - Working on the Ground - Y.. Burglar Tom - Is Your Mind Clear - Burglar.. Quando Quango - Love Tempo - Factory.. .. .. ..RADIO RHYTHM 10/22/08...... Bandolero - Paris Latino.. Magazine 60 - Don Quichotte.. Shocking Pinks - Smokescreen (12" and a bit more Glimmers Edit).. Angela - I Gotta Little Love.. Indeep - The Record Keeps Spinning.. Ian Dury and the Blockheads - Reasons to Be Cheerful Part 3.. Clandestine f/ Ned Sublette - Radio Rhythm.. Section 25 - Looking from A Hilltop.. Brennan Green - Escape from Chinatown.. Konk - Love Attack.. John Carpenter - The End (J Anthony Scratch Mix).. Nyam Nyam - Fate/Hate.. Brass Construction - Sambo (Progression).. Digglerelli/Ransullo/Bisce - B&D.. .. .. ..NEW ROUGH MIX (right click to download) 09/21/08.. .... France Joli - Girl in the 80's.. Giorgio Moroder - Evolution (Remix).. Mantus - (Dance It) Freestyle Rhythm.. Denis Lepage - Magnum.. Fern Kinney - Love Me Tonight.. Midnight Star - Make It Last.. Change - A Lover's Holiday.. Blue Moderne - No Use To Cha Cha.. Quartz - Quartz.. Blancmange - Game Above My Head (Extended Remix Version).. Master Jay and Michael Dee - T.S.O.B. (Part Two).. Belle Epoque - Miss Broadway.. Martin Circus Band - Disco Circus.. Damiano Digglerelli & Philippo Ransullo - B & D.. Lakeside - Outrageous.. .. .. ..DANCE TO ZE BEAT 9/13/08 short set.... Aural Exciters - Emil (Night Rate).. Dinosaur L - 7.. Ron Rogers - Naughty Boy.. Coati Mundi - Que Pasa/Me No Pop I.. As Mercenarias - Inimigo.. James White and the Blacks - Almost Black Part II.. Six Sed Red - Shake It Right.. .. .. ..RADIO RHYTHM 8/28/08.... Kano - I'm Ready.. Blancmange - God's Kitchen.. Junie Morrison - Techno-Freqs.. Shriekback - Working on the Ground.. Au Pairs - Come Again.. Del Byzanteens - War.. Ike Yard - NCR.. Snowy Red - Madman.. The Flirts - You and Me.. Modern Rocketry - The Right Stuff (Dub).. Grauzone - Eisbar.. Nyam Nyam - Fate/Hate.. SA-Fire - Don't Break My Heart.. Uncle Jamm's Army - Whats Your Sign.. Sleez Boys - Robo Cop.. Mirage - Lake of Dreams.. Clandestine f/ Ned Sublette - Radio Rhythm.. The Brothers Johnson - Welcome to the Club.. Casino Music - Viol Af Dis.. Liquid Liquid - Push.. Rosa Yemen - Larousse Baron Bic.. Garcons - Re bop Electronic.. Azul 29 - Ciencias Sensuais (Marco Edit).. .. .. ..DANCE TO ZE BEAT 8/15/08.... Lizzy Mercier Descloux - Tumour.. Shriekback - Accretions.. Liquid Liquid - Rubbermiro.. James Chance - Irresistible Impulse.. Kid Creole and the Coconuts - Going Places.. A Trois Dans Les WC - Contagion.. ESG - Earn It.. Mighty Tom Cats - Soul Makossa.. Quando Quango - This Feeling.. 52nd Street - Can't Afford to Let You Go.. Wally Jump Junior and the Criminal Element - Ain't Gonna Pay One Red Cent.. Kano - It's A War.. Material - Upriver.. Martin Rev - Temptation.. Voluntarios Da Patria - Io Io (Tim Love Lee Edit).. Glass Candy - Computer Love.. Chromatics - Running Up That Hill.. Iko - Approach on Tokyo.. .. .. ..DANCE TO ZE BEAT 7/19/08.... ..TRISTES TROPIQUES SHORT SET.... The Fall - Paintwork (Funf Und Vierzig).. Quando Quango - Love Tempo (Pow Wow).. Voluntarios Da Patria - Io Io (Man Recordings).. Daevid Allen - Jungle Windo(w) (Charly).. Howard Devoto - Out of Shape With Me (Virgin).. Jody Harris - Fairly Modern (Press).. The Dance - Do Da (Soul Jazz).. .. .. .. ..SLAVE TO THE RHYTHM SPECIAL GUEST 7/9/07.. .... grace jones - suffer (island).. vivian goldman - launderette (gomma).. data - blow (blowout version) (sire).. freeez - i.o.u. (ultimate club dub) (city beat).. wild sugar - messin around (tsob).. esg - earn it (99).. mirage - lake of dreams (italians do it better).. konk - do what you want (soul jazz).. MIC BREAK material - don't lose control (celluloid).. felix - tigerstripes (soul jazz).. shriekback - suck (arista).. arto lindsay - venus lost her shirt (editions eg).. arto lindsay - my competition (editions eg).. afternoon delights - general hospital (mca).. lizzy mercier descloux - jam on the move (ze).. daisy chain - no time to stop believing in love (ze).. del-byzantines - war (dont fall off the wagon).. bush tetras - das ah riot (roir).. death comet crew - at the marble bar (tmu).. brenda k. starr - suspicion (polydor).. tullio de piscopo - e fatto e sorde! (maxessa edit) (strut).. dinosaur L - clean on your bean 1 (sleeping bag).. b-side - so hot (celluloid).. MIC BREAK - b-side - cairo (celluloid).. don armando's 2nd avenue rhumba band - deputy of love (ze).. captain coolout - rhythm rap rock (wmot).. .. .. ..DANCE TO ZE BEAT 6/14/08.... Vivian Goldman - Launderette.. ESG - Erase You.. Suicide - Dream Baby Dream Long Version.. Alan Vega - Angel.. BSide - What I Like.. Manu Dibango - Electric Africa.. Kid Creole and the Coconuts - No Fish Today.. The Del Byzanteens - Sally Go Round the Roses.. Gepy and Gepy - African Love Song.. Bush Tetras - Das Ah Riot.. Don Armondo's Second Avenue Rhumba Band - Deputy of Love.. Afrika Bambaataa/John Lydon - World Destruction.. The Fall - The Man Whose Head Exploded.. Grace Jones - Love is the Drug.. Tina B - Bodygaurd Dub.. Brenda K Starr - Suspicion.. James White and the Blacks - That Old Black Magic.. Malcolm McLaren - Zulu's on a Time Bomb.. Freeez - I.O.U... Liquid Liquid - Cavern.. .. .. ..RADIO RHYTHM 6/05/08.... Dazz Band - Joystick.. Angela Bofill - Too Tough.. Stephanie Mills - The Medicine Song.. ESG - Bam Bam Jam.. Carrie Lucas - Dance With You.. Material - Busting Out.. Sexual Harrassment - If I Gave You a Party.. Material - Secret Life.. Klaus Schulze - Shadows of Ignorance.. Alan Vega - Saturn Drive.. John Foxx - The Garden.. Giorgio Moroder - Chase.. Kano - Now Baby Now.. James White and the Blacks - Irresitible Impulse.. Medium Medium - Hungry, So Angry.. Au Pairs - It's Obvious.. Vortex O.S.T. - Black Box Disco.. Clandestine F/ Ned Sublette - Radio Rhythm (Signal Smart).. Snuky Tate - He's The Groove.. Konk - Baby Dee Live.. Tuxedomoon - Desire.. The Del Byzanteens - Lies to Live By.. .. .. .. ..2007 - OLDER MIXES.. .. .. ..View All Here.... ..

Influences

Thick Pigeon - Fred + Andy .. .. .. .. .. ........ Mantus - Dance it Freestyle Rhythm .. .. .. .. .. .......... Material: Secret Life (Temporary Music) .. .. .. .. .. ........ Aural Exciters - Emile (Night Rate) .. .. .. .. .. ........ Shriekback - Accretions .. .. .. .. ..

Sounds Like

.... .. .. .. .. Steve Herridge, Los Microwaves, Thick Pigeon, Section 25, Maximum Joy, Arthur Russell, James Chance, Malcolm McLaren, Alan Vega, Was (Not Was), A Certain Ratio, Shango, Stone Roses, Jesus and Mary Chain, Talking Heads, Blondie, The Clash, Public Image Limited, The Flirts, ESG, Joy Division, The Cure, Whodini, New Order, Happy Mondays, Lizzy Mercier Descloux, Tuxedomoon, Brenda K Starr, Jalal Nuriddin, Spacemen 3, Mars, Big Audio Dynamite, Liliput, Big Audio Dynamite II, This Heat, Easy Going, Liquid Liquid, The Slits, Tussle, Numbers, Snuky Tate, Liaisons Dangereuses, Timezone, The World Famous Supreme Team, Dazz Band, Bush Tetras, Afrika Bambaata, Gang of Four, Arto Lindsay, Wire, XTC, Clandestine, Tina B, Y Pants, Cabaret Voltaire, K Rob, Quando Quango, Vivian Goldman, Fire Engines, Material, Throbbing Gristle, Giorgio Moroder, Brian Eno, Sonic Youth, Liars, Theoretical Girls, Mantronix, Herbie Hancock, Material, Y Pants, Cluster, Futura 2000, Lou Reed, Eddie Grant, Implog, Toure Kunda, Lounge Lizards, Deerhoof, Glasser, Freeez, Whispers, Gang 90, Steve Miller, D. D. Sound, Ciccone Youth, Phil Manzanera, Ike Yard, Wake, Kano, Crispy Ambulance, David Byrne, Gap Band, Konk, Glen Branca, Teenage Jesus & The Jerks, Lydia Lunch, Kraftwerk, Revanche, Gepy and Gepy, Can, Faust, Primal Scream, Yello Magic Orchestra, Adam and the Ants, Yoko Ono, Newcleus, Devo, As Mercenarias, The Housemartins, DNA, Prince Vince, Trouble Deuce, Manu Dibango, Death Comet Crew, Manicured Noise, BeeSide, Marcel King, Passion Trade, Six Sed Red, Shriekback
No recent updates in this category.
Why not...
Bio:
..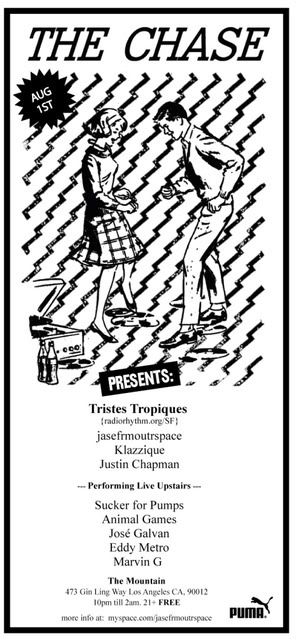 PAST EVENTS


DANCE TO ZE BEAT 1 YEAR ANNIVERSARY & FIST OF FACTS RELEASE PARTY @ THE KNOCK OUT MAY 14.

Ken Man, not only a legendary post punk member of Liquid Idiot, the predecessor to Liquid Liquid who penned what would later become a smash hit repackaged as "White Lines", but also a member of Fist of Facts, an early 1980s Balearic-dub-punk fusion group in the PiL vein which is finally getting a rerelease & Mudd edit treatment on the disco edits label Claremont 56. For the "Dance to ZE Beat" 1 year anniversary party Ken will be banging out some unreleased FoF jams along with some other classics from his no wave and post punk past! Also dj sets by Pam (Sugar and Gold), Rob (Bronze), & Tristes Tropiques.




Fist Of Facts began life in a basement studio on Ludlow Street, downtown Manhattan, in the mid-80s. The bastard child of Liquid Liquid's Salvatore Prinicipato & Ken Man Caldeira (part of the Liquid Liquid extended family and original Liquid Idiot member) the band lasted nearly a decade during which they created a uniquely downtown New York sound evoking a musical, cultural and political construct that could only have evolved at that particular time in that particular place.

The Fist Of Facts sound was mostly captured on a 4-track recorder synched to some long expired sequencing software, however, in performance the band could consist of Sal, Ken Man Caldeira and a computer or a nine piece ensemble replete with a horn section. Never standing still long enough to be defined, Fist Of Facts defied any attempt to stifle the spirit of their music and strove to avoid compromise, digging deep into the idiosyncracies of their personal experiences, political understandings and musical sensibilities.

The band developed through it's ever changing lineup of significant contributors who passed through the studio or took to the stage to help decorate the sound and make their mark. Amongst those who contributed to this evolution were Mark Cunningham, Felice Rosser, Don Dowdye, Carlos Vivanco, Genevieve Boulet De Monvel and many more. Fist Of Facts strived to evoke the philosophy of the early Soviet film-maker Dziga Vertov who, in his cinematic manifesto, stated:

Simply: the factory of facts. Filming facts. Sorting facts. Disseminating facts. Agitating facts. Fists made of facts. Mountains of facts. Hurricanes of facts and individual little factlets.

http://claremont56.oki-ni.com/2009/03/fist-of-facts-unreleased-tracks/

......................................................................................................



DANCE TO ZE BEAT SO FAR...

Dance to ZE Beat 8: 12/31/08
Sal Principato (DFA/Liquid Liquid, NYC)
DJ Spun (Rong, NYC)
Nate B (Tussle, SF)
Conor (Red Dot, SF)

Dance to ZE Beat 7: 11/21/08
Moe! Staiano (Mute Socialite/Sleepytime Gorilla Museum)
Jason P (Nary Guman)
Screening: Amos Poe's "Unmade Beds"

Dance to ZE Beat 6: Out Come ZE Freaks. 11/1/08
Cole Palme (Factrix)
Goutroy(A Viable Commercial)
Josh Cheon(WAR/Honey Snd Systm)
Screening: Tsukerman's "Liquid Sky"

Dance to ZE Beat 5: 9/13/08
Kim West (Death Sentence: Panda)
Alona (West Add Radio)
Rob Spector (Bronze)
Screening: Roberto Faenza's "Copkiller"

Dance to ZE Beat 4: 8/15/08
Ellie Erickson (Erase Errata)
Weasel Walter ("No Wave" book/XbXrX/Flying Luttenbachers)
Screening: James Nares' "Rome '78"

Dance to ZE Beat 3: 7/19/08
Josh Cheon (West Add Radio/Honey Soundsystem)
Nicole Ginelli (KUSF)
Screening: Kiki Smith's "Cave Girls" & Eric Mitchell's "Red Italy"

Dance to ZE Beat 2: 6/14/08
Weasel Walter ("No Wave" book/XbXrX/Flying Luttenbachers)
Screening: Amos Poe's "The Foreigner"

Dance to ZE Beat: 5/17/08
Ellie Erickson (Erase Errata/Kill Rock Stars)
Pickpocket (Donuts/West Add Radio)
Damon P & Daniel M-M (Mi Ami)
Screening: Bertoglio's "Downtown '81"




Member Since:
April 23, 2007
Members:
..
WAY MORE RECENT SHIT HERE:
radiorhythm.org
DANCE TO ZE BEAT 11/21/08
Hercule - Sunday Morning Fever - Hercule
The Fitzcarraldo Variations - Gamma Model
Maximum Joy - Man of Tribes - Crippled Dick Hot Wax
King Sunny Ade - Synchro System - Mango
Visible - Essor Assure - Born Bad
Six Sed Red - Bang Em Right - Sire
A.P.B. - All Your Life With Me - Soul Jazz
Herb Alpert - Rise - A&M
Pulsallama - Ungawa Part II - Soul Jazz
James White and the Contortions - Tropical Heatwave - ZE
Bush Tetras - Snakes Crawl - ROIR
Glass Candy - Bicicleta Emocional - Troubleman Unlimited
Glaxo Babies - Shake the Foundations - Soul Jazz
Kid Creole and the Cocoanuts - Something Wrong in Paradise (Larry Levan Remix) - ZE
Billy Idol - Hot in the City (Exterminator Mix) - Crysalis
OUT COME ZE FREAKS 11/1/08
.. Jah Wobble/Liebezeit/Czukay - How Much Are They? (Peter Black Edit) - Electropolis
Tangerine Dream - Dr. Destructo - Elektra
Agentss - Agentes (Glimmers Remix) - Man Recordings
Fockewulf 190 - Body Heat - Skylax
Pop Dell'Arte - Querelle - Bloop
Chris Stein - 15 Minutes - Recall
The Plastics - Copy - Recall
Charles de Goal - Exposition - Born Bad Records
Tuxedomoon - Desire - Ralph
Garcons - Re Bop Electronic - ZE
Trans-X - Living on Video - Matra
Shriekback - Working on the Ground - Y
Burglar Tom - Is Your Mind Clear - Burglar
Quando Quango - Love Tempo - Factory
RADIO RHYTHM 10/22/08
.. Bandolero - Paris Latino
Magazine 60 - Don Quichotte
Shocking Pinks - Smokescreen (12" and a bit more Glimmers Edit)
Angela - I Gotta Little Love
Indeep - The Record Keeps Spinning
Ian Dury and the Blockheads - Reasons to Be Cheerful Part 3
Clandestine f/ Ned Sublette - Radio Rhythm
Section 25 - Looking from A Hilltop
Brennan Green - Escape from Chinatown
Konk - Love Attack
John Carpenter - The End (J Anthony Scratch Mix)
Nyam Nyam - Fate/Hate
Brass Construction - Sambo (Progression)
Digglerelli/Ransullo/Bisce - B&D
NEW ROUGH MIX (right click to download) 09/21/08
..
France Joli - Girl in the 80's
Giorgio Moroder - Evolution (Remix)
Mantus - (Dance It) Freestyle Rhythm
Denis Lepage - Magnum
Fern Kinney - Love Me Tonight
Midnight Star - Make It Last
Change - A Lover's Holiday
Blue Moderne - No Use To Cha Cha
Quartz - Quartz
Blancmange - Game Above My Head (Extended Remix Version)
Master Jay and Michael Dee - T.S.O.B. (Part Two)
Belle Epoque - Miss Broadway
Martin Circus Band - Disco Circus
Damiano Digglerelli & Philippo Ransullo - B & D
Lakeside - Outrageous
DANCE TO ZE BEAT 9/13/08 short set
Aural Exciters - Emil (Night Rate)
Dinosaur L - 7
Ron Rogers - Naughty Boy
Coati Mundi - Que Pasa/Me No Pop I
As Mercenarias - Inimigo
James White and the Blacks - Almost Black Part II
Six Sed Red - Shake It Right
RADIO RHYTHM 8/28/08
Kano - I'm Ready
Blancmange - God's Kitchen
Junie Morrison - Techno-Freqs
Shriekback - Working on the Ground
Au Pairs - Come Again
Del Byzanteens - War
Ike Yard - NCR
Snowy Red - Madman
The Flirts - You and Me
Modern Rocketry - The Right Stuff (Dub)
Grauzone - Eisbar
Nyam Nyam - Fate/Hate
SA-Fire - Don't Break My Heart
Uncle Jamm's Army - Whats Your Sign
Sleez Boys - Robo Cop
Mirage - Lake of Dreams
Clandestine f/ Ned Sublette - Radio Rhythm
The Brothers Johnson - Welcome to the Club
Casino Music - Viol Af Dis
Liquid Liquid - Push
Rosa Yemen - Larousse Baron Bic
Garcons - Re bop Electronic
Azul 29 - Ciencias Sensuais (Marco Edit)
DANCE TO ZE BEAT 8/15/08
Lizzy Mercier Descloux - Tumour
Shriekback - Accretions
Liquid Liquid - Rubbermiro
James Chance - Irresistible Impulse
Kid Creole and the Coconuts - Going Places
A Trois Dans Les WC - Contagion
ESG - Earn It
Mighty Tom Cats - Soul Makossa
Quando Quango - This Feeling
52nd Street - Can't Afford to Let You Go
Wally Jump Junior and the Criminal Element - Ain't Gonna Pay One Red Cent
Kano - It's A War
Material - Upriver
Martin Rev - Temptation
Voluntarios Da Patria - Io Io (Tim Love Lee Edit)
Glass Candy - Computer Love
Chromatics - Running Up That Hill
Iko - Approach on Tokyo
DANCE TO ZE BEAT 7/19/08
TRISTES TROPIQUES SHORT SET
The Fall - Paintwork (Funf Und Vierzig)
Quando Quango - Love Tempo (Pow Wow)
Voluntarios Da Patria - Io Io (Man Recordings)
Daevid Allen - Jungle Windo(w) (Charly)
Howard Devoto - Out of Shape With Me (Virgin)
Jody Harris - Fairly Modern (Press)
The Dance - Do Da (Soul Jazz)
SLAVE TO THE RHYTHM SPECIAL GUEST 7/9/07
grace jones - suffer (island)
vivian goldman - launderette (gomma)
data - blow (blowout version) (sire)
freeez - i.o.u. (ultimate club dub) (city beat)
wild sugar - messin around (tsob)
esg - earn it (99)
mirage - lake of dreams (italians do it better)
konk - do what you want (soul jazz)
MIC BREAK material - don't lose control (celluloid)
felix - tigerstripes (soul jazz)
shriekback - suck (arista)
arto lindsay - venus lost her shirt (editions eg)
arto lindsay - my competition (editions eg)
afternoon delights - general hospital (mca)
lizzy mercier descloux - jam on the move (ze)
daisy chain - no time to stop believing in love (ze)
del-byzantines - war (dont fall off the wagon)
bush tetras - das ah riot (roir)
death comet crew - at the marble bar (tmu)
brenda k. starr - suspicion (polydor)
tullio de piscopo - e fatto e sorde! (maxessa edit) (strut)
dinosaur L - clean on your bean 1 (sleeping bag)
b-side - so hot (celluloid)
MIC BREAK - b-side - cairo (celluloid)
don armando's 2nd avenue rhumba band - deputy of love (ze)
captain coolout - rhythm rap rock (wmot)
DANCE TO ZE BEAT 6/14/08
Vivian Goldman - Launderette
ESG - Erase You
Suicide - Dream Baby Dream Long Version
Alan Vega - Angel
BSide - What I Like
Manu Dibango - Electric Africa
Kid Creole and the Coconuts - No Fish Today
The Del Byzanteens - Sally Go Round the Roses
Gepy and Gepy - African Love Song
Bush Tetras - Das Ah Riot
Don Armondo's Second Avenue Rhumba Band - Deputy of Love
Afrika Bambaataa/John Lydon - World Destruction
The Fall - The Man Whose Head Exploded
Grace Jones - Love is the Drug
Tina B - Bodygaurd Dub
Brenda K Starr - Suspicion
James White and the Blacks - That Old Black Magic
Malcolm McLaren - Zulu's on a Time Bomb
Freeez - I.O.U.
Liquid Liquid - Cavern
RADIO RHYTHM 6/05/08
Dazz Band - Joystick
Angela Bofill - Too Tough
Stephanie Mills - The Medicine Song
ESG - Bam Bam Jam
Carrie Lucas - Dance With You
Material - Busting Out
Sexual Harrassment - If I Gave You a Party
Material - Secret Life
Klaus Schulze - Shadows of Ignorance
Alan Vega - Saturn Drive
John Foxx - The Garden
Giorgio Moroder - Chase
Kano - Now Baby Now
James White and the Blacks - Irresitible Impulse
Medium Medium - Hungry, So Angry
Au Pairs - It's Obvious
Vortex O.S.T. - Black Box Disco
Clandestine F/ Ned Sublette - Radio Rhythm (Signal Smart)
Snuky Tate - He's The Groove
Konk - Baby Dee Live
Tuxedomoon - Desire
The Del Byzanteens - Lies to Live By
2007 - OLDER MIXES
View All Here
..
Influences:
Thick Pigeon - Fred + Andy



Mantus - Dance it Freestyle Rhythm ..



Material: Secret Life (Temporary Music)



Aural Exciters - Emile (Night Rate)



Shriekback - Accretions
Sounds Like:
Steve Herridge, Los Microwaves, Thick Pigeon, Section 25, Maximum Joy, Arthur Russell, James Chance, Malcolm McLaren, Alan Vega, Was (Not Was), A Certain Ratio, Shango, Stone Roses, Jesus and Mary Chain, Talking Heads, Blondie, The Clash, Public Image Limited, The Flirts, ESG, Joy Division, The Cure, Whodini, New Order, Happy Mondays, Lizzy Mercier Descloux, Tuxedomoon, Brenda K Starr, Jalal Nuriddin, Spacemen 3, Mars, Big Audio Dynamite, Liliput, Big Audio Dynamite II, This Heat, Easy Going, Liquid Liquid, The Slits, Tussle, Numbers, Snuky Tate, Liaisons Dangereuses, Timezone, The World Famous Supreme Team, Dazz Band, Bush Tetras, Afrika Bambaata, Gang of Four, Arto Lindsay, Wire, XTC, Clandestine, Tina B, Y Pants, Cabaret Voltaire, K Rob, Quando Quango, Vivian Goldman, Fire Engines, Material, Throbbing Gristle, Giorgio Moroder, Brian Eno, Sonic Youth, Liars, Theoretical Girls, Mantronix, Herbie Hancock, Material, Y Pants, Cluster, Futura 2000, Lou Reed, Eddie Grant, Implog, Toure Kunda, Lounge Lizards, Deerhoof, Glasser, Freeez, Whispers, Gang 90, Steve Miller, D. D. Sound, Ciccone Youth, Phil Manzanera, Ike Yard, Wake, Kano, Crispy Ambulance, David Byrne, Gap Band, Konk, Glen Branca, Teenage Jesus & The Jerks, Lydia Lunch, Kraftwerk, Revanche, Gepy and Gepy, Can, Faust, Primal Scream, Yello Magic Orchestra, Adam and the Ants, Yoko Ono, Newcleus, Devo, As Mercenarias, The Housemartins, DNA, Prince Vince, Trouble Deuce, Manu Dibango, Death Comet Crew, Manicured Noise, BeeSide, Marcel King, Passion Trade, Six Sed Red, Shriekback
Record Label:
-none-