No recent updates in this category.
Why not...
David Fuller hasn't earned any badges yet... have you?
General

VDF Action Figure

Wrestling #1-I love wrestling, I'm a historian about it, It has been apart of my life for a long time, I have a deep passion for it, I also love MMA, when I'm not beating the hell out of someone, I like some simple quite time. I like history, computers, bullshitting & having a good time. Im also a ig old school horror movie fan, so I attend the conventions in Dallas/Ft Worth regulary

My lil buddy & I-2009

Brick Handsome & Adrian Santiago at my place doing voiceovers for IHWE Studios Home Video

..

Music

Movies

IHWE Inaugural Event-April 11th

, 1998

A bad time, her trying to talk some sense to me.. Nov 2009

Umm Night of tbe Living Dead,

Dawn of the dead

,

Day of the Dead

,

Land of the Dead

,

JFK

,

Beyond the Mat

,

Few Good Men

,

The Departed

,

Young Guns 1 & 2

,

Halloween

,

Bobby

,

My fellow americans

,

Princess Bride

, I could go on & on.

My buddy & I @ IHWE Oct 2009

My Old Company, now property of IHWE. NAWA DFW

IHWE Champion Mike Foxx & I in the IHWE Limo during an interview. Feb 2010

Television

Simply Put

, Hes the fucking Man!

Myself just newely engaged to Raven at IHWE dec 12th 2009

Words just cant describe what I felt here. IHWE Dec 2009

IHW X Years Later-April 2008

The Shield,

NYPD Blue

,

Two & Half Men

,

Married with Children

,

Honeymooners

,

Raw

,

Smackdown of course

, Ultimate Fighter.

My Nephew is great Dylan

Books

Heroes

My Parents, Johnny Valentine & Everyone who has contributed to the success of IHWE!!
Play

Play Next

Add to queue

Play

Play Next

Add to queue

Play

Play Next

Add to queue

Play

Play Next

Add to queue

Play

Play Next

Add to queue
About me:
IHW Entertainment Est 1998
Mr & Mrs David Fuller
I am the Boss
Promo Raven Willow & I Dec 2009
IHW Entertainment My company
..

Wrestling Main Event Mike Foxx in October of 2009
Welcome to my utopia! I'm David, I am known a lot of things by many people, Im 28 years old. Revolution. Im also a 12 year veteran of pro wrestling. Ive wrestled all over Texas, And the Southwestern Part of the USA.. Ive wrestled the BEST in Texas & Some of the best in the world. I had everything going against me, I worked hard didn't become of the Many Male whores of wrestling & sell myself out. Im a hard worker, My company is MY LIFE.. Other then that I love history, winter, xmas, my family, my friends are my backbone, my fans.. Anyways..
IHWEUnderground.com
is our link HIT US UP!
Myself at Roll of the Dice 4/11/09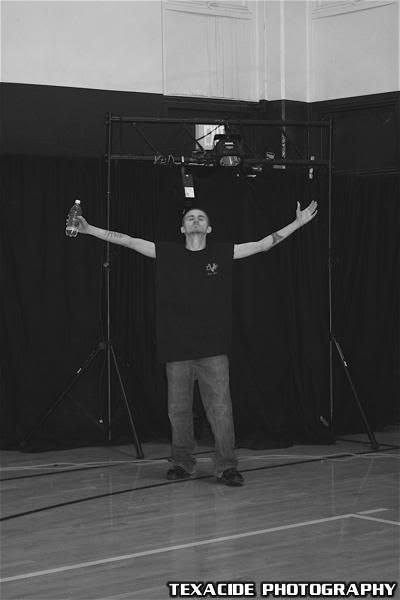 ....
My lady
Who I'd like to meet:
IHWE Winter Blockbuster HD Teaser from the Karch Bros. Filmed 2/6/10
Myself in the IHWE Limo 2/6/10
Horror movie stars, legends, wrestling, mma, models.
Robert England & I
The 2005 Danger Incorporated
The gang at Lamottas going away party-May 2008 the gang
VDF in action-Stephenville Tx Aug 2008 SWWA
Balls Ryder, Khris Wolfe, "Vengeance" David Fuller & Necro Butcher having a discussion at X Years Later
.. My finale performance as a wrestler against Sb1 at IHWE Dec 12th 2009
Status:

Married

Here for:

Networking, Friends

Hometown:

Fort Worth, Tx

Orientation:

Straight

Body type:

5' 7" / Athletic

Ethnicity:

White / Caucasian

Religion:

Christian - other

Zodiac Sign:

Virgo

Children:

Someday

Smoke:

No

Education:

High school

Occupation:

President/Executive Producer

Income:

$30,000 to $45,000
North Crowley H S

Fort Worth,Texas

Graduated:

2000

Student status:

Alumni

Degree:

High School Diploma

1998 to 2000
IHW Entertainment

Fort Worth, Tx US

Founder/Promoter/Executive Producer

4/11/98-Present

Scars Radio

DFW, Tx US

Executive Producer & Host

5/28/08-Nov 2008

NAWA DFW

Dallas/Ft Worth, Tx US

Promoter/Executive Producer

1/23/03-1/25/05

TEW

Gladewater, Tx US

Pro Wrestler

2004-2008

NGW

Fort Worth, Tx US

Pro Wrestler

May 2001-Current

WBW

Dallas, Tx US

Pro Wrestler

2008

SWWA

Granbury, Tx US

Pro Wrestler

2008

2004-2006

PCW

Arlington, Tx US

Wrestler

April 2004-Feb 2005

TOPS

Mineral Wells-Gatesville, Tx US

Pro Wrestler

Mar 1999-2001

MAW

Dallas/Ft Worth, Tx US

Pro Wrestler

1999-2001

NAWA East Tx

Tyler, Gladewater, Tx US

Wrestler/Booker

2000-2004

NWA Deep South

Baton Rouge, Louisiana US

Pro Wrestler

6/1999-7/1999

XCW

Plano, Tx US

Pro Wrestler

April 1999-Jan 2001

CTPW

Austin, Tx US

Pro Wrestler

Nov 1999-June 2000

SECW

Mountain Home, Arkansas US

Pro Wrestler

6/1999-7/1999

BBOW

Nationwide, Nationwide US

Road Agent/Roadie

1999-2000

ACW

Jonesboro, Louisiana US

Pro Wrestler

Feb 2000-Mar 2000

CXW

Cleburne, Tx US

Pro Wrestler/Booker

Oct 1999-April 2000

TWA

Lufkin, Tx US

Pro Wrestler

July 1999-Aug 1999

LCW

Dallas, Tx US

Pro Wrestler

Feb 2000-Mar 2000

SPW

Statewide, Tx US

Manager, Play by Play

Mar 2003-July 2003

TEW (Tx Extreme Wrestling)

Statewide, US

Pro Wrestler

May 1999-Oct 1999

MSPW

Houston, Tx US

Pro Wrestler

Aug 1999-Oct 1999

THW

Fort Worth/Granbury, Tx US

Wrestler/Booker

June 2000-Oct 2001

LLPW

Dallas/Ft Worth, Tx US

Wrestler

Sept 2000-Feb 2001

IHWE Academy

Fort Worth, Tx US

Head Instructor

5/8/09-

All American Fire

Fort Worth, Tx US

Fire Alarm Tech Assisstant

7/09-Present

New Age Wrestling

Cleburne, Texas US

Creative Consultant

Jan 2010-Present
Marketing
Advertising/PR
Public Relations

Public Relations for wrestling & entertainment

Television, Commercials, Theatre

Radio
Talent
Talk Radio Host

On air, live improv, hosting & executive producer