Play

Play Next

Add to queue
Play

Play Next

Add to queue

472 plays

Play

Play Next

Add to queue

1,495 plays

Play

Play Next

Add to queue

1,152 plays

Play

Play Next

Add to queue

854 plays

Play

Play Next

Add to queue

13,700 plays
Exclusive Free Song Download!

4 Words.
Rock N' Fucking Roll
Ottawa's premiere female fronted alternative rock band is proud to announce their second full length album, titled 'The Ragdoll Diaries' a hard hitting follow up to the popular debut 'Inside The Dollhouse'.
The Ragdoll Diaries is undoubtebly Doll's best work to date, working alongside producer Jason Jaknunas, Christina Kasper's lyrics and vocal performance provides a call to all, to stand and believe in yourself, take action, to never be silent. The intensity of the drum and bass, emphasized by the intricate guitar work and atmospheric solo'ing rounds out an album that has it all, amazing musicianship, honest lyrics, and a truth that's been missing in music for some time.
Supported by the fearlessly rocking threesome of Pete Kasper, Nick 'Chopz' Richer and newcomer to the Doll family Alex Vance, this is one band that you don't want to miss getting in on the party early and staying for days while you zone out the beautifully crafted yet fiercely hard hitting tunes.
Doll has played countless shows and has even had the chance to play and tour with such bands as, Lacuna Coil, Danko Jones, SNFU, Jucifer, Hanzel Und Gretyl, Spinnerette, Band of Skulls, Civet, The Creepshow, Genitorturers, Die Mannequin and more. Having played Ottawa's Bluesfest, one of the nations top 10 music festivals sharing the stage with 3 Days Grace, and things just keep getting more and more exciting.
"Doll has what it takes to popularize the sounds of the 90s all over again"
- The Ottawa Sun
"Gritty, Angst-Riden music that doesn't F#@K around"
- Now Magazine
"This is serious music, dark, intense, and magnetic"
- Exclaim Magazine
Come on in, the Doll house is always open!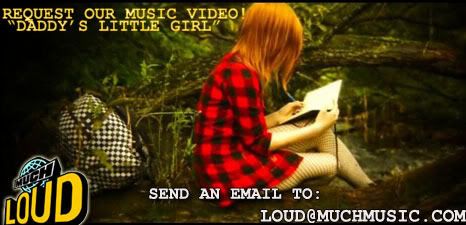 ............
..
Genre: Alternative / Punk / Rock

Location Ottawa, Ca

Profile Views: 142555

Last Login: 5/6/2013

Member Since 1/21/2007

Website http://www.msplinks.com/MDFodHRwOi8vd3d3LmRvbGxiYW5kLm5ldA==

Record Label Grunge Never Died, You Did Records

Type of Label Unsigned

Bio

Spearheading the new wave of Alternative music, Doll, a four-piece based out of Ottawa, Canada, formed in 2006 provides the spark necessary to grab the music scene by its horns. Fronted by Christina (vox, guitars) her vocal melodies and intensity are second to none. Christina provides the angst filled vocals similar to that of Brodi of the Distillers. Her powerful range and pitch cuts through the anger and provides listeners with a false sense of security before Pete Kasper, Alex Vance and Nick Richer provide the aural onslaught that rounds out Doll. The spirit of the band is summed up in the alter ego named Sally, who's disturbing life experiences fill out the subject matter sung up by the band. Inspired by the great bands such as Sonic Youth, Hole and L7, as well as new additions to the scene Spinerrette and Die Mannequin, Doll is on its way to becoming another underground staple. With chunky riffing and incredibly catchy vocal melodies, Doll takes you on the ride of your life, this music is definitely not for the faint of heart, so grab onto this train and don't let go as you won't want to be missing a note of this bands music. Doll released their debut album "Inside the Dollhouse" which was nominated for ..Best Rock album of 2009 by the Ottawa Xpress on April 10th 2009. Doll has played countless shows and has even had the chance to play and tour with such bands as, Danko Jones, The Clicks, SNFU, Jucifer, Bad Flirt, Spinnerette, Band of Skulls, Civet, the Creepshow, Lacuna Coil, Genitorturers, Die Mannequin, etc. In March 2010, they embarked on the Snocore Tour, presented by Much Music and Jagermeister where they played numerous dates along Protest The Hero, TheSet and Elias. Doll has also been part of prestigious festivals such as NXNE, Rockfest and more. Doll recently completed their first music video for the song "Daddy's Little Girl", which now on rotation on Much Music and Musiqueplus.com/doll. From there on Doll have big plans to shake up the music world! Doll wants to play for you, The question is? Do you wanna play?

Members

Pete Kasper, Christina K, Alex Vance, Nick "Chops" Richer, For more info: Info@dollband.net

Influences

Alternative, Punk, Rock, Grunge

Sounds Like

The Distillers, Cage the Elephant, L7, Sonic Youth, Jack Off Jill, Sick Puppies,Hole,Die Mannequin,