Play

Play Next

Add to queue
Play

Play Next

Add to queue

19 plays

Play

Play Next

Add to queue

14 plays

Play

Play Next

Add to queue

21 plays

Play

Play Next

Add to queue

11 plays

Play

Play Next

Add to queue

8 plays
Genre: Rock

Location Los Angeles Ca., United States

Profile Views: 610941

Last Login: 5/7/2013

Member Since 6/6/2005

Website dUgtone.com

Record Label http://dugtone.com/

Type of Label Indie

Bio

Dug Pinnick is known first and foremost as the soulful singer and bassist for hard rockers King's X. VH1 Voted Kings X number 83 in the top 100 greatest hard rock bands of all time, beating out Lenny Kravitz, Tool and 15 other bands. Pinnick discovered rock & roll through such greats as Sly and the Family Stone, Jimi Hendrix, and Led Zeppelin, while he borrowed from gospel for his singing style. King's X. Signing to Atlantic in 1987, the trio became a favorite with the metal and progressive rock crowd; their music also contained elements of alternative in their hard rock, long before it became en vogue during the '90s. which is a major ingredient to the magical King's X sound. releasing 13 albums from 1987 untill now. , Pinnick released solo albums, Massive Grooves from the Electric Church of Psychofunkadelic Grungelism Rock Music, in 1998 Pineappleskunk in 2000 both under the alias Poundhound with Jetty Gaskill and Shannon Larkins on drums. Solo releases Emotional Animal in 2006, Strum Sum Up in 2007 under dUg Pinnick. In 2000,

Members

Influences

Sounds Like
Bio:
http://rockarmyrecords.com/RAZR13/
Check out the RAZR 13 link. It's a side project I sang on with Ryan13 my bass tech, JRAB, Jerrys drum tech/KX stage manager, and Big Bald Mike, who's cool as shitt!! Big Mikes Dad wrote all the lyrics, all I did was sing and make up the melodies, this was so much fun!!! To hear the entire RAZR 13 CD, visit their myspace page @
www.myspace.com/razr13
. To purchase the record, go to
www.rockarmyrecords.com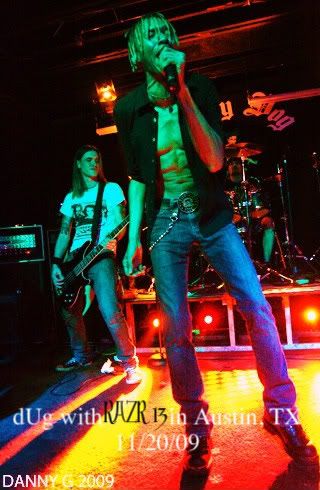 World Management is happy to announce that Rock Legends "Kings X" are going back on the road this summer in support of their latest cd "XV". The first confirmed shows are listed below:
Additional shows TBA. 8/7/2009 I Raleigh NC Volume 11 8/8/2009 I Springfield* VA Jaxx 8/9/2009 I Pittsburgh PA Pepsi Roadhousae 8/11/2009 I Hartford CT The Webster Theater 8/12/2009 I Sellersville PA Sellersville Theater 8/13/2009 I Asbury Park NJ Stone Pony 8/15/2009 I Southbridge MA ADC Performance Ctr. 8/16/2009 I Poughkeepsie NY The Chance 8/17/2009 I Virginia Beach VA Peppermint Beach Club 8/19/2009 I Charlotte NC Amos's 8/21/2009 I Marietta GA The Local 8/22/2009 I Fayetteville NC Jester's 8/23/2009 V Nashville AL Mercy Lounge
DATES WITH PORCUPINE TREE
Mon 21/09/2009 CLEVELAND, OH HOUSE OF BLUES
Tue 22 /09/2009 CHICAGO, IL VIC THEATER
Thu 24 /09/2009 NY, NY TERMINAL 5
Sat 26 /09/2009 PHILLY ELECTRIC FACTORY
Sun 27 /09/2009 BOSTON, MA HOUSE OF BLUES
Tue 29/09/2009 MONTREAL METROPOLIS
Wed 30/09/2009 TORONTO QUEEN ELIZABETH THEATRE
**********************************************
Dug Pinnick is known first and foremost as the soulful singer and bassist for hard rockers King's X. VH1 Voted Kings X number 83 in the top 100 greatest hard rock bands of all time, beating out Lenny Kravitz, Tool and 15 other bands.
Pinnick discovered rock & roll through such greats as Sly and the Family Stone, Jimi Hendrix, and Led Zeppelin, while he borrowed from gospel for his singing style. King's X. Signing to Atlantic in 1987, the trio became a favorite with the metal and progressive rock crowd; their music also contained elements of alternative in their hard rock, long before it became en vogue during the '90s. which is a major ingredient to the magical King's X sound. releasing 13 albums from 1987 untill now. , Pinnick released solo albums, Massive Grooves from the Electric Church of Psychofunkadelic Grungelism Rock Music, in 1998 Pineappleskunk in 2000 both under the alias Poundhound with Jetty Gaskill and Shannon Larkins on drums. Solo releases Emotional Animal in 2006, Strum Sum Up in 2007 under dUg Pinnick. In 2000, Pinnick formed another side project (Supershine), which included ex-members of -sludge-rockers Trouble (guitarist Bruce Franklin Jeff Olson along with Jerry Gaskill on drums) - issuing a self-titled release on Metal Blade the same year, The Mob release in 2005 with members of Winger and Night Ranger. Along with his work with King's X, Poundhound, Supershine, and the Mob, Pinnick has also guested on albums by other artists, including 24-7 Spyz 6, Dream Theater's Falling Into Infinity, and Carmine Appice's Guitar Zeus; has produced a pair of albums for Geek (which includes the two sons of King's X drummer Gaskill); and has appeared on tribute albums for Jimi Hendrix (In From the Storm), Van Halen (Little Guitars: A Tribute To), and Metallica (Metallic Assault: A Tribute To) and more.
..
Member Since:
June 06, 2005
Influences:
....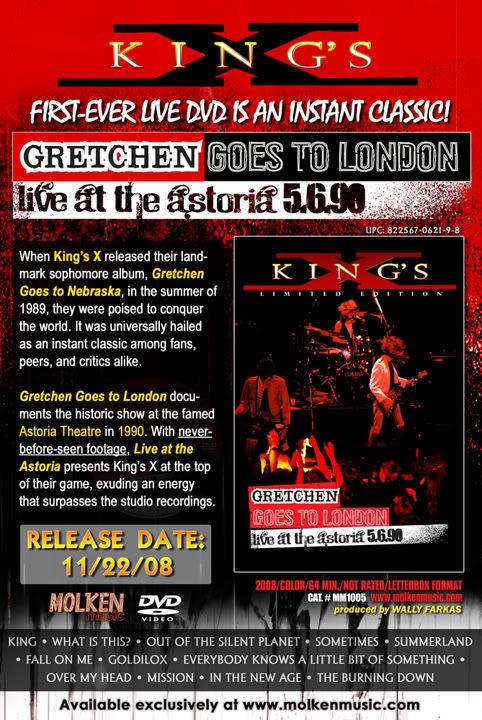 PRAY for me (video) go tell somebody!!
!-START Code to Center Band Profile in One Single Centered Column-!
....
Below is to re-create the record label and signed by, remove this block if you don't want this
Record Label
unsigned
Type of Label
None
END block to re-create the record label and signed by
.. ...... ......
..

!-END Code to Center Band Profile in One Single Centered Column-!
Record Label:
InsideOut / Magna Carta / Metal Blade / Atlantic
dUg Pinnick has 22386 friends.