No recent updates in this category.
Why not...
Duncan Hills Coffee hasn't earned any badges yet... have you?
General

Brutal Coffee- Blacker than the Blackest Black, Times Infinity! & DethKlok. Here at Duncan Hills, we take coffee seriously, so you don't have to!

Music

Heroes

DethKlok, for making coffee METAL! Charles Foster Ofdensen, for protecting our investment! & Anybody who takes coffee as seriously as we do. Never settle for anything but the BEST!

Here at Duncan Hills, we believe in starting your day with a cup of BRUTALITY!

Guess what production genius "Magic Ears" Knubbler does first thing in the morning!

Nathan Explosion made this statement...

Toki Wartooth says...

Sadistic Cannibal Supreme LOVES Duncan Hills Coffee!...

When asked about our product, Justin Wartooth had this to say...

..
Play

Play Next

Add to queue
About me: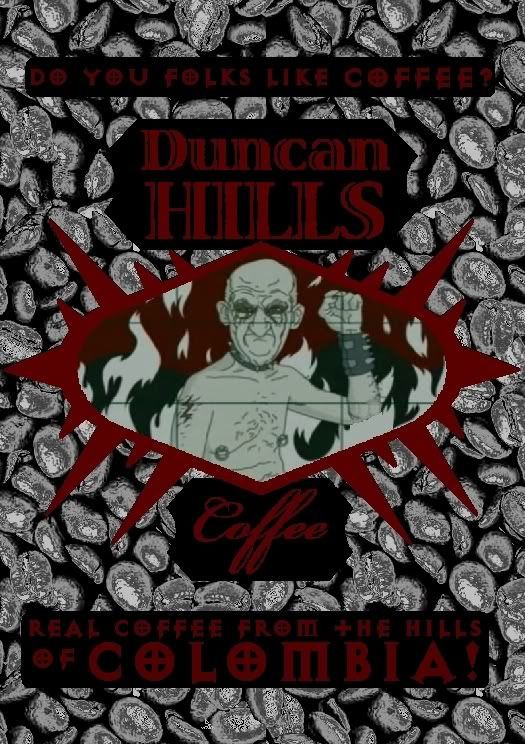 The dawn of the new millenium marked a steady decline in coffee sales, as compared with the mass-consumption in the '80s & '90s. Faced with bankruptcy, we had to re-think our marketing strategy. That's where the METAL saved the day. We hired DethKlok to write us a new jingle, and fan response demanded a live show. So it was dubbed, -the Duncan Hills Coffee Jingle Bat's Fjord Massacre Fest-, More than 300,000 fans travelled all the way to the remotest of locations, Bat's Fjord, Norway, just to hear DethKlok play one song. Our song. It was the single most amazing move in marketing history. After the ensuing madness, Duncan Hills Coffee sales were at an all time high. Survivors placed orders for lifetime supplies of our unique Colombian coffee, & very soon after, every other coffee company had been obliterated! Completely blown out of the water! Sales are still sky-rocketing, and there seems to be no end in sight! We owe a lot to DethKlok, and we make sure they have plenty of our special DethRoast on hand at all times. (We even started printing instructions on the side of the can) So remember, only Duncan Hills Coffee can wake you from a thousand deaths! Go out and buy some now!
We know you're DYING for a cup!
It all started RIGHT HERE!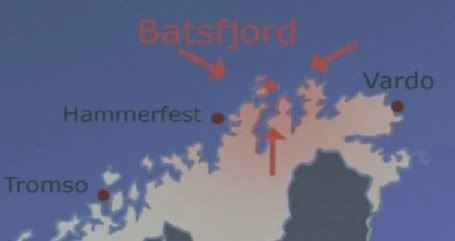 Here is the footage from the now infamous Duncan Hills Coffee Jingle Bat's Fjord Massacre Fest!...
Dethklok- Duncan Hills Coffee (DethJingle)
Add to My Profile
A brief history of coffee!

The word doffee is derived from the Arabic word qah'wa over Ottoman Turkish kahve, which originally meant wine or other intoxicating liquors. Partly due to the Islamic prohibition on drinking wine, preparing and drinking coffee became an important social ritual. In 1511 it was condemned at Mecca by a theological court. In Egypt coffeehouses and warehouses containing coffee berries were sacked. In 1524 this decision was reversed by an order of Selim I. (reference: Folk-lore of the Holy Land, Hanauer 1907, p. 291 f).
From the Muslim world, coffee spread to Europe, where it became the rage in the 17th century. English coffeehouses were centers of intellectual and commercial activity. Lloyds of London, the famous insurance firm, was originally a coffeehouse.
In the 2000's coffee drinking was at an all time low; And many people through out the world began to drink tea. One of the biggest coffee brands in the world named Duncan Hills, was close to calling it quits. But then In 2006, there was a miracle.. Out of all places, hailing from the northern sky. A band of brutal death metal beings known as "DETHKLOK" took the coffee industry by the throat and bean sack, and declared to the world that DUNCAN HILLS COFFEE is the BEST DRINK ON EARTH! Ever since that day, the world has turned away from the sissy drinking tea baggers, and has fully embraced the phenomenal and most popular drink in the world, DUNCAN HILLS COFFEE!
http://www.myspace.com/duncanhills
***Fan Favorites***..
~Rotting Wartooth~ A light and hyper-caffienated blend, mixed with copious amounts of caramel, vanilla, and chocolate!..
~DethKlown Blend~ A dark "cup of blackened blood"... literally! In an attempt to rid the world of rock & roll clowns, we are paying CASH MONEY for the carcasses we use in this blend. Do your part, contribute to the DethKlown phenomena today!..
~Pickled Roast~ Not for the faint hearted! Our coffee technicians have been working on this all year, and from their diligent efforts we bring you the darkest, most brutal, and most caffienated 190 proof alcoholic beverage on the planet! *Not available in some areas*..
~New & Improved DethRoast~ We recently closed a deal with the owner of Hell's forge, to roast the beans used in Nathan's own special blend in the hottest and most brutal place in the known universe... HELL!..
~MurderBlend~ We're waiting for customer response on this one. Roadkill... need I say more? Nice one Murderface!..
~MagicRoast~ We are currently fencing legal issues with the D.E.A. and U.S. Customs to bring you Dick "Magic Ears" Knubbler's own custom blend of herbs & spices. Straight from the hills of Colombia!..
~Sadistic Cannibal Supreme~ Unfortunately for you, the details of this blend are one of our most closely guarded secrets. In development for one of our favorite daily regulars, rest assured it will be BRUTAL!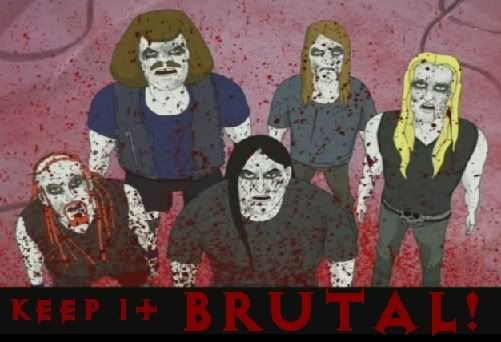 Who I'd like to meet:
DethFans & Coffee Enthusiasts................... And let's not forget Juan Valdez!
Status:

Swinger

Here for:

Networking

Hometown:

MordHaus

Zodiac Sign:

Gemini

Occupation:

Coffee Roasters, Distributors