Play

Play Next

Add to queue
Play

Play Next

Add to queue

491 plays

Play

Play Next

Add to queue

26 plays

Play

Play Next

Add to queue

154 plays

Play

Play Next

Add to queue

1,312 plays

Play

Play Next

Add to queue

89 plays
Genre: Acoustic / Powerpop / Rock

Location Los Angeles, California, Un

Profile Views: 93603

Last Login: 2/1/2011

Member Since 7/7/2005

Website www.EcotonicMusic.com

Record Label None / Ebsworthy Sounds (Self)

Type of Label Unsigned

Bio

.. A Few Quotes: "Music that's perfect for Movies & Commercials...it had everyone in the Radio Station dancing around the room..." --Rick Shoemaker, Warner/Chappell "Breaking In Show" KFWB 980am <> "Congratulations, you've really captured the California Sound, you're a modern Day Fleetwood Mac..." --Tony Ferguson, Interscope "Careful not to get too close, ECOTONIC's music has the ability to saw you in half...like thunder & lightening, it's just the right combination". --Tom Laurie, Music Connection Mag HAPPY NEW YEAR EVERYONE! ECOTONIC made the "Top Unsigined Live Acts of 2010" by Music Connection Magazine!" Here's what else MC had to say in a recent write-up: ...The band's presence billowed outward, stacking the venue like an elephant squeezing into a tiny room...Stellar guitar playing, a bass drum combination that vibrates your veins, and vocals that are striking best describes this foursome..." --Tom Laurie, Music Connection .. 2010 was a good year for us! Our songs "LIVE" and "I"m So Ready" appeared in the thriller movie "CHAIN LETTER" starring Nikki Reed and Betsy Russell. We made the top unsigned acts of 2010 by Music Connection and got a stellar review of our Viper Room Showcase! .............. .. ALSO, Check out our new Band Picture by Photographer Don Q Hannah! .. ...... .. ...... .. .. .. Ok, time to read our bio...! .. What do you get if you took the ex-drummer from AC/DC, the ex-singer from Peter Criss' CRISS and put them together with a girl that's shared the stage with Sheryl Crow, Kenny Loggins, & Joe Cocker? The answer is "ECOTONIC". "Slammin' Pop" to "Modern Rock"! .. An "ECOTONE" by is "a place where two or more biological systems collide". .. "ECOTONIC" is "a place where two or more musical styles collide", delivering anything from a wall of sound to the most delicate of acoustic ballads.. .. With both an acoustic and an electric side, it enables them to cover many sides of musicality, from driving Rock & Roll Songs to acoustic based rock. Positive Music in this crazy topsy-turnsy world of ours! .. ........ .. .. .. .. .. .. .. ........................................ .. Jason Ebs comes from a rock & roll background, having toured with Peter Criss (KISS) as lead singer/guitarist for "CRISS" during the 'Bad Boys of KISS' tours (a double-billing with Ace Frehley's band). Not only a performer, Ebs built a recording studio called "Ebsworthy Sounds" where he records, mixes, engineers, and produces the ECOTONIC CDs. Ebs brings the ROCK. .. Janea Chadwick Ebs comes from more of an Acoustic Folk and R&B background. Influenced by Joni Mitchell, David Foster, Alan Thornhill, John Lennon, Yoko Ono, Elliot Mintz, Fleetwood Mac, Heart and Stevie Wonder to name a few. Hailing from Santa Barbara, she's written worked with Producer Jay Graydon, Sheryl Crow, Kenny Loggins, Joe Cocker, Sheila E, Bill & Tamara Champlin, Steve Porcaro, Joseph Williams, Kenji Sano, Bill Canto's, Pat Mostellano and many others. She has a hauntingly beautiful voice with the right mix of delicacy, balls, and sass. Janea brings the FOLK & SOUL. .. World Renown drummer Chris Slade (AC/DC, The Firm, Manfred Mann's Earth Band) is on drums, bringing his heavy beats and pumping fills. His signature drumming can be heard on "It's Not Unusual" by Tom Jones, "Blinded By the Light" by Manfred Mann, "Thunderstruck" by AC/DC, and a zillion other Rock & Roll Songs. With his vast touring and recording experience, he sets the foundation for the sound. Slade brings the ROLL! .. Bassist Martin Motnik is the newest edition to ECOTONIC, adding his 5 String Fretted & Fretless Bass to the foundation. Hailing from Germany, he recently relocated to Los Angeles where he hooked up with ECOTONIC through an add posted at Guitar Center Hollywood. Martin brings the THUNDER! .. Together as a band, they combine the best of Rock & Roll, Blues, Funk, Soul and Folk in both an Electric and Acoustic forum. It's delicately heavy, with elements of Heart meets Lenny Kravitz meets Cheryl Crow meets Audioslave meets Alice in Chains meets Velvet Revolver meets Evanescence. .. ECOTONIC'S "STONE PRESSURE" Acoustically with Jason & Janea on the Mark Ludmer's "Indie Music Show" .. ..INDIE MUSIC SHOW - Episode 7 Segment 5 - ECOTONIC...... .. .. .. .. .. .. .. ......Add to My Profile.. | ..More Videos.. .. .. .. .. .. .. .. .. .. .. ....This profile was edited with ..MySpace Profile Editor......MySpace....Profile Editor...... .. They've been featured at Music Connection Magazine's "Best Kept Secrets" Showcase at the Gig in Hollywood where their acoustic show was dubbed as 'Fleetwood Mac meets Audioslave'. .. There first CD entitled "ELECTRIFIED" was self released in 2006 and can be purchased at the link below! This former line-up featured Emmy Winner Scott Bihlman and bassist Les July. ............="http://cdbaby.com/gif/cdbaby_stripebottom_50_red.gif" width="50" height="10" alt="click to order" border="0">.... .. ECOTONIC are proud endorsee's of Greg Bennett Guitars distributed through Samick and TTM Guitars out of Palm Springs, CA. They also thank Mark @ Rode/Event, Seymour/Duncan, Ibanez, Fernandez, & Gibson Strings for their past & present support! Industry People reading this may contact James Edwards @ at Kinky Organ Music (310)-710-1716 for additional info and a package. .. ECOTONIC is seeking a Record Deal or Distribution Deal, Publishing Deal, and Music Management. ..

Members

WATCH THE BRAND NEW VIDEO FOR THE SONG "LIVE"!! .. .. .. .. .. .. .. .. .. ........ .. JASON EBS -- Vocals, Guitars, Production .. JANEA CHADWICK EBSWORTH -- Vocals, Acoustic guitar .. CHRIS SLADE -- Drums & Vox .. MARTIN MOTNIK -- Bass & Vocals .. .. COME VISIT US AT REVERBNATION BY CLICKING BELOW!! .............. .. ........ .. .. .. .. .. .. .. .. .. .. .. .. .. .. .. .. .. .. .. .. .. .. .. .. .. .. .. .. .. .. .. .. .. .. SEE JASON & JANEA PERFORM "YOU'RE ALIVE" LIVE ON INDIE MUSIC SHOW! .. ..INDIE MUSIC SHOW - Episode 7 Segment 1 - ECOTONIC...... .. .. .. .. .. .. .. ......Add to My Profile.. | ..More Videos.. .. .. .. .............. .. .. ..........View ECOTONIC's EPK.. ..

Influences

Aerosmith, Stone Temple Pilots, Alice in Chains, KISS, Velvet Revolver, Audioslave, Fleetwood Mac, Led Zepplin, Guns & Roses, Pink Floyd, Whitesnake, Ronnie James Dio, Black Sabbath, AC/DC, KISS, Lenny Kravitz, Radiohead, Joni Mitchell, Crosby Stills & Nash, David Foster, Alan Thornhill, John Lennon, Stevie Wonder, Earth Wind & Fire, Train, Portishead, Yoko Ono, Phoebe Snow, The Cars, OURS, Foghat, Accept, , Alanis Morriesette, Evanescense, Heart, Kate Bush, James Taylor, Neil Young, Gwen Steffani, And More Later, there are so many Greats!

Sounds Like

Slammin' Pop to Melodic Rock. What do you think? Leave us a comment and let us know:-)
No recent updates in this category.
Why not...
04:52 | 82 plays | Apr 14 2010
Bio:
FIRST OFF, TURN THAT STEREO UP AND GET READY TO ROCK!!
Check out page #54 of the September edtion of MUSIC CONNECTION Magazine from our Viper Room Show!
...The band's presence billowed outward, stacking the venue like an elephant squeezing into a tiny room...Stellar guitar playing, a bass drum combination that vibrates your veins, and vocals that are striking best describes this foursome..." --Tom Laurie, Music Connection
Thanks Tom Laurie, and thanks again for all of you who came out and packed the place at our Viper Room Show! We are so flattered to have people coming from Palm Springs, Orange County, Primm NV, and even Vegas to see our show! We really appreciate it and we hope you had fun rocking the house with us!
NEXT, look for our songs "LIVE" and "I"m So Ready" SONGS APPEARING IN THE UPCOMING THRILLER MOVIE "CHAIN LETTER" due out in October 2010!!
ALSO, Check out our new Band Picture by Photographer Don Q Hannah!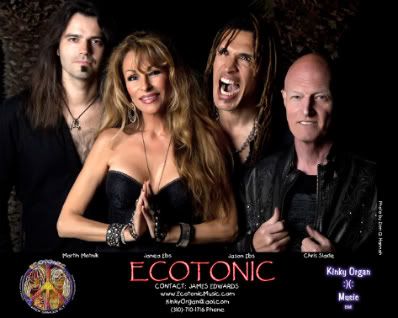 Ok, time to read our bio...!
What do you get if you took the ex-drummer from AC/DC, the ex-singer from Peter Criss' CRISS and put them together with a girl that's shared the stage with Sheryl Crow, Kenny Loggins, & Joe Cocker? The answer is "ECOTONIC". "Slammin' Pop" to "Modern Rock"!
An "ECOTONE" by is "a place where two or more biological systems collide".
"ECOTONIC" is "a place where two or more musical styles collide", delivering anything from a wall of sound to the most delicate of acoustic ballads..
With both an acoustic and an electric side, it enables them to cover many sides of musicality, from driving Rock & Roll Songs to acoustic based rock. Positive Music in this crazy topsy-turnsy world of ours!
Jason Ebs comes from a rock & roll background, having toured with Peter Criss (KISS) as lead singer/guitarist for "CRISS" during the 'Bad Boys of KISS' tours (a double-billing with Ace Frehley's band). Not only a performer, Ebs built a recording studio called "Ebsworthy Sounds" where he records, mixes, engineers, and produces the ECOTONIC CDs. Ebs brings the ROCK.
Janea Chadwick Ebs comes from more of an Acoustic Folk and R&B background. Influenced by Joni Mitchell, David Foster, Alan Thornhill, John Lennon, Yoko Ono, Elliot Mintz, Fleetwood Mac, Heart and Stevie Wonder to name a few. Hailing from Santa Barbara, she's written worked with Producer Jay Graydon, Sheryl Crow, Kenny Loggins, Joe Cocker, Sheila E, Bill & Tamara Champlin, Steve Porcaro, Joseph Williams, Kenji Sano, Bill Canto's, Pat Mostellano and many others. She has a hauntingly beautiful voice with the right mix of delicacy, balls, and sass. Janea brings the FOLK & SOUL.
World Renown drummer Chris Slade (AC/DC, The Firm, Manfred Mann's Earth Band) is on drums, bringing his heavy beats and pumping fills. His signature drumming can be heard on "It's Not Unusual" by Tom Jones, "Blinded By the Light" by Manfred Mann, "Thunderstruck" by AC/DC, and a zillion other Rock & Roll Songs. With his vast touring and recording experience, he sets the foundation for the sound. Slade brings the ROLL!
Bassist Martin Motnik is the newest edition to ECOTONIC, adding his 5 String Fretted & Fretless Bass to the foundation. Hailing from Germany, he recently relocated to Los Angeles where he hooked up with ECOTONIC through an add posted at Guitar Center Hollywood. Martin brings the THUNDER!
Together as a band, they combine the best of Rock & Roll, Blues, Funk, Soul and Folk in both an Electric and Acoustic forum. It's delicately heavy, with elements of Heart meets Lenny Kravitz meets Cheryl Crow meets Audioslave meets Alice in Chains meets Velvet Revolver meets Evanescence.
ECOTONIC'S "STONE PRESSURE" Acoustically with Jason & Janea on the Mark Ludmer's "Indie Music Show"
INDIE MUSIC SHOW - Episode 7 Segment 5 - ECOTONIC

Add to My Profile | More Videos
....This profile was edited with MySpace Profile Editor
They've been featured at Music Connection Magazine's "Best Kept Secrets" Showcase at the Gig in Hollywood where their acoustic show was dubbed as 'Fleetwood Mac meets Audioslave'.
There first CD entitled "ELECTRIFIED" was self released in 2006 and can be purchased at the link below! This former line-up featured Emmy Winner Scott Bihlman and bassist Les July.


..="http://cdbaby.com/gif/cdbaby_stripebottom_50_red.gif" width="50" height="10" alt="click to order" border="0">
ECOTONIC are proud endorsee's of Greg Bennett Guitars distributed through Samick and TTM Guitars out of Palm Springs, CA. They also thank Mark @ Rode/Event, Seymour/Duncan, Ibanez, Fernandez, & Gibson Strings for their past & present support! Industry People reading this may contact James Edwards @ at Kinky Organ Music (310)-710-1716 for additional info and a package.
ECOTONIC is seeking a Record Deal or Distribution Deal, Publishing Deal, and Music Management.
Member Since:
July 07, 2005
Members:
WATCH THE BRAND NEW VIDEO FOR THE SONG "LIVE"!!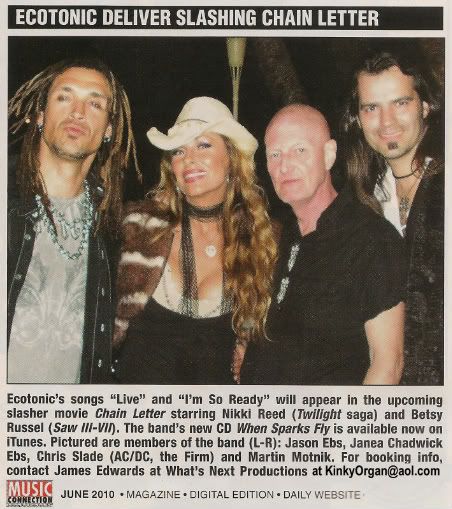 JASON EBS -- Vocals, Guitars, Production
JANEA CHADWICK EBSWORTH -- Vocals, Acoustic guitar
CHRIS SLADE -- Drums & Vox
MARTIN MOTNIK -- Bass & Vocals
COME VISIT US AT REVERBNATION BY CLICKING BELOW!!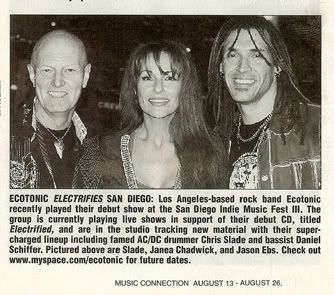 SEE JASON & JANEA PERFORM "YOU'RE ALIVE" LIVE ON INDIE MUSIC SHOW!
INDIE MUSIC SHOW - Episode 7 Segment 1 - ECOTONIC

Add to My Profile | More Videos
Influences:
Aerosmith, Stone Temple Pilots, Alice in Chains, KISS, Velvet Revolver, Audioslave, Fleetwood Mac, Led Zepplin, Guns & Roses, Pink Floyd, Whitesnake, Ronnie James Dio, Black Sabbath, AC/DC, KISS, Lenny Kravitz, Radiohead, Joni Mitchell, Crosby Stills & Nash, David Foster, Alan Thornhill, John Lennon, Stevie Wonder, Earth Wind & Fire, Train, Portishead, Yoko Ono, Phoebe Snow, The Cars, OURS, Foghat, Accept, , Alanis Morriesette, Evanescense, Heart, Kate Bush, James Taylor, Neil Young, Gwen Steffani, And More Later, there are so many Greats!
Sounds Like:
Slammin' Pop to Melodic Rock. What do you think? Leave us a comment and let us know:-)
Record Label:
Ebsworthy Sounds/Kinky Organ Music (self)
ECOTONIC has 12295 friends.