No recent updates in this category.
Why not...
Stan Lee hasn't earned any badges yet... have you?
General

ABOUT STAN LEE

Stan Lee is an American icon, an acclaimed writer and editor best known as a modern myth-maker though the superheroes he has created such as Spider-Man, X-Men, Iron Man, Hulk, Daredevil, and the Fantastic Four. He led the expansion of Marvel Comics from a small publishing company to a large multi-media corporation by infusing his exciting characters with modern flaws and sensibilities.

More recently Stan Lee has formed a company called POW! (Purveyors of Wonder) Entertainment which develops film, television, video games, and publishing properties. Lesser known is Lee's love for humor and pop culture. He once published a book of photo humor called Golfers Anonymous as well as editing and writing a magazine featuring celebrity humor called You Don't Say!

With Election Daze, Lee is returning to his roots by writing the kind of humor he loves the most! Stan has partnered with creator and publisher Tom Filsinger to produce the hottest election book of the year!

Stan promotes "Election Daze" along with publisher, Tom Filsinger. STAN THE MAN SPEAKS! "I've always gotten a kick out of combining far-out captions with serious pictures. It's a great change of pace from writing fantasy tales, although sometimes politics seems more like fantasy than my own stories!"

"After years of writing stories to keep readers on the edge of their seats, it's fun to write a book that'll make them kick back with laughter."

"ELECTION DAZE is the first in a series of humor books that'll deal with everything people are interested in-- sports, music, movies, TV, and celebrities of every type. And that's just for starters!"



About me:
..
Order Here!
..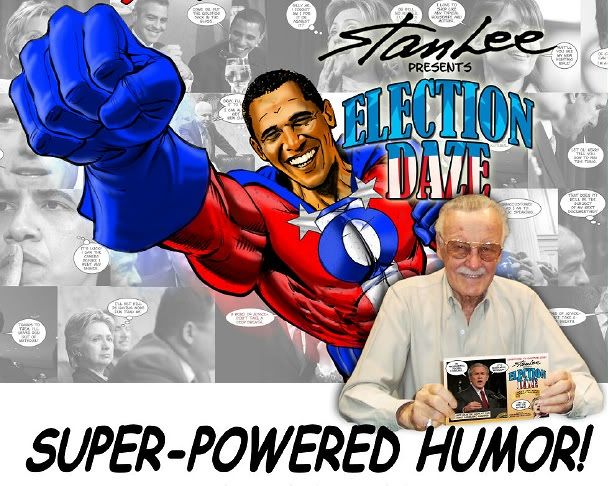 STAN LEE'S HILARIOUS 2010 ELECTION DAZE E-BOOK IS HERE!
Don't miss Stan Lee's wild MAD Magazine-style e-book called Election Daze! It's 124 pages of side-splitting humor and only $4.95 including fan contest winning entries based on the photos below!
The photos are by photographer Lauren Victoria Burke. Go for it and...EXCELSIOR!
Go here to BUY THE NEW E-BOOK!
..
PHOTO #1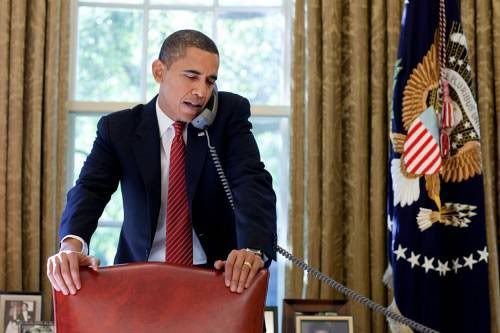 PHOTO #2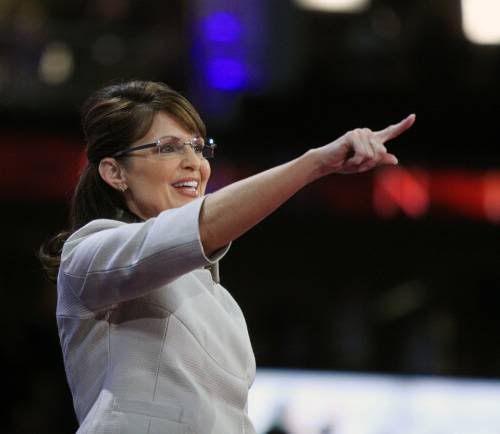 PHOTO #3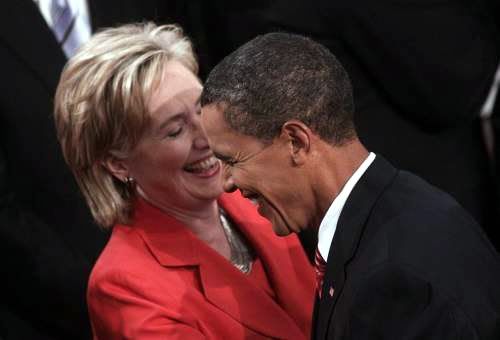 _________________________________________________________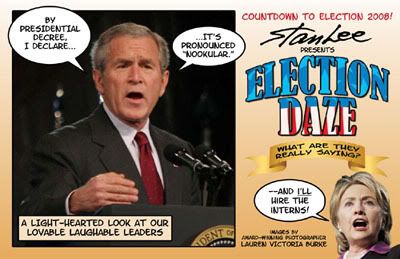 ELECTION DAZE: The Book
Here's the hot print version of "Election Daze" that has sold over 10,000 copies including plenty of photos and jokes featuring then-Presidential candidate Barack Obama! The book features 96 big pages of images and jokes by Stan Lee for a new low price of only $8.95! Election 2008 was among the most historic elections of all time and Stan Lee's book is a perfect keepsake...to say nothing of a fantastic collectible!

....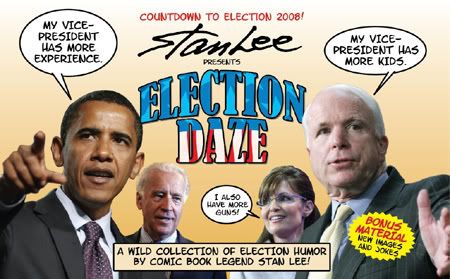 ELECTION DAZE: eBook
It's here---Stan Lee's, first-ever e-book featuring Bonus Material and a new cover! It's a 60-page laugh riot for a new low price of $3.95! This book features jokes not included in the print version that focus on the headliners in Election 2008 like Barack Obama, Sarah Palin, and John McCain! You've just got to have it!



Go here to BUY THE E-BOOK.
EVERYBODY LOVES
"ELECTION DAZE!"
"Election Daze" is an absolute hoot! There's a lot of Mad Magazine-type humor in it. Absolutely hysterical!
---Dennis Miller, The Dennis Miller Show

Stan Lee brings us a book about our political heroes featuring legit photos with lopsided mouthings.
---New York Post

"Election Daze" is a hilarious comedic skewering of this year's political high drama.
---Santa Monica Public Library

"Election Daze" is a book of amusing captions set to photos of politicians.
---Detroit Free Press

Stan Lee has joined the likes of Jon Stewart and Stephen Colbert, satirizing politicians for the benefit of mankind.
---Nick Veneris, Xomba.com

"Election Daze" marks Stan Lee's long-overdue return to comedy. Who knew that extended bouts of smiling coupled with laughter could prove so physically demanding...or hurt so good?
---Bill Baker, Columnist, Baker's Dozen

Stan Lee is hilarious and he provides great laughs on every page. "Election Daze" proves we should vote for only one man--- Stan "The Man" Lee for President!
---Julien Alles, Le Mague Journal (France)

I don't think it's funny at all. Now go away and leave me alone!
--- Former President George Bush

"FACE FRONT AMERICA!"
STAN LEE POKES FUN AT POLITICS IN NEW BOOK!
Who I'd like to meet:
.. "Did Barack Obama really say that?"
"Is THAT what John McCain was thinking?!"
Get ready folks...you'll find out when you read ELECTION DAZE! Comic book icon Stan Lee takes on politics and puts the SUPER in Super Tuesday! And it's a laugh riot!
Stan Lee presents the humor event of Election 2008 with his wild book, ELECTION DAZE! Lee, well-known as the co-creator of Spider-Man, Iron Man, and the Hulk, takes aim at the presidential campaign in a humorous look at election year politics.
ELECTION DAZE can be ordered by phone or online. The book is available in book stores everywhere including Barnes & Noble! You can also order at
amazon.com
.
The book's subtitle is "What Are They Really Saying?" and readers will find out when they read Stan Lee's hilarious words and captions to go along with ninety photos of current political figures. Stan Lee's light-hearted but deceptively satirical sense of humor will appeal to everybody! He's an equal-opportunity political offender!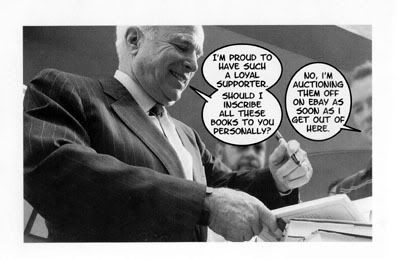 ELECTION DAZE features images by award-winning photographer Lauren Victoria Burke and focuses on modern political stalwarts such as Barack Obama, John McCain, Hillary Clinton, George Bush, and many more as well as celebrities such as Stephen Colbert, Chuck Norris, George Clooney, and Michael Moore.
ELECTION DAZE will be an American keepsake for the 2008 election year as well as a pop culture collectible. After all, Election 2008 was one of the most historic of all time. And Stan Lee's ELECTION DAZE was there to chronicle it!
In fact, ELECTION DAZE will be a HUGE Stan Lee collectible in the years to come. Former humor magazines like "You Don't Say" (that Stan wrote in the 1960's) are nearly impossible to find and command big bucks today.
ELECTION DAZE will be the same...a unique and timely book from the legendary Stan Lee! Be sure to get your copy before they sell out!
"Election Daze" Links:

..
Status:

Married

Here for:

Networking, Friends

Zodiac Sign:

Capricorn

Occupation:

Author, creator