Elizabeth NYDM/NCDM Pres. - South regional leader has 13121 friends.
About me:
I'm grumpy and mean. grr.
I use this page for finding music and for work contacts. If you're looking for a new friend to chat with please don't try to add this page. However, if you want to hire me for band artwork or photography, WELCOME! Come right on in! I have years of experience and a large catalog to show for it. Please, browse through my PhotoBucket accounts to see some of my live band photographyand some of my design work, along with some completely silly pictures from shows and everyday life.
http://s72.photobucket.com/albums/i181/ecstephenson3/
, and
http://s43.photobucket.com/home/ecstephenson2/index
.
I love my Grim Russell Terrier, Jackson, and my close family and friends very much.
I'm completely obsessed with music and I primarily listen to metal. I play several instruments with vastly varying skill: bass, guitar, piano, and multiple woodwind, brass, and percussive instruments. Ahh - this one's important - I have a deep and passionate revulsion for metal with hardcore breakdowns. (With all of the metal core bands who have been adding me, I don't think you're reading this part.)
I DJ a metal night at
DIVEbar: Raleigh
: every Wednesday night (from 10pm - 2am) -
Metal Overdose
- a balls out metal night, supporting: black, death, grind, thrash, doom, sludge, traditional - pretty much, you name it - metal!!!
I DJ a black metal, webcast radio show, called
Ulven
, on
Brutal Existence Radio
. Every Tuesday night, from 10pm - 1am EST (-05:00 GMT). Hope you'll check it out!
I used to work for, but still love:
Volume 11 Tavern
, a 500 capacity TOTALLY METAL FRIENDLY venue, located at 658 Maywood Avenue in Raleigh, NC 27603. (For locals, we're only a block away from the Farmer's Market, at Lake Wheeler and Maywood/Centennial.)
For booking, write Keith at: keith@volume11tavern.com or call the bar directly, at: 919.839.0079.
Volume 11 Tavern is currently accepting demo packages and press kits. Please mail all packages to:
Volume 11 Tavern
Attn: Booking
658 Maywood Ave.
Raleigh, NC 27603
If your band is interested in booking a show, be sure to include your band's website address, your MySpace address, links to your music, any articles/reviews of your band, and some detailed info from your last 6 shows (where/when/$/lineup/total paid attendees/etc).
For a PA breakdown, please, visit the
website
, directly.
I am a PROUD member of
NYDM: NCDM
- strong, loyal, hardworking, and true to our family. If you are curious about us, please, learn what we're all about at the
NYDM main page
! If you have questions, feel free to ask.
..
If you would like your music to be played on ULVEN, send your HIGH QUALITY .mp3's to: elizabeth@brutalexistenceradio.com, and make sure to include your permission to web-cast your submitted tracks!! ****Without your explicit permission, I will NOT air your music. We are RIAA compliant.****
If you like what you hear and you want to help us be heard by more metalheads, around the world - vote for us by clicking on the green button, below, and choosing to VOTE on the page you'll be routed to. No spam - no entering email, etc. Just a vote. THANK YOU!!! ..m/
TO LAUNCH THE B.E.R STREAM IN AN EXTERNAL PLAYER (FOR WINAMP/REAL PLAYER/ITUNES/VLC PLAYER USERS), PLEASE CLICK THE BANNER BELOW:
CHAT WITH THE BRUTAL EXISTENCE RADIO CREW BY CLICKING THE BANNER BELOW(FOR IRC USERS-WE ARE LOCATED ON
RIZON. NET
AND THE ROOM IS #brutalexistenceradio)
IF YOU ARE HAVING TROUBLES WITH OUR REGULAR WEB CHAT THEN TRY THE ALTERNATE ONE

CHAT HERE
Growing up playing the music that I was FORCED to learn makes me appreciate this video, completely. One one hand, I love that I had no choice but to be a musician... on the other - FUCK RITUAL DRIVEN, OVERPLAYED, UN-ORIGINAL "POPULAR" MUSIC!! Dude - understand that if you want to sell something, make it popular with the people - on the other, how about *trying* to come up with something that's only been written 5,000 times (versus 5,000,000)!! However - look at the success of the bands who've been stealing the same riffs for 300 years... I must be wrong...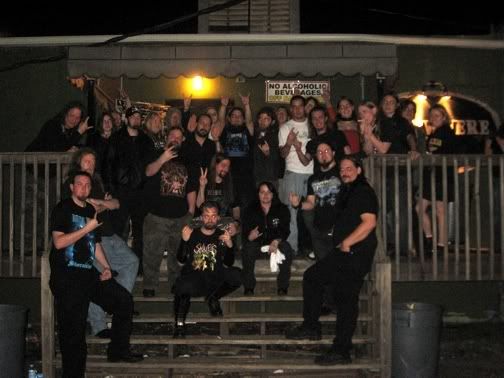 ..

DAATH

..
Support Faith in Ashes, add this Banner to your Profile!
Create your own visitor map!
Who I'd like to meet:
People with similar interests and similar taste in music. Please, bring your personality with you?


Status:

In a Relationship

Here for:

Networking

Hometown:

Raleigh, NC

Body type:

5' 7" / Average

Zodiac Sign:

Virgo

Children:

Undecided

Smoke / Drink:

Yes / Yes

Occupation:

Graphic Artist/Photographer/Teacher/Music Promoter
General

Music, Northern pagan mysticism, reading, writing, painting, fine-lining, music promotion, puzzle solving, religious studies, fitness, radio, audio production, history (in general), motorcycles, classic cars (rebuilding), biology, neurology, movies, strange Japanese toys, welding, my dog, poster design, psychology, sociology, teaching, martial arts, physics, genealogy, music, music, and finally, most importantly, music.

Oh, yeah, and music.

Music

METAL!!!! (black

,

doom

,

grind core

,

death - anything but cheese and hair)

,

sludge

,

blues

,

psychobilly (traditional hillbilly rockabilly

,

gothabilly

,

punkabilly - it's in my blood - I love it all)

,

goth

,

classical

,

hell - really anything but contemporary country and

,

generally

,

THE HARDER

,

THE BETTER. There's no such thing as too thick and too dirty

, in my book.

I could never begin to name bands I like and have anything representative of everything I love - the best I can do is tell you what I've had in the player recently: Possessed,

King Travolta

,

Secrets She Kept

,

Amon Amarth

,

Celtic Frost

,

Dissection

,

Lust of Decay

,

Wehrwolfe

,

Order of the Fractured Spirit

,

Internal Suffering

,

Atrocious Abnormality

,

Cobalt

,

Ouroboros

,

Saprogenic

,

Jungle Rot

,

Gods Iron Tooth

,

Husky

,

Lividity

,

Despise

,

Aborted

,

Satarial

,

Estuary

,

Behemoth

,

Loss

,

Guttural Secrete

,

Satanic Warmaster

,

Monstrosity

,

Aeon

,

Coroner

,

Infinited Hate

,

Godless Rising

,

Pyrexia

,

Spawn

,

Nile

,

Dreamscapes of the Perverse

,

Vesperian Sorrow

,

Catamenia

,

Teradactyl

,

Exulcerate

,

Anal Blast

,

Domination Through Impurity

,

Lecherous Nocturne

,

Zuckuss

,

Mucky Pup

,

Agent Orange

,

ANTiSEEN

,

Confessor

,

LOTS of Entombed

,

Sourvein

,

Drunk and Stoned

,

Dying Fetus

,

Emperor

,

Daylight Dies

,

Pest

,

Gorelord

,

Disincarnate

,

Roanoke

,

Grey

,

Kult ov Azazel

,

Dawn

,

Omnicient

,

The Reticent

,

Noothgrush

,

Rotting Christ

,

Ulver

,

Burning Witch

,

Sepultura

,

Eletric Wizard

,

Lunch

,

1349

,

Vital Remains

,

DarkMoon

,

GWAR

,

Agalloch

,

Grave

,

Obituary

,

Carcass

,

Beaten Back to Pure

,

Akercocke

,

Death

,

Apotheosys

,

Unholy Crusade

,

Weedeater

,

Pungent Stench

,

Cannibal Corpse

,

Hellhammer

,

Big Black

,

Neurosis

,

EyeHateGod

,

Pillcrusher

,

Deicide

,

Fecal Corpse

,

My Dying Bride

,

Katatonia

,

Belphegor

,

Godflesh

,

Vader

,

Pig

,

Overkill

,

Bongzilla

,

Skinny Puppy

,

Foetus

,

Balatonizer

,

Cathedral

,

Brujeria

,

Melvins

,

Dixie Witch

,

Kylesa

,

Johnny Cash

,

DarkThrone

, and Slayer. I just re-read this list and it doesn't come close to telling you what all I live for - oh well - guess you'll have to die without knowing. *alas*

..SUPPORT NORTH CAROLINA METAL..

A Mordant Vie A Sudden Fear Age of Despair Alignak Anal Abortion ANTiSEEN Apotheosys Art of Dying (Now A Vision Grotesque) ASG Atrocious Abnormality Benighted Between the Buried and Me Bile Nephrosis Blatant Disarray Bloodsoaked Bloodwritten Body Soil Broadslab Burn the Blood Carnography Carrion Bomb Cesspool of Vermin Confessor Contagin Corrosion of Conformity Cothurnus Cresent Critical Assault Crucible of the Damned Dark Autumn DarkMoon Daylight Dies Debodified Deity Undead Demonic Christ Dixie Death Wish Domestic Violence Domination Through Impurity Dreamscapes of the Perverse Eldritch Horror

Enemy of Silence

Ensurrection Envenom Thy Winds

Epic of Empyrea

Evaporot Facetheft Failed Seance Faith in Ashes Flesh Casket GETCUT Glass Casket Gorging on Amputated Limbs Gross Anatomy Grotesque Butchery Hail!Hornet Hellrazor Here Lies… Heretic's Fork H.O.W. Ironside Intethod Ironclad KillWhitneyDead Legion of the Fallen LifesruiN Lust of Decay Made to Suffer Malebolgia Mimic Morose Vitality Mysteriarch

Mythic

Natu Sabverata Novgorod Obsidian Omniscient Outliar Panda Party Postmortem Disembowelment Praecantrix PredecessoR Prelude to Damnation Pride Before a Fall Putrefying Cadaverment Rapture Cabaret Ripped in Half Sanctity Scrap Metal Casket Scripted in Blood Serpent Garden Shadow of the Destroyer Shuriken Cadaveric Entwinement SkinKage Slamhandle Slaves to Addiction Slugnut Soulpreacher Sourvein Southern Cross

Speak of the Devil

Straight Drive Strychnine Soul SutureSelf The Amaranth The Art of Murder The Solanum Morgue The Stolypins The Torture Cell

The War Within

Thoracopagus Torn Between Twisted Tower Dire Unholy Crusade Up the Irons Uzzard Valient Thorr Viper Weedeater Wehrwolfe Widow

SOUTH CAROLINA BANDS:

Angels of Discord A Road Eternal Ascended At The Gallows Beauty in the Ashes of the Destroyer Belligerent Biomassacre Blood Red Summer Bowel Erosion Calus Cementfilled ChaosEgo Childrens Choir Coffin Syrup Cootie Hut Dalep Darkness in Eden Decay The Astral Self Decaying Eden Decaying Face Down Decrepitance Degrees of Disdain Dehiscence Demise of Anguish Diavolo Diemona Eve of the End For Which We Kill From Graves of Valor From Idle Hands Goretech Gutteral Engorgement HarmDivision Head on the Mantel Her Name in Lights Hideous Infamous Insidious Demise Kakarot Krotalus Lecherous Nocturne Legion of Lunacy Life's Obituary Meat Curtain MALFEAS Manifest the Dead Manticore Maybe Some Other Time Merzah Model of Addiction Moment of Truth Nile Noumenon Out of the Ashes Purified by Fire Rage Against the Retard Revenge I Seek Saint Faust The Ashes of the Fallen The Blackwood The Classic Struggle The Dead Find Rest The Herat Massacre The Last of a Dying Breed The Moultrie Killer The Red Cleanse Thoughts Before the Flood Through the Eyes of the Dead Trails of Blood Tripping the Mechanism We Ruin Lives Unfaithful Fetus VadimVon Written in Blood

TENNESSEE BANDS:

Autumn Mourning Bellicose Burial Within ButcherPriest Coat Hanger Abortion Crisis Apparition Damascus DeadChain Destroy, Destroy

, Destroy

Enfold Darkness Epoch of Unlight Frostilicus GiantKiller Hellusination Imbrued Deceit Inferi Keymaster Lee Harvey Griswold Loss Lycanthropy Machinegun Sonata Sangrar Second Childhood Shred Circus Stigmatic The Dead Eat Worms The Mirror Never Lies Through Death and Crimson The Tony Danza Tapdance Extravaganza Unclean Undercover Outlaw Voodoo Prophet With Faith or Flames

VIRGINIA BANDS:

3 Hole Face 35 year Killing Spree 366 8th Day Abacabb A Body Falls Abhorsen Abominog Absolute Vengeance Aces Hygh Aces Wyld A Cursed Dawn Adonis Decay Adversary Aeturnus Animus A Farewell Mercy Against the Fall Against Thy Will Age of Excess Aggressive Measures Aggressor State A Homicidal Threat Alabama Thunderpussy Alegionce Alley Trip Almost Human Amaranthine Ambush Amicus Amongst Wolves Another Born Without
Apostolos Apothys Archaia Archeus
Arise the Rider Arkaid Arsis Art of Destruction Ascender As Kingdoms Fall A Three Mile Crisis A Time to Mourn Attack at Dawn AT WAR Audio Terror Regime Austere Necrosis Azgardian Azza Bad Dog Bad Habbit Banished Disciples Barron Deceit Battle Karma BattleMaster Bayi Beast Infection Beaten Back To pure Behelmod Bellamorte Bentt Birds of Prey Bitter Blast! Bleed Blood Corps Bloodlines Blood Lit Skies Blood Quest Bloodrush Blue Collar War Bobzilla Born on the Battlefield Boxaw Breespree Splatterfest Bridges Left Burning Brown Sabbath Brutal Betrayal Built to Offend Bully Brygger Bucket Bullistic Burn Me Alive Burn the Earth BUZZOV-EN Cadillac Rock Box Caesura Call It Sleep Camphora Carcinomic Donnie Carter Caustic Bloodline Celestial Force Cell17 Chalkline Beauty Chaos Rising Charred Martyr Chasing the Ghost Clock Strikes Murder Choke Chain Closed Casket Burial C.O.B.C. Coldcast ZS Concept Condemned by Silence Conquering the Throne Cor13 Construkt Craptain Jack & The Shmees Crashing Down Crossing the Event Horizon Crucifer Crude Beginnings Cult of Dionysis Cult of Discordia Cult of the Raven Cut the Architects Hand Cut Throat Cinema Cyaegha Cyanotic Revelation Dark Alliance Darkest Hour Darkestra Dark Horse Dark Ruin Dark Shrine Dark Omen Day of Descent Dealer Death Beyond Darkness Death Kult Death Mask Deceased Decedent Deguello Demotoria Depress Derelikt Red Desiccant Detura Dieoxide Dirge for the Slain Dismembering Nightmare Divine Chaos Division D.O.G.S of Pray Doomstone Doom Syndicate Download Dreadline Dreams of Genocide Drugs of Faith Dying For Anna DysFigure

Movies

Television

Books

E=MC2, The Plague, and Eats Shoots, and leaves.

Heroes

Anyone who has the balls to get on stage and play whatever the fuck he or she wants to. Who gives a fuck it someone else likes it, or not? If you like it, PLAY IT.
North Carolina State University At Raleigh

Raleigh, NORTH CAROLINA

Graduated:

2002

Student status:

Alumni

Degree:

Bachelor's Degree

Major:

Education

Clubs:

Kappa Delta Pi - Education Honors Society

1999 to 2002

North Carolina State University At Raleigh

Raleigh, NORTH CAROLINA

Graduated:

1997

Student status:

Alumni

Degree:

Bachelor's Degree

Major:

Psychology/Art Studies

1993 to 1997