No recent updates in this category.
Why not...
Emily Ecton hasn't earned any badges yet... have you?
Music

Movies

Television

Books

How much time do you have?
About me:
I write books for kids and work for
Wait Wait...Don't Tell Me!
, the comedy news quiz on NPR.
Boots and Pieces
and
The Curse of Cuddles McGee
are in stores now. Here are the descriptions from the Aladdin catalog, along with the awesome covers done by the amazing Scott Fischer:
Boots and Pieces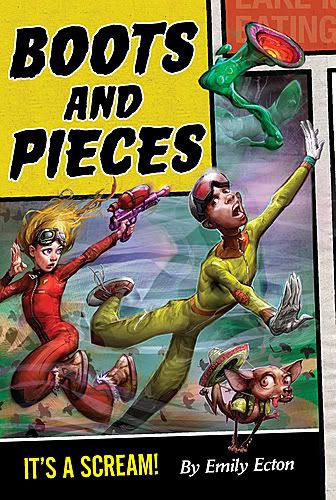 It's not easy being Arlie Jacobs. Her big sister bosses her around; her mom makes her dogsit Mr. Boots, the family's well-dressed Chihuahua; and she's convinced a swamp creature that lives down at the lake is eating high school kids.
When no one believes her, Arlie and her best friend, Ty (yes, he's a boy, and no, he's not her boyfriend), set out with Mr. Boots along for the ride to stop the creature themselves -- because if they don't, half the school is going to end up as lakeside hors d'oeuvres.
In this terrific debut, the first in a series of books featuring Arlie, Ty, and Mr. Boots, author Emily Ecton combines horror, humor and a classic middle-grade school story into one hilarious novel for young readers.
The Curse of Cuddles McGee
While poking around their neighborhood, mystery-solving, swamp monster-fighting middle-graders Arlie and Ty fi nd a buried coffee can fi lled with the bones of a hamster and the handwritten curse (on glittery unicorn notepaper) from his home-schooled owner, Mandy:
"Here lies Cuddles McGee. A curse upon those who disturb his grave."
The fact that the i in "lies" is topped with a heart doesn't make them any less scared, especially when the obese, angry, and undead Cuddles comes back to life and starts trashing the town.
Once again, it's up to Arlie, Ty, and Mr. Boots -- the fashionably dressed Chihuahua, to save the town from destruction, reanimated dead hamster-style.
Night of the Living Lawn Ornaments
, the third book in the series, will be published on March 10, 2009.
Click here to visit my
website
. ..
<7g3C6meBoJVW2nL=>
Who I'd like to meet:
A lot of the people I'd like to meet lived a while ago and are dead now, so I'm thinking I wouldn't really enjoy meeting them that much after all.
This layout is from WhateverLife.com!
Status:

Single

Here for:

Friends

Zodiac Sign:

Libra