Play

Play Next

Add to queue
Play

Play Next

Add to queue

1,725 plays

Play

Play Next

Add to queue

1,351 plays

Play

Play Next

Add to queue

1,001 plays

All began in 2007 when Wared (guitar) and Franky (bass) started a band. They were looking for other members that had the same vision than them. Emi eventually joined them as a singer and a keyboard player. It took at least one year before Endless Night was officially created, in January 2008. The band, which had known many members changes, was completed by Jay.

Now, Endless Night's members are creating their own songs and practicing to make music their vocation. Influenced by metal, powerpop and gothic world, they are in search of a personal sound, a sound that would reveal all the weird and wonderful things they have in mind.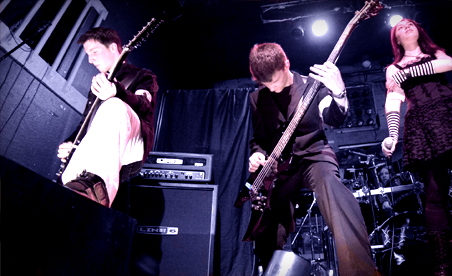 Their inspiration comes from elements such as: the mystery and magnificence of the night, childhood and it's traumas, fairytales, suffering, murder and mourning, the philosophical aspects of humanity. Their songs reflect a delicious contrast between fairytale and horror worlds, a concept they are particularly proud of. It's as if all your dolls and teddy bears had suddenly turned into vampires and bogeymen.


endlessnightband@hotmail.com


Endless Night has 9765 friends.