Play

Play Next

Add to queue
Genre: Breakbeat / Hip Hop / Turntablism

Location New York, CT, Boston, All, US

Profile Views: 11992

Last Login: 7/18/2009

Member Since 8/28/2005

Website www.frequencyactivism.com

Record Label ESP Recordings/Low Society/FreeRadicalz

Type of Label Indie

Bio

.. ...... .... ...... Since 1996 The ESP Collective has brought truth to life, and represented through that classic boom bap sound. The eight member family consisting of Angel Dust, Topix, Hoo Doo, Luck D, Hired Gun, Unpaid Bill, Starchild and Mista Mayday came together through their common love of music, and concerns about the world we live in. The variations of opinions, ideas, tastes, and quirks makes their sound unforgettable, and unique in a time where mainstream music is at its most watered down, and the independent movement strives to pick up the pieces. Combining classic samples, revolutionary mindsets, and high energy live performances the ESP collective always comes correct. Since 2000 the crew has put out two EP's (The Big Bang in 2001, and The Strange Force in 2002), one 12" (The "Eternal Soul Prophets" record in 03), two solo albums from Mista Mayday ("The Algebra of Revolution" in 04 and "Public Property" in 05), and the spin off collaboration between Topix and Luck D "The Usual Suspects" ("Motive" 2005). In between these releases various mixtapes by the mixtape duo, UnPaid Bill and Mista Mayday, have swept through the underground of the tri state area, and new england (The Bruce Lee series, "Don't Sleep...", "Without a Doubt"). ---------------------------------------------------------------------------------- Currently .. Hired Gun.. and .. Mista Mayday.. are in the studio working on various projects, including the .. FREQUENCY ACTIVISM.. collaboration with Statistics and Paintdragon ("Hip-Hop In Strange Places"). Be on the look out, as soon the Lion's will be forming Voltron once again. (Also visit the hired gun, mista mayday and frequency activism pages to download more music!)

Members

..The next stage of hip hop's revolution. Over fourteen tracks, "The People's Verses" runs the gamut from the personal, to the political with a live wire flow, Cinematic wordplay and lyrics, over future primitive beats. One of the founding members of the ESP Collective debuts with his first solo release. Production from Core Rhythm, Tranquill, Zaquan, Ice Nine, fellow ESP BRETHREN MISTA MAYDAY and a host of others. Check it out..... .. .. .............. .. .. ...... Vocalists: Hired Gun, Topix, Luck D and Starchild. Beats, Cuts and Vocals: Mista Mayday, UnPaid Bill, HooDoo and Angel D. ...... ......

Influences

Too many to name. All of the architects, forefathers and innovators of Jazz, Blues, Funk, Reggae, R&B, Soul, Hip Hop, Rock and electronica. All revolutionary thinking mindsets. Copious amounts of Guinness Extra Stout and Jameson. La Familia de ESP.

Sounds Like

Theme music for a seventies black superhero
No recent updates in this category.
Why not...
Bio:
..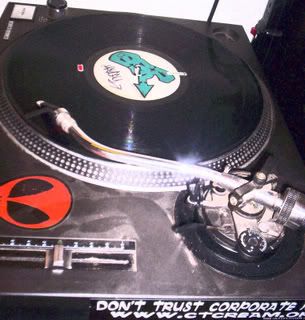 Since 1996 The ESP Collective has brought truth to life, and represented through that classic boom bap sound. The eight member family consisting of Angel Dust, Topix, Hoo Doo, Luck D, Hired Gun, Unpaid Bill, Starchild and Mista Mayday came together through their common love of music, and concerns about the world we live in. The variations of opinions, ideas, tastes, and quirks makes their sound unforgettable, and unique in a time where mainstream music is at its most watered down, and the independent movement strives to pick up the pieces. Combining classic samples, revolutionary mindsets, and high energy live performances the ESP collective always comes correct. Since 2000 the crew has put out two EP's (The Big Bang in 2001, and The Strange Force in 2002), one 12" (The "Eternal Soul Prophets" record in 03), two solo albums from Mista Mayday ("The Algebra of Revolution" in 04 and "Public Property" in 05), and the spin off collaboration between Topix and Luck D "The Usual Suspects" ("Motive" 2005). In between these releases various mixtapes by the mixtape duo, UnPaid Bill and Mista Mayday, have swept through the underground of the tri state area, and new england (The Bruce Lee series, "Don't Sleep...", "Without a Doubt"). ---------------------------------------------------------------------------------- Currently
Hired Gun
and
Mista Mayday
are in the studio working on various projects, including the
FREQUENCY ACTIVISM
collaboration with Statistics and Paintdragon ("Hip-Hop In Strange Places"). Be on the look out, as soon the Lion's will be forming Voltron once again. (Also visit the hired gun, mista mayday and frequency activism pages to download more music!)
Member Since:
August 28, 2005
Members:
The next stage of hip hop's revolution. Over fourteen tracks, "The People's Verses" runs the gamut from the personal, to the political with a live wire flow, Cinematic wordplay and lyrics, over future primitive beats. One of the founding members of the ESP Collective debuts with his first solo release. Production from Core Rhythm, Tranquill, Zaquan, Ice Nine, fellow ESP BRETHREN MISTA MAYDAY and a host of others. Check it out...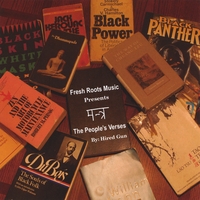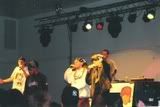 Vocalists: Hired Gun, Topix, Luck D and Starchild. Beats, Cuts and Vocals: Mista Mayday, UnPaid Bill, HooDoo and Angel D.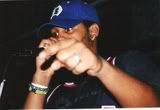 Influences:
Too many to name. All of the architects, forefathers and innovators of Jazz, Blues, Funk, Reggae, R&B, Soul, Hip Hop, Rock and electronica. All revolutionary thinking mindsets. Copious amounts of Guinness Extra Stout and Jameson. La Familia de ESP.
Sounds Like:
Theme music for a seventies black superhero
Record Label:
ESP Recordings/Low Society/FreeRadicalz