Play

Play Next

Add to queue

10,503 plays

Play

Play Next

Add to queue

8,253 plays

Play

Play Next

Add to queue

3,408 plays

Play

Play Next

Add to queue

2,767 plays
Genre: Electronica / Experimental / IDM

Location ulm/neu-ulm, bavaria, DE

Profile Views: 64108

Last Login: 8/7/2012

Member Since 12/24/2005

Website www.estonji.com

Record Label kitty-yo, klein, pnr, spb, skam, spezialmaterial

Type of Label Indie

Bio

.. ..Since 1991 when the young jensdöring (born in1978 in dresden/ former "German Democratic Republic") started experimenting with guitars and effects, it has happened a lot. Exploring the world of experimental sound with atari, effects, synthesizers, and everything that sounds, the years went by and jensdöring was using acoustics just for therapeutical usage... ..In the turn of the millenium ..jensdöring.. started releasing his first records under the name ..shift.., later ..shift.. is just changing into the name ..e.stonji.. and now working with labels like Heimelektro-Ulm/Duftplatten (..http://www.heimelektro-ulm.de/..), Phantomnoise Records (..http://www.phantomnoise.com/..), Spezialmaterial (..http://www.spezialmaterial.ch/..), Skam (..http://www.skam.co.uk/..) and others... ..Right after jensdöring got to know the alround-musician Hans Platzgumer (..http://www.platzgumer.net..) in 2002, they started their project ..hp.stonji.., which found it..s home in the swiss-uk connection Spezialmaterial (..http://www.spezialmaterial.ch..) and Baked-Goods (..http://www.baked-goods.com/..). As this seems to fit as a great duo, both started in 2003 another successful project called ..e:gum.. which has it..s home at Klein Records (..http://www.kleinrecords.com/..) and Rough Trade (..http://www.roughtrade.de..). .. ..In 2001 ..jensdoering.. started his study in Computer Science for Media, and since then he has used the programming skills in max/msp/jitter, supercollider, java and c++ for creating soundinstallations, programming network-soundtools, and synthesizers (VST)... ..He is also an audiobook director and producer. He has created some soundtracks like "3mal5min", "feif", "7gedichte", "die letzten briefe von vincent van gogh an seinen bruder theo", only to mention a few... ..However, jensdöring has a lot of different faces, and is producing his music under different names with different people. Other projects are "convertible", "jerry lusion", "reejk lynur", "hed.gap"... ..e.stonji performes together with his live drummer matthias freund... .. .. .. .. .. .. ....http://www.jensdoering.com.... ....http://www.estonji.com.... ....http://hpstonji.estonji.com.... ....http://www.egum.net.... ....http://www.jerry-lusion.com.... ....http://www.2av.de.... ........ ..!!!NEW!!!PNR13!!!27TH MARCH 2008!!!E...STONJI!!!PARTICLES EP!!!...... .. .... ..

Members

jens döring - http://www.jensdoering.com

Influences

nine inch nails, depeche mode, aphex twin, coil, autechre, antonio carlos jobim, asa-chang & junrei, broken social scene, death cab for cutie, deus, radiohead, danzig, fennesz, funkstorung, gescom, luke vibert, merzbow, notwist, philip glass, richard devine, satie, sparklehorse, squarepusher, telefon tel aviv, the cult, the veils, the weakerthans, tim hecker, vincent gallo, xiu xiu

Sounds Like
No recent updates in this category.
Why not...
Bio:
..
Since 1991 when the young jensdöring (born in1978 in dresden/ former "German Democratic Republic") started experimenting with guitars and effects, it has happened a lot. Exploring the world of experimental sound with atari, effects, synthesizers, and everything that sounds, the years went by and jensdöring was using acoustics just for therapeutical usage.
In the turn of the millenium jensdöring started releasing his first records under the name shift, later shift is just changing into the name e.stonji and now working with labels like Heimelektro-Ulm/Duftplatten (http://www.heimelektro-ulm.de/),  Phantomnoise Records (http://www.phantomnoise.com/), Spezialmaterial (http://www.spezialmaterial.ch/), Skam (http://www.skam.co.uk/) and others.
Right after jensdöring got to know the alround-musician Hans Platzgumer (http://www.platzgumer.net) in 2002, they started their project hp.stonji, which found it..s home in the swiss-uk connection Spezialmaterial (http://www.spezialmaterial.ch) and Baked-Goods (http://www.baked-goods.com/). As this seems to fit as a great duo, both started in 2003 another successful project called e:gum which has it..s home at Klein Records (http://www.kleinrecords.com/) and Rough Trade (http://www.roughtrade.de).
In 2001 jensdoering started his study in Computer Science for Media, and since then he has used the programming skills in max/msp/jitter, supercollider, java and c++ for creating soundinstallations, programming network-soundtools, and synthesizers (VST).
He is also an audiobook director and producer. He has created some soundtracks like "3mal5min", "feif", "7gedichte", "die letzten briefe von vincent van gogh an seinen bruder theo", only to mention a few.
However, jensdöring has a lot of different faces, and is producing his music under different names with different people. Other projects are "convertible", "jerry lusion", "reejk lynur", "hed.gap".
e.stonji performes together with his live drummer matthias freund.
!!!NEW!!!PNR13!!!27TH MARCH 2008!!!E.
STONJI!!!PARTICLES EP!!!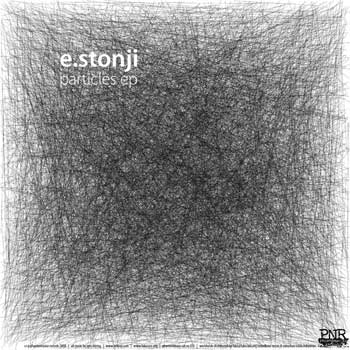 Member Since:
December 24, 2005
Influences:
nine inch nails, depeche mode, aphex twin, coil, autechre, antonio carlos jobim, asa-chang & junrei, broken social scene, death cab for cutie, deus, radiohead, danzig, fennesz, funkstorung, gescom, luke vibert, merzbow, notwist, philip glass, richard devine, satie, sparklehorse, squarepusher, telefon tel aviv, the cult, the veils, the weakerthans, tim hecker, vincent gallo, xiu xiu
Record Label:
kitty-yo, klein, pnr, spb, skam, spezialmaterial