Play

Play Next

Add to queue
Play

Play Next

Add to queue

226 plays

Play

Play Next

Add to queue

483 plays

Play

Play Next

Add to queue

499 plays

Play

Play Next

Add to queue

401 plays

Play

Play Next

Add to queue

7,039 plays
Genre: Hip Hop / R&B / Rap

Location Johnson City, Tennessee, US

Profile Views: 174768

Last Login: 7/12/2011

Member Since 1/22/2006

Record Label Left Lane Entertainment

Type of Label Indie

Bio

.. .... .................. ........ ........

Members

.. .. .. .. ............ .. ............ .. .. .. // MAJOR UPDATE: 8 / 28 / 2010 .... ITS OFFICIAL! JUST SIGNED TO LEFT LANE ENTERTAINMENT. BIG SHOUT OUT TO MY DUDE GALLO FOR MAKING THIS HAPPEN, GOOD LOOKIN OUT MY DUDE. GOT SOME MAJOR ANNOUNCEMENTS COMING SOON, I WILL UPDATE YOU GUYS AGAIN WHEN I'M ABLE TO SPEAK MORE ON THIS. FOR RIGHT NOW THOUGH, I JUST WANT TO SAY THANKS TO EVERYONE WHO BELIEVED IN ME AND WHAT I CAN DO ON THE BOARDS. IT TOOK A LONG TIME, YEARS ACTUALLY, BUT IF YOU HAVE A DRIVE, PERSISTENCE, AMBITION, AND FIRST AND FOREMOST, A LOVE FOR MUSIC, YOU'LL GET WHERE YOU WANT TO BE......AND FURTHER THAN YOU EVER IMAGINED!! .... LEFT LANE ENTERTAINMENT 2010 AND ON, LET'S GET IT .. .. .. PRICING: DUE TO THE RECENT MERGER WITH LEFT LANE ENTERTAINMENT,THERE IS NO SET PRICE ON INSTRUMENTALS OR MASTERING SERVICES. PRICES WILL VARY, FOR MORE INFORMATION FEEL FREE TO CONTACT ME THROUGH EMAIL FATALPRODUCTIONZ@GMAIL.COM. BUSINESS LINE WILL BE POSTED SOON AND CALLS WILL BE OPEN FOR FURTHER DISCUSSION .... WE HAVE A NUMBER OF PRODUCERS WHO SPECIALIZE IN DIFFERENT GENRES / STYLES OF MUSIC. WHATEVER SOUND YOU ARE LOOKING FOR TO GET YOUR NEXT HIT, WE'VE GOT THE RIGHT PERSON ON THE TEAM WHO WILL BE DEDICATED TO YOUR SOUND. WHETHER IT'S WEST COAST, SOUTHERN, POP, R&B OR ANYTHING IN BETWEEN, WE WILL MAKE SURE THE MATERIAL IS EXACTLY WHAT YOU WANT. .... IF IT IS MIXING AND MASTERING YOU'RE INTERESTED IN FOR YOUR PRE-RECORDED TRACKS, WE PROVIDE THAT AS WELL. THE RIGHT MIX WILL MAKE OR BREAK ANY SONG, DONT WASTE A GOOD SONG ON LACK OF SOUND ENGINEERING. MAKE IT STAND OUT AND HIT LIKE IT SHOULD. OUR ENGINEERS HAVE SPENT COUNTLESS HOURS IN TRAINING AND HAVE A FEW STAND OUT HITS UNDER OUR BELT THAT HAVE BEEN #1 IN RADIO PLAY FOR WEEKS ON END. A BAD MIX WILL RUIN A PERFECT SONG, SO TAKE ADVANTAGE OF PROFESSIONAL MASTERING BEFORE YOU RELEASE YOUR NEXT SONG TO RADIO OR HAVE YOUR CD'S PRESSED .... PACKAGE DEALS ALSO AVAILABLE FROM OUR PRODUCERS. CONTACT US FOR MORE INFORMATION .. .. .... .... .. .. .. .. .. .. ......Download Mixtape.. | ..Free Mixtapes.. Provided by ..DatPiff.com.... ....

Influences

.. .. .............. .. .............. .. .............. .. ..............

Sounds Like

Nobody
No recent updates in this category.
Why not...
Member Since:
January 22, 2006
Members:
.. .. .. ..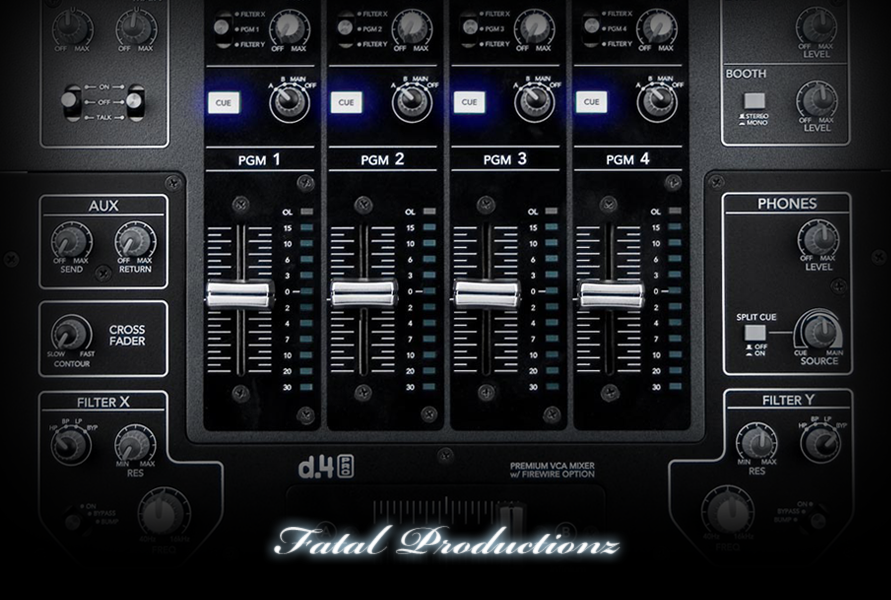 ..
..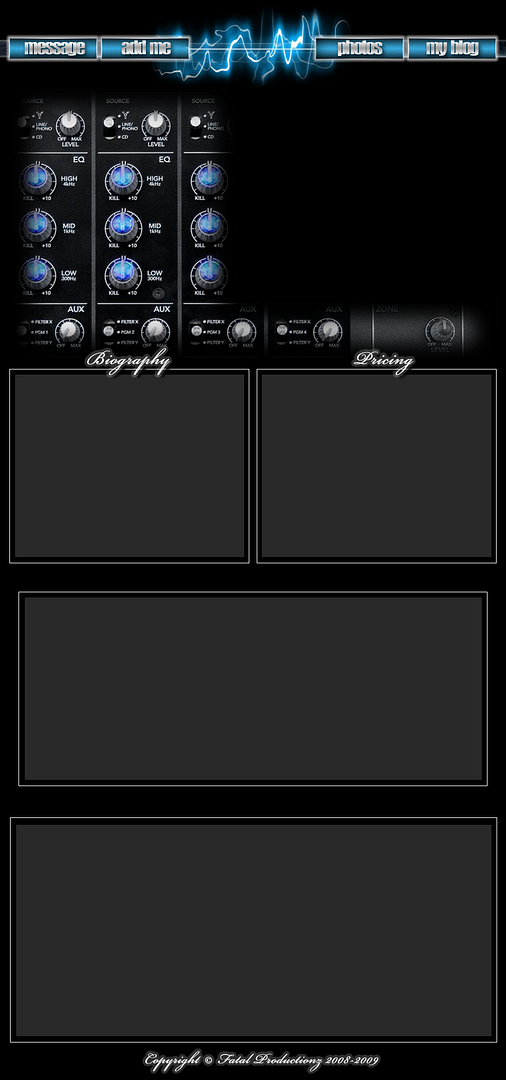 ..

..

// MAJOR UPDATE: 8 / 28 / 2010

ITS OFFICIAL! JUST SIGNED TO LEFT LANE ENTERTAINMENT. BIG SHOUT OUT TO MY DUDE GALLO FOR MAKING THIS HAPPEN, GOOD LOOKIN OUT MY DUDE. GOT SOME MAJOR ANNOUNCEMENTS COMING SOON, I WILL UPDATE YOU GUYS AGAIN WHEN I'M ABLE TO SPEAK MORE ON THIS. FOR RIGHT NOW THOUGH, I JUST WANT TO SAY THANKS TO EVERYONE WHO BELIEVED IN ME AND WHAT I CAN DO ON THE BOARDS. IT TOOK A LONG TIME, YEARS ACTUALLY, BUT IF YOU HAVE A DRIVE, PERSISTENCE, AMBITION, AND FIRST AND FOREMOST, A LOVE FOR MUSIC, YOU'LL GET WHERE YOU WANT TO BE......AND FURTHER THAN YOU EVER IMAGINED!!

LEFT LANE ENTERTAINMENT 2010 AND ON, LET'S GET IT

..

PRICING: DUE TO THE RECENT MERGER WITH LEFT LANE ENTERTAINMENT,THERE IS NO SET PRICE ON INSTRUMENTALS OR MASTERING SERVICES. PRICES WILL VARY, FOR MORE INFORMATION FEEL FREE TO CONTACT ME THROUGH EMAIL FATALPRODUCTIONZ@GMAIL.COM. BUSINESS LINE WILL BE POSTED SOON AND CALLS WILL BE OPEN FOR FURTHER DISCUSSION

WE HAVE A NUMBER OF PRODUCERS WHO SPECIALIZE IN DIFFERENT GENRES / STYLES OF MUSIC. WHATEVER SOUND YOU ARE LOOKING FOR TO GET YOUR NEXT HIT, WE'VE GOT THE RIGHT PERSON ON THE TEAM WHO WILL BE DEDICATED TO YOUR SOUND. WHETHER IT'S WEST COAST, SOUTHERN, POP, R&B OR ANYTHING IN BETWEEN, WE WILL MAKE SURE THE MATERIAL IS EXACTLY WHAT YOU WANT.

IF IT IS MIXING AND MASTERING YOU'RE INTERESTED IN FOR YOUR PRE-RECORDED TRACKS, WE PROVIDE THAT AS WELL. THE RIGHT MIX WILL MAKE OR BREAK ANY SONG, DONT WASTE A GOOD SONG ON LACK OF SOUND ENGINEERING. MAKE IT STAND OUT AND HIT LIKE IT SHOULD. OUR ENGINEERS HAVE SPENT COUNTLESS HOURS IN TRAINING AND HAVE A FEW STAND OUT HITS UNDER OUR BELT THAT HAVE BEEN #1 IN RADIO PLAY FOR WEEKS ON END. A BAD MIX WILL RUIN A PERFECT SONG, SO TAKE ADVANTAGE OF PROFESSIONAL MASTERING BEFORE YOU RELEASE YOUR NEXT SONG TO RADIO OR HAVE YOUR CD'S PRESSED

PACKAGE DEALS ALSO AVAILABLE FROM OUR PRODUCERS. CONTACT US FOR MORE INFORMATION

.. ..
Influences:
.. ..
Sounds Like:
Nobody
Record Label:
Left Lane Entertainment