No recent updates in this category.
Why not...
Play

Play Next

Add to queue
About me:
FOUNDER:
Zender one is the Founder and Designer of FlatBlack Clothing Company. We are a clothing company based in the Los Angeles area. Flatblack Clothing "FBK" is a Christian Urban clothing company that believes in staying strictly positive.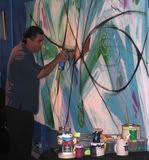 Living in a city where negativity has gone rampant, we believe in using our clothing to fight spiritual oppression and making a difference in our urban society. Specializing in an urban graff style combined with spiritually and biblically inspired designs, FBK is for those that dare to take a stand for righteousness with no compromise.I have been in the graff scene for 20 years and In His (JC) family for about 13, I searched for Christian Hip Hop gear and my options were practicaly zero. I prayed about it and the Lord moved me to put Flatblack Clothing on the steps of His kingdom. I Pray that GOD will use this company to minister and to uplift our Hip Hop community and our Urban youth WORLD WIDE. Peace to all."
Zender One

---
FLATBLACK:
FlatBlack is a color that most graffiti writers know, it was used in the eighties to outline and finish the graff pieces. Unlike Glossy that was too watery and ultra flat that cracked. Flatblack was and is the color of choice. This concept was transfered into clothing, our designs are not wild and colorful like the graff on the walls, that graff should stay on the walls. Our designs also don't follow the latest fad or craze.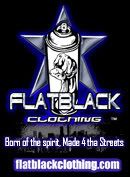 Our designs started with our Logo, A spray can to sympolize our love for graff, the fist inside the can is from one of the murals of Siqueros, a well known mexican Muralist. This symbolizes our passion for art and our spiritual battle. And lastly we added a star to symbolize the struggle as well as the stardom of our city. Our scripture, John 16:33 "In the world you will have tribulations, but be of good cheer: I have overcome the world." This scripture defines our motives and our vision, to use our clothing to inspire hope, to encourage those that battle against good and evil, to awake the spirits of those that are asleep in this urban jungle.
Keeping it real
.
---
..
Who I'd like to meet:
SUPPORT:
Spread the Word...Copy any of our banners to your page or web site, God Bless. If you place our banner on your web site let us know and we will send you a thank you gift package.

....

....

LINKS:
Status:

Married

Hometown:

Pueblo de nuestra senora de Los Angeles

Religion:

Christian - other

Zodiac Sign:

Cancer
General

Television







Heroes

Follow your passion, and seek integrity and follow the way of peace. <