Play

Play Next

Add to queue
Play

Play Next

Add to queue

27,258 plays

Play

Play Next

Add to queue

10,530 plays

Play

Play Next

Add to queue

23,894 plays

Play

Play Next

Add to queue

9,422 plays
Genre: Classical / Experimental

Location VE

Profile Views: 197980

Last Login: 2/25/2008

Member Since 3/16/2006

Website http://www.gabrielamontero.com

Record Label EMI Classics

Bio

.. .. .. .. .. .. .. .. .. .. ..Join The Mailing List.... .. .. .. .. .. ............ .. .. .. .. .. .. .. .. .. .. ..Live In My Living Room - Requests Now Welcome.... .. .. .. .. .. ..As you may have read on Gabriela's website, from December this year she will be performing improvisations from her living room direct to her audience, on a bi-monthly basis. These improvisations will entail participation from you, the public. Gabriela will accept written themes of no more that 50 words. Your themes, if chosen, will be posted on the website and you will be notified directly by email that Gabriela has chosen your theme for that week's "Live from my Living Room"..... The content of the themes has no limitations. Emotions, beautiful visions, inspirations from other composers, a film or television show that touched you, a situation happening to you at this moment, an emotional impact on your life. Whatever you want to create in fifty words that will inspire Gabriela enough to create an instant composition for you. These compositions will be available as a free download to the public for three days after transmission date. If your theme is chosen, we will send you Gabriela's composition direct to you by email as an MP3 file..... Please participate in this unique musical experience! To submit your theme simply click ..here.. and send Gabriela your requests. .. .. .. .. .. .. .. .. .. .. ..GABRIELA MONTERO: BAROQUE.... International release: October 2007.... .. .. .. .. .. ...."Montero's hybrid idiom succeeds because she mixes and matches styles with such quirky finesse … Montero recovers this lost art while adding her own funky sensibility." (Time Out, New York)...... ..Gabriela Montero's extraordinary ability as an improviser, rare in the classical world, is fast becoming her trademark. Following her critically acclaimed Rachmaninov, Chopin, de Falla, Scriabin, Liszt recital disc and her Bach and Beyond improvisational album for EMI Classics, Montero recorded a CD of Baroque improvisations at London's Abbey Road Studios in June 2007. .... ..Gabriela takes some of the best known Baroque themes, including Pachelbel's Canon in D Major, Albinoni's Adagio, Vivaldi's Four Seasons, Boccherini's Minuet and Handel's Water Music, and brings to her classy improvisations the same passion, poetic musicality and sense of structure that she brings to classical works. And as The New York Times reported following one of Gabriela's improvisational evenings, "no matter how complex the variations, the original melody always emerges triumphantly from a musical tapestry that might weave blues, jazz, tango and Debussy into a multihued framework." .... ..Gabriela Montero was born in Caracas, Venezuela and performed in public for the first time at the age of five. Three years later, she made her concerto debut with the Venezuelan Youth Orchestra. She was subsequently awarded a scholarship from the Venezuelan government to study in the United States. Despite winning a number of competitions, including the Bronze Medal at the 13th International Chopin Piano Competition, Gabriela kept her improvisational skills under wraps until Martha Argerich heard her and was "ecstatic," giving her a ringing endorsement: "I have rarely come across a talent like Gabriela's. She is a unique artist" as well as personal encouragement. Montero says, "Martha persuaded me that it was possible to combine my career as a serious 'classical' artist with the side of me that is rather unique." .... ..Since then, Gabriela has performed extensively in North and South America, Europe and Asia, both in recital and as a concerto soloist. As encores, she began to invite audience members to suggest themes on which she improvised in a wide variety of styles, letting her musical imagination take over. "It is the most natural and spontaneous way I can express myself," she says. "I connect with my audience in a completely unique way – and they connect with me." Montero won the Echo Klassik 2006 award as "Keyboard Instrumentalist of the Year" for her EMI recital disc. .... ..Upcoming dates include festival appearances at Caramoor (U.S.), Lockenhaus (Germany), Colmar (France), Verbier (Switzerland) and the Hollywood Bowl (Tchaikovsky Piano Concerto No. 1 with the L.A. Philharmonic), followed by recitals in Warsaw, Lisbon, Washington, D.C. and Düsseldorf. .... ..Gabriela performs live improvisation sessions via her website twice monthly – for further details please visit ..www.gabrielamontero.com....... ...."musically insightful and technically brilliant".. (Boston Globe).. .."a ferocious young talent" ..(BBC Music Magazine).. .."It's an amazing gift that came naturally and very, very, early" ..(60 Mintues).. .."Charismatic and brilliant".. (New York Times).. .."a good candidate for stardom" ..(Wall Street Journal) .. .. ..MyGen.. ..Profile Generator.. ..

Members

Gabriela Montero

Influences

.. .. .. .. .. .. .. .. .. .. ..Gabriela's Latest Press Coverage.... .. .. .. .. .. ....Piano Today Magazine...... ........ ....Women's Wear Daily.... .......... ..More cuttings from these features can be found by visitig Gabriela's official website by clicking ..here....... --------------------.... ....Steinway & Sons Interview.... ..Below is the interview Gabriela gave for the summer issue of USA Steinway & Sons. Her interview runs alongside other piano luminaries such as Brad Mehldau, Regina Spektor and Ramsey Lewis..... ........ ..A larger, easier to read version, can be found by visiting ..here....... --------------------.... ..'Tchaikovsky Spectacular' At The Bowl...... ..Gabriela Montero, the Venezuelan-born classical pianist, is enjoying a hearty last laugh over those who once scoffed at her unusual ability to improvise..... She's been on "60 Minutes." Her concert schedule is full. Her second CD for EMI, "Bach and Beyond," which consists of nothing but freewheeling improvisations, is a classical bestseller. Starting in October, she will be improvising live on her website, with free downloads available for three days after each event..... To read the full article visit Gabriela's official website by clicking ..here....... --------------------....

Sounds Like
No recent updates in this category.
Why not...
Bio:
.. .. .. .. .. ..
..
Live In My Living Room - Requests Now Welcome
As you may have read on Gabriela's website, from December this year she will be performing improvisations from her living room direct to her audience, on a bi-monthly basis. These improvisations will entail participation from you, the public. Gabriela will accept written themes of no more that 50 words. Your themes, if chosen, will be posted on the website and you will be notified directly by email that Gabriela has chosen your theme for that week's "Live from my Living Room".

The content of the themes has no limitations. Emotions, beautiful visions, inspirations from other composers, a film or television show that touched you, a situation happening to you at this moment, an emotional impact on your life. Whatever you want to create in fifty words that will inspire Gabriela enough to create an instant composition for you. These compositions will be available as a free download to the public for three days after transmission date. If your theme is chosen, we will send you Gabriela's composition direct to you by email as an MP3 file.

Please participate in this unique musical experience! To submit your theme simply click here and send Gabriela your requests.
..
GABRIELA MONTERO: BAROQUE..
International release: October 2007
"Montero's hybrid idiom succeeds because she mixes and matches styles with such quirky finesse … Montero recovers this lost art while adding her own funky sensibility." (Time Out, New York)


Gabriela Montero's extraordinary ability as an improviser, rare in the classical world, is fast becoming her trademark. Following her critically acclaimed Rachmaninov, Chopin, de Falla, Scriabin, Liszt recital disc and her Bach and Beyond improvisational album for EMI Classics, Montero recorded a CD of Baroque improvisations at London's Abbey Road Studios in June 2007.


Gabriela takes some of the best known Baroque themes, including Pachelbel's Canon in D Major, Albinoni's Adagio, Vivaldi's Four Seasons, Boccherini's Minuet and Handel's Water Music, and brings to her classy improvisations the same passion, poetic musicality and sense of structure that she brings to classical works. And as The New York Times reported following one of Gabriela's improvisational evenings, "no matter how complex the variations, the original melody always emerges triumphantly from a musical tapestry that might weave blues, jazz, tango and Debussy into a multihued framework."


Gabriela Montero was born in Caracas, Venezuela and performed in public for the first time at the age of five. Three years later, she made her concerto debut with the Venezuelan Youth Orchestra. She was subsequently awarded a scholarship from the Venezuelan government to study in the United States. Despite winning a number of competitions, including the Bronze Medal at the 13th International Chopin Piano Competition, Gabriela kept her improvisational skills under wraps until Martha Argerich heard her and was "ecstatic," giving her a ringing endorsement: "I have rarely come across a talent like Gabriela's. She is a unique artist" as well as personal encouragement. Montero says, "Martha persuaded me that it was possible to combine my career as a serious 'classical' artist with the side of me that is rather unique."


Since then, Gabriela has performed extensively in North and South America, Europe and Asia, both in recital and as a concerto soloist. As encores, she began to invite audience members to suggest themes on which she improvised in a wide variety of styles, letting her musical imagination take over. "It is the most natural and spontaneous way I can express myself," she says. "I connect with my audience in a completely unique way – and they connect with me." Montero won the Echo Klassik 2006 award as "Keyboard Instrumentalist of the Year" for her EMI recital disc.


Upcoming dates include festival appearances at Caramoor (U.S.), Lockenhaus (Germany), Colmar (France), Verbier (Switzerland) and the Hollywood Bowl (Tchaikovsky Piano Concerto No. 1 with the L.A. Philharmonic), followed by recitals in Warsaw, Lisbon, Washington, D.C. and Düsseldorf.


Gabriela performs live improvisation sessions via her website twice monthly – for further details please visit www.gabrielamontero.com.


"musically insightful and technically brilliant" (Boston Globe)
"a ferocious young talent" (BBC Music Magazine)
"It's an amazing gift that came naturally and very, very, early" (60 Mintues)
"Charismatic and brilliant" (New York Times)
"a good candidate for stardom" (Wall Street Journal) ..
Member Since:
March 16, 2006
Members:
Gabriela Montero
Influences:
.. .. .. .. .. ..
Gabriela's Latest Press Coverage
Piano Today Magazine


Women's Wear Daily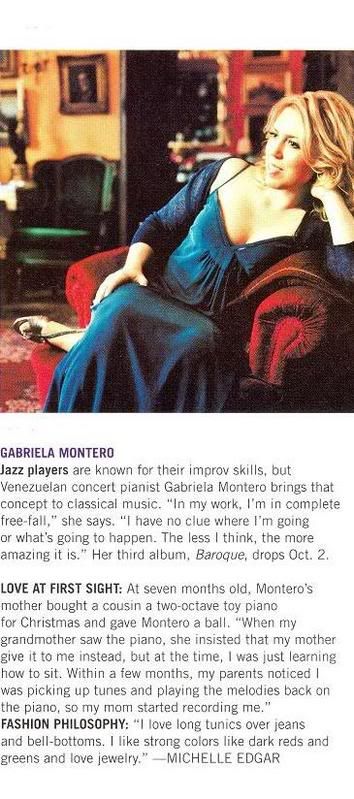 More cuttings from these features can be found by visitig Gabriela's official website by clicking here.

--------------------


Steinway & Sons Interview

Below is the interview Gabriela gave for the summer issue of USA Steinway & Sons. Her interview runs alongside other piano luminaries such as Brad Mehldau, Regina Spektor and Ramsey Lewis.


A larger, easier to read version, can be found by visiting here.

--------------------

'Tchaikovsky Spectacular' At The Bowl


Gabriela Montero, the Venezuelan-born classical pianist, is enjoying a hearty last laugh over those who once scoffed at her unusual ability to improvise.

She's been on "60 Minutes." Her concert schedule is full. Her second CD for EMI, "Bach and Beyond," which consists of nothing but freewheeling improvisations, is a classical bestseller. Starting in October, she will be improvising live on her website, with free downloads available for three days after each event.

To read the full article visit Gabriela's official website by clicking here.

--------------------


Record Label:
EMI Classics