Play

Play Next

Add to queue
Play

Play Next

Add to queue

10,783 plays

Play

Play Next

Add to queue

7,161 plays

Play

Play Next

Add to queue

9,099 plays

Play

Play Next

Add to queue

6,369 plays

Play

Play Next

Add to queue

14,842 plays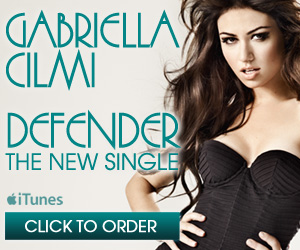 Gabriella's new album 'Ten' is out now, available from...
HMV
/
iTunes
/
Amazon
/
Play.com
(a limited quantity ordered from
Play.com
will be signed by Gabriella!).
You've probably heard the story about how I got discovered at some religious Italian cheese and wine festival after singing the Stones' "Jumping Jack Flash" and catching the attention of some head of some record company when I was quite young...or maybe you haven't. You might have even heard about the time my piano teacher told me I had no musicality when I was 8 that one seams to pop up quite a bit too.
I got rejected from being in a school musical, most of my bios talk about that, I don't know why it was probably a good thing anyway.
But ANYWAY I don't find that stuff that important what matters is;
- I made my mum make me my first pair of leather pants when I was 9 after watching Suzi Quatro belt out Can the Can.
- The first song I wrote was called "I Told A Lie" at school on a tissue
- The first time I heard "Father and Son" by Cat Stevens I learned that music had the power to change lives
- My first fan was the pigeon trainer who lived next door
- I'm crazy for Robert Plant he is my hero.
- Numbers suck
Gabriella Cilmi has 26261 friends.