Play

Play Next

Add to queue
Genre: Folk / Pop

Location los angeles, California, US

Profile Views: 42360

Last Login: 11/6/2010

Member Since 6/16/2005

Type of Label Unsigned

Bio

Genevieve's music has a fresh edgy feel-good mixture of pop and folk, with a throwback to the 60s and a catchy modern pop flare around the sides. ------ Growing up at the foot of the western Colorado Rocky Mountains, the home-grown earthy way of life has trickled down into her writing. Genevieve's 2009 debut album, IN OUR HOUSE, channels the music back to her roots, and pays homage to her love of home-state Colorado.------ In 2000 Genevieve won First place in a regional Chilean Songwriting Competition in Valdivia, Chile. She was the recipient of the 2005 SESAC Songwriting Award, and was a winner in the Songwriter's Showcase, Songwriter's Night, and Songwriter's Circle, held at Berklee College of Music, in Boston.------ After graduating Berklee she moved to Los Angeles where she recorded IN OUR HOUSE, co-arranging and co-producing, singing and playing piano on all tracks. ------ Since its release Genevieve and her spirited band have been playing energetic live shows around the LA area that resonate with audiences of both older and newer generations. She is now working on recording all new material for a folk/pop EP, which is expected to be released in 2011. ...... .. .. .. .. .. .. .. .. .. ...... .. .. ...... .. .. .. .. .. .. .. .. .. ......

Members

.. ............ Three awesome guys: Brian Titus- Guitar and Backup vocals Will Weissman- Bass Jeremy MIller- Drums and additional backup vocals .. .. .. .. .. .. .. .. .. ..GENEVIEVE on iTUNES!.. .. .. .. .. .. .. .. .. .. .. .. .. .. ..GENEVIEVE MP3s.. .. .. .. .. .. .. .. .. .. .. .. .. .. ..GENEVIEVE ringtones!.. .. .. .. .. ..

Influences

soooo many. The Beatles, Ben Folds, Guster, Stillwater, travis, keane, Simon and Garfunkel, donnovan, sheryl crow, crosby stills nash and young, rooney, the beach boys, alicia keys, to name a few

Sounds Like

sweet like a flower, strong and rustic like beer
No recent updates in this category.
Why not...
Bio:
Genevieve's music has a fresh edgy feel-good mixture of pop and folk, with a throwback to the 60s and a catchy modern pop flare around the sides. ------ Growing up at the foot of the western Colorado Rocky Mountains, the home-grown earthy way of life has trickled down into her writing. Genevieve's 2009 debut album, IN OUR HOUSE, channels the music back to her roots, and pays homage to her love of home-state Colorado.------ In 2000 Genevieve won First place in a regional Chilean Songwriting Competition in Valdivia, Chile. She was the recipient of the 2005 SESAC Songwriting Award, and was a winner in the Songwriter's Showcase, Songwriter's Night, and Songwriter's Circle, held at Berklee College of Music, in Boston.------ After graduating Berklee she moved to Los Angeles where she recorded IN OUR HOUSE, co-arranging and co-producing, singing and playing piano on all tracks. ------ Since its release Genevieve and her spirited band have been playing energetic live shows around the LA area that resonate with audiences of both older and newer generations. She is now working on recording all new material for a folk/pop EP, which is expected to be released in 2011. ..
Member Since:
June 16, 2005
Members: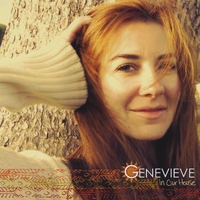 Three awesome guys: Brian Titus- Guitar and Backup vocals Will Weissman- Bass Jeremy MIller- Drums and additional backup vocals
GENEVIEVE on iTUNES!
GENEVIEVE MP3s
GENEVIEVE ringtones!
Influences:
soooo many. The Beatles, Ben Folds, Guster, Stillwater, travis, keane, Simon and Garfunkel, donnovan, sheryl crow, crosby stills nash and young, rooney, the beach boys, alicia keys, to name a few
Sounds Like:
sweet like a flower, strong and rustic like beer