No recent updates in this category.
Why not...
Lex Van den Berghe hasn't earned any badges yet... have you?
General

my smokin' hot wife and my bad-ass sons, rocking with The Maids of Honor, dive bars, gravy, Santa Cruz Roller Girls, playing music, zombies, traveling to sketchy exotic places, my motorcycle, my cats and dogs, tattoos, old bakelite tube radios, vinyl (33's, 45's, 78's), vintage ukuleles, surfing, fishing, roadtrips, cold beer, sneakers, cool sunglasses, bubble tea, my rocky & bullwinkle pinball machine that used to live in the arcade at the santa cruz beach boardwalk, slim jims, corned beef hash, behaving like a total jackass, the smell of a good used bookstore, my shovel crew (you know who you are).....

Music

Movies

Television

Books

Anything by Kurt Vonnegut, King Dork, Catcher in the Rye, My Uncle Oswald, Battle Royale, World War Z, The Walking Dead, The Road ..

Heroes

my grandpa and my wife ..
Play

Play Next

Add to queue
About me:
I like to drink beer and make rock. My band The MAIDS of HONOR have just completed our first music video. Next on our to-do list: Global Domination. Check out the vid...
..
I'm 46 years old and still trying to figure out what I want to be when I grow up.
I don't want to grow up.
My wife is a smokin' hot, tattooed rollergirl with a heart of gold. I learn something new from her nearly every day.
My sons Corbin and River
kick ass
...they are my pride and joy.
I'm a very lucky man.
I have a big mouth...and it's gotten me into and out of trouble more times than I can remember.
Sometimes I dance with my cats.
Not so trivial childhood trivia: As soon as I was old enough to walk, my parents fitted me with a harness and a leash, as it was all they could do to keep me from wandering off. (They'd learn
soon
enough that this was one free spirit that could not be tied down.)
I'm afflicted with an incurable case of acute wanderlust. I've traveled to every continent except Antarctica, but have still barely scratched the surface. I was born a travel-junkie. When I was three years old, I flew from San Francisco to Brussels alone. After kissing my mom and dad goodbye, I walked to the jetway without looking back once. I could feel the energy of "new adventure" buzzing through my whole body. This is my earliest memory. I've had itchy feet ever since.
I'm obsessed with zombies and dream of the day when the dead rise and we're all forced to make-do with nothing more than our wits. Weapons of choice: Beretta M92, kodachi samurai sword, and a Louisville Slugger with a titanium spike sticking out the tip.
Yes, I'm that guy who was on "Survivor".
I'm an ordained minister (a.k.a man-of-the-cloth) for the Universal Life Church...church "lite" for us lost souls. I've officiated somewhere around 40 weddings in the last decade or so.
Over the years my wife has taught me to appreciate the simple wonder of a day spent entirely in bed.
I've been enjoying a torrid love affair with music ever since I can remember.
I play drums and sing for THE MAIDS OF HONOR. We rock. On our "to-do" list:
World Domination.
WE LOVE MEXICAN BEER, MAKING ROCK AND KICKING ASS.
We love you and we're beautiful...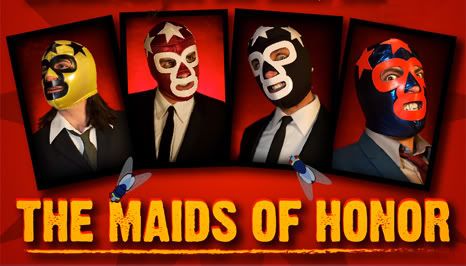 .. ..
..
Who I'd like to meet:
Jamie Oliver
Status:

Married

Hometown:

Santa Cruz

Body type:

6' 0" / Athletic

Zodiac Sign:

Gemini

Children:

Proud parent

Education:

College graduate

Occupation:

On-Call Zombie Hunter