No recent updates in this category.
Why not...
TOYPIRATE hasn't earned any badges yet... have you?
General

Music

Movies

Television

Rolo Tommasi @ Toypirate:

Mercury award winners playing our basement nov 05':

Mirror!Mirror! @ Toypirate vrs White heat:

Heroes

All our heroes made zines
About me:
ZINE!ZINE! totally inclusive cult institution, founded by Kev Soar and Vas Trikovsky, to change the state of our sorry existance. We are still here plugging away to one day say something that will matter to one or two of you. We also sometimes put on gatherings heralding the legends of today..
Concieved January 2004 in Goddards Pie and Mash Shop(RIP), Greenwich. Born June 15th 2004 at the Paradise Bar, New Cross.
CLICK HERE FOR NEW TOYPIRATE BLOGZINE!
Submissions welcome mail kevsoar@hotmail.com for info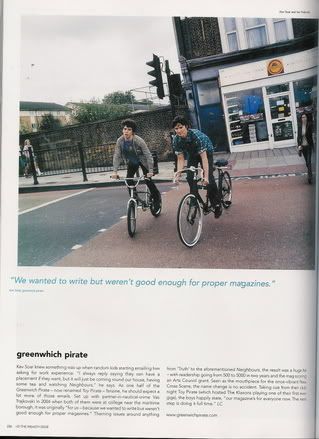 US IN SOME GLOSSY CALLED I.D.
..<blockedContent allowScriptAccess="never"style='display:none' src=''
Who I'd like to meet:
Status:

Married

Here for:

Networking, Friends

Hometown:

Greenwich

Zodiac Sign:

Gemini