Genre: Pop

Location Budapest/Leipzig, Bitte Bundesland/Region auswählen, De

Profile Views: 70732

Last Login: 3/24/2012

Member Since 8/25/2008

Website greta-ida.de

Record Label Soulfood-sony/ beautifulNoise/von Grafenwald

Type of Label Indie

Bio

Members

Influences

Sounds Like
Greta Ida –vocals
David A.Line – Guitar
Tim Simon – Drums
Eric Spohde – Bass
The Final Girls (changing) :
Lori Stroke.
Lilith V
Agi Tschechova
Natascha






Verlag
von Grafenwald-Germany
vongrafenwald@t-online.de

Publisher
Soulfood-sony – Germany

Contact
Jochen Richert
jochen@Soulfood-music.de

Promotion & Booking
Vicky & Martine Berchem
LPP – Luxemburg
berchemg@pt.lu

Label
beautifulNoise- Hungary

Publicity
Contact : Susann Kroeber
lily_vongrafenwald_promo@yahoo.de







Record Label:
Soulfood-sony/ beautifulNoise/von Grafenwald




Biographie: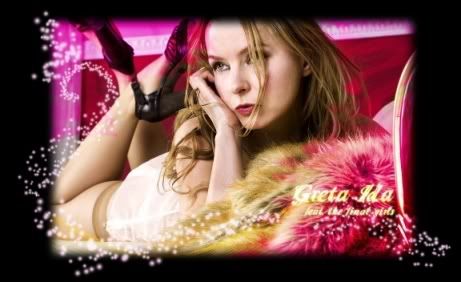 GRETA IDA feat.the final girls
Das neue Album: "FAKE FUR"
Gold-brünett, lasziver Blick und temperamentvoller Hüftschwung. Die zierliche Deutsch-Ungarin GRETA IDA Csatlos weiß sich zu präsentieren. Solo steht die Multimedia-Künstlerin – welche bis dato vor allem als Stimme der bekanntesten deutschen Romantik-Gothic-Band "Die Untoten" in Erscheinung getreten ist – für englischsprachige, mal coole (KILL BILL Soundtrack lässt grüßen), mal romantische Popsongs, welche – was heutzutage ja nicht unbedingt üblich ist – durch "Soul / Seele" und Stimme überzeugen. Einzigartig charmant.
Ob der Albumtitel "FAKE FUR" auch dem (politischen) Lebensmotto der Künstlerin entspricht, nun, vielleicht werden die 12 mitreißend leidenschaftlichen Songs dem Hörer Auskunft geben… Live wird GRETA IDA von den sexy Girls des "Final Girls Club" unterstützt.
Das Album "FAKE FUR" erscheint am 12.März 2010 (soulfood-sony/beautifulNoise/von Grafenwald)
Die Single "The River" erscheint exkl. als MP3 Download – am 26. Februar 2010
GRETA IDA CSATLOS Kunstveröffentlichungen: - Comic Band "THE FINAL GIRLS CLUB" (Sexmania 3) / VÖ: April 2010 -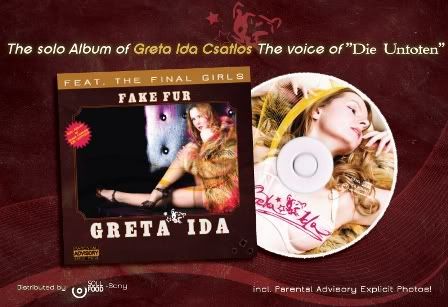 Blond-brunette, with a lascivious gaze and a sultry hip swing. The graceful German-Hungarian GRETA IDA Csatlos knows how to introduce herself. Solo the multimedia-artist stands – which one knows thitherto as the voice of the best known German romantic-gothic band "die Untoten" – for Anglophone, times cool (KILL BILL Soundtrack salute us), times romantic Pop songs, which (what isn't necessarily normal nowadays) persuade us with soul and voice. Unique charming.
Does the title of the album "FAKE FUR" also fits with her (political) philosophy of life? Well, maybe the 12 intoxicating vehement songs will inform the listener… Live, GRETA IDA will supported by the sexy girls from the "Final Girls Club". The album "FAKE FUR" will be released April, 9, 2010 (soulfood-sony/beautifulNoise/vonGrafenwald)
The single "The River" will be released on February, 26, 2010 exclusive as MP3 Download
GRETA IDA CSATLOS art publications: - Comic book "THE FINAL GIRLS CLUB" (Sexmania 3) will be released on April, 2010 –
Exposition: Comics, illustrations and tableaus : ThearterARTGallerie Berlin, April, 24, 2010
www.myspace.com/gretaida
www.myspace.com/finalgirlsclub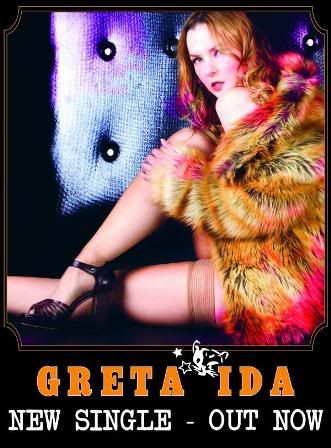 Blonde-brunette, avec un regard lascif et un tour de hanche dynamique . La gracieuse Allemande-Hongroise GRETA IDA Csatlos sais comment se présenter. Solo, l'artiste multimédia, figure – jusqu'ici nous la connaissons bien comme la voix du plus fameux groupe romantique-gothique d'Allemagne « Die Untoten » - pour des chansons de langue anglaise, parfois cool (Kill Bill, le soundtrack nous salue), parfois pour des popsongs romantiques, qui nous convainquent (de nos jours ceci n'est plus habituel du tout) par âme et voix. Unique charmant.
Est-ce que le titre de l'album « FAKE FUR » correspond-il aussi avec la devise personnelle de l'artiste ? Eh bien, peut-être les 12 chansons passionnantes et pathétiques peuvent renseigner l'écouteur. .. Live GRETA IDA sera soutenue par les sexy girls du « Final Girls Club ».
L'album « FAKE FUR » va sortir le 9 avril, 2010
(soulfood-sony/beautifulNoise/von Grafenwald)
Le maxi « The River » va sortir le 26 février 2010, exclusive comme MP3 download.
GRETA IDA CSATLOS publications d'arts: - Comic « THE FINAL GIRLS CLUB » (Sexmania 3) va sortir en avril 2010
Exposition : Comics, dessins et tableaux : TheaterARTGallerie Berlin le 24 avril 2010.
www.myspace.com/gretaida
www.myspace.com/finalgirlsclub

..
No recent updates in this category.
Why not...