No recent updates in this category.
Why not...
GUD Magazine hasn't earned any badges yet... have you?
Books

Heroes

fantasy and science fiction, literature; grimus; baudolino; iron and silk; imago; dhalgren; shockwave rider; dispossessed; the bonesetter's daughter

not yet searched for, but good to mention some authors:
Peter S. Beagle; William Blake; Jorge Luis Borges; Albert Camus; Roald Dahl; Dave Eggers; Warren Ellis; Neil Gaiman; Herman Hesse; Thomas Pynchon; Kurt Vonnegut;
GUD Magazine has 5008 friends.
About me:
..
What is GUD?
GUD (pronounced "good") is Greatest Uncommon Denominator, a print/pdf magazine with two hundred pages of literary and genre fiction, poetry, art, and articles.
Our hardcopy issues are 5"x8", slightly narrower than a mainstream paperback but solid in the hands and easy to read.
GUD's also available in a number of eBook formats via Fictionwise, and beautiful PDF straight from us! Need more convincing? Check out what critics have said about Issue 0 and Issue 1.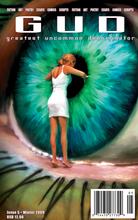 Issue 5 wraps a scientific core with our most eclectic selection to date—including two mini graphic novels and a script that will have you bubbling over with mirth.
We open with Rose Lemberg's "Imperfect Verse", a tale of poetry, deception, and warring gods; then span the years to Andrew N. Tisbert's "Getting Yourself On", which sees mankind taken to the stars but suffering new forms of wage-slavery. There's science fiction that stretches to the fantastic, science that once stretched the fantastic and has now become brilliantly pervasive, and dollops of science in otherwise mundane lives (see "The Prettiest Crayon in the Box").
Of course, we've got fantasy, psychological horror, humor, and drama; poetry serious, sublime, and satirical; and art that stretches from the real, to the surreal, to the violently semi-abstract.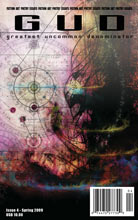 Issue 4 begins with the end of the world and moves on from there. From the unromantically magical take on Ragnarøk in the lead story "Unbound" to the curious history of squid in "A Man of Kiri Maru", this issue is steeped in mythos, making use of the old familiar tales and some new ones, mixing cosmologies from around the world--and from other worlds as well.
But the focus, be it of prose, poetry, or art, is always on the human--on the clashes between imagination and reality, on choices and redemption, on what the Other can tell us about ourselves. And like any GUD magazine, this one's eclectic; browse around between the covers and you're sure to come upon some things you'll like, whether you're a genre junkie or a generalist. We hope you'll find some beauty, something uncommon, and that, for just a moment, the angle of the light will seem a little bit different.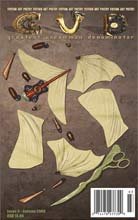 Issue 3 is crammed full of stories and art, with poems, Flash fiction and an entertaining report to leaven the mix. Whether we're battling a mechanical daemon in "A Song, a Prayer, an Empty Space" or experiencing jealousy towards unusual rivals in "Soon You Will Be Gone and Possibly Eaten", we're following the theme of Mechanical Flight into strange and unexpected places.
Flight, the dream of humanity for years without number, has come a long way since the Wright brothers flew almost the length of a Boeing 747 using a lawnmower engine. The US Space Shuttle takes off like a rocket and lands like a plane. An ice runway has been built in Antarctica to facilitate flights from Hobart. Solar-powered aircraft grace our skies. And GUD Issue Three seeks to fly to even stranger places--why not take your seat, buckle yourself in, and enjoy the ride?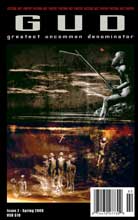 Issue 2 celebrates Heaven, Earth, and Space in-between; it is touched by religion, grounded in technology and comfortable with the occult.
Including a language-stretching piece triggered by the Talmud from the legendary Hugh Fox, poems by haiku heavy-hitter Jim Kacian, the surprisingly touching "By Zombies; Eaten" from Christopher William Buecheler, and an alien perspective on human spirituality by Tina Connolly in the remarkable "The Salivary Reflex"
— all part of a drool-worthy two-hundred page selection of over twenty authors and artists.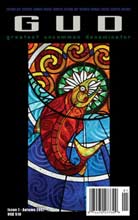 Issue 1 comes to life with Darby Larson's "Electroencephalography" where an experiment in robot-building goes terribly awry. And if you've ever woken up with an unexpected physical deformity—say, an arrow in your heart—you'll truly enjoy the next story. There's also a smattering of flash fiction and psychedelia; a straight-out story where things aren't what they seem, poetry that takes you from the perverse to the sublime, some magic realism, science fiction, and a few letters to another species thrown in for good measure. We haven't forgotten those of you with a literary bent. In addition, the artwork in this issue is particularly strong, with oil paintings, watercolors, photography, and photo illustrations complementing the words with which they are paired.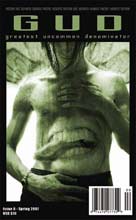 Issue 0 leads with Debbie Moorhouse's Sundown, a near-future science fiction reflection on death and life. It follows through with a solid variety of works from semi-gritty fantasy; far-future time travel; modern sci-fi humor; historical paranormal; mainstream literary; a fable; poetry that doesn't rhyme but has a rhythm (involving coffee, mayhem, love, death, and television); reports concerning poetry and software and narrating a journey to a poetry conference in Taiwan; and art of all sorts, from humorous and surreal line drawings through haunting brush work and even a single-pane comic from a celebrated illustrator.
BUY NOW -- $3.50 PDF, $12.00 PRINT
Support us -- copy and paste this code into your profile!
Status:

Single

Here for:

Networking, Friends

Zodiac Sign:

Cancer
University Of California-Berkeley

Berkeley, CA

Graduated:

2000

Student status:

Alumni

Degree:

Bachelor's Degree

Major:

Electrical Engineering/Computer Science

1995 to 2000