Play

Play Next

Add to queue
Play

Play Next

Add to queue

675 plays

Play

Play Next

Add to queue

481 plays

Play

Play Next

Add to queue

75 plays

Play

Play Next

Add to queue

262 plays

Play

Play Next

Add to queue

195 plays
Genre: Americana / Rock / Roots Music

Location BOSTON, Massachusetts, US

Profile Views: 14381

Last Login: 1/17/2012

Member Since 8/1/2008

Website cdbaby.com/cd/highwayghosts

Record Label Unsigned

Bio

..CONTACT / BOOKING: .. David DeLuca .. david@highwayghosts.com.. .. .. .. .. ...... ...... .. .. .. .. .. .. .. ............ ....THE BOSTON GLOBE:.."TOP LOCAL CDs OF 2009"!!.. .. .... ...."On 'After All This Time,' Highway Ghosts masterfully blend roots-rocking guitars, ragged-but-right vocals set to rustic melodies, and other good stuff that never goes out of style when it's done right. Echoing the late-night/early morning feel of alt-country progenitors such as the BoDeans and the Jayhawks, this is an auspicious debut that brims with equal parts heartache, swagger, and a dose of hard-won wisdom" .. - Jonathan Perry, Boston Globe .. .. ...... .. .. ...... .. .. ..CLICK HERE to read our feature article in the Patriot Ledger.. ...."a tasty slab of country rock and roots" .. - Chad Berndtson, Patriot Ledger .. .... ..NEW ENGLAND AMERICANA FESTIVAL - Highway Ghosts featured in the Patriot Ledger article.. .. .. ...."the band have put the essential parts together - well written songs, sound musicianship and solid production, and the end result is a more than solid debut showcasing the bands talents" ..- Review in "Beat Surrender" .. .. .. .. .. .. .. .. .. .. .. .. .. .. .. .. .. .. .. .. .. .. You can call it 'Americana', 'Roots', or just plain 'Rock 'n Roll'; labels really don't matter to Highway Ghosts. Their goals are simple: write great songs, record high quality CDs, and perform as a solid live band. That's all. .. .. But how do you balance the time constraints of a career, family, and home life with the demands of making great music? Highway Ghosts are on the road to finding that answer. Their debut CD After All This Time is an appropriate title for a band whose members are all approaching 40, but do not believe that you have to sacrifice everything to make a great album. .. .. Highway Ghosts formed in 2007 when drummer Matt Slowick joined David DeLuca (guitar), Dan Cody (guitar) and Dennis Barry (bass) for an old fashioned jam session. They immediately knew they had something good, so they spent the next two years developing original songs which fit the style of Roots/Americana music. The songs tell familiar stories, from the heartache of "Taken" and "If You Were Mine" to the communal search for meaning in "In the End" and "Troubled Shoes", to the homesick yearning in "Home." Contributions from vocalist Ward Hayden (Girls, Guns & Glory) and keyboardist Jim Gambino (Swinging Steaks) enhance the album's musical potency. This CD represents everything that is important to Highway Ghosts: real people playing real instruments, rich vocal harmonies, and inspirational songwriting. .. .. Highway Ghosts want people to enjoy their music as much as they love making it. Over the next several years, the band will work diligently to promote their music and establish a reputation as a highly acclaimed roots/Americana band. .. .. ..Band memebers are: ..David DeLuca - guitar and vocals ..Dan Cody - guitar and vocals ..Dennis Barry - bass and vocals ..Matt Slowick - drums and vocals .... Look for us soon at a bar or club near you... .. .... ..

Members

David DeLuca - Guitar, vocals .. Dan Cody - Guitar, vocals .. Dennis Barry - Bass, vocals .. Matt Slowick - Drums, vocals .. .. BOOKING / CONTACT: .. david@highwayghosts.com

Influences

(Oh...so many.....) The Who, Rolling Stones, Beatles, Townes Van Zandt, Swinging Steaks, Bob Dylan, Mason Profit, J Geils Band, Girls Guns and Glory, Ray Charles, Billy Preston, Gillian Welch, Audioslave, Bottlerockets, Derek and the Dominoes, Allman Brothers, Frank Zappa, Beth Hart, Drive By Truckers, Guy Clark, Toad the Wet Sprocket, Rush, Wilco, The Kinks, Led Zep, Son Volt, Jethro Tull, Cream, Neil Young, CSNY, John Hiatt, Steve Earle and many more.

Sounds Like
No recent updates in this category.
Why not...
04:31 | 42 plays | Mar 17 2010
Bio:
CONTACT / BOOKING:
David DeLuca
david@highwayghosts.com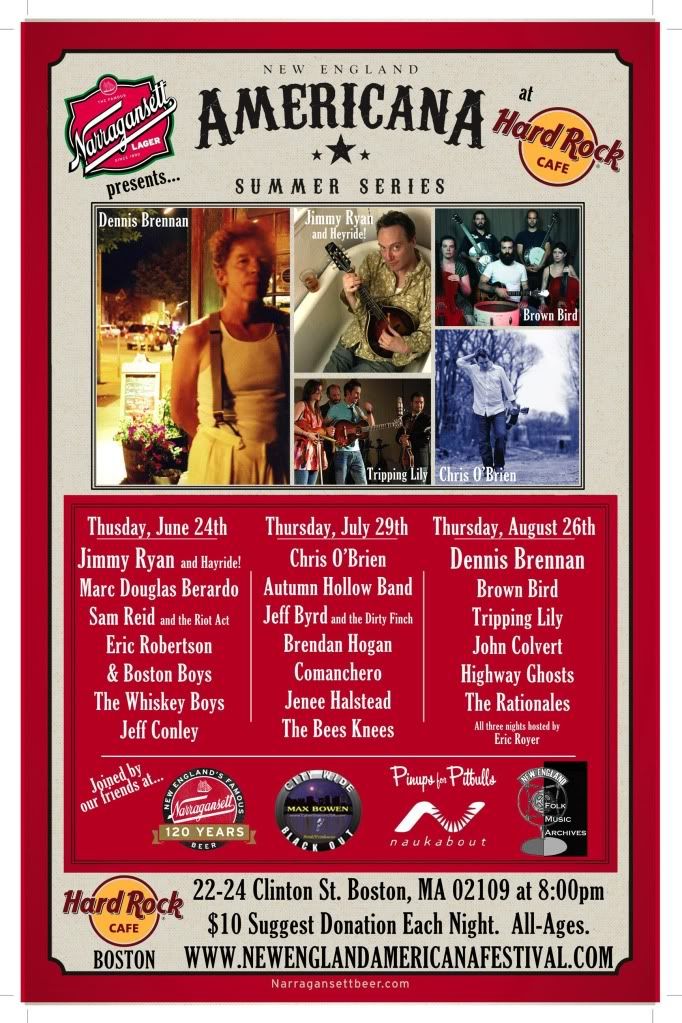 THE BOSTON GLOBE:
"TOP LOCAL CDs OF 2009"!!
"On 'After All This Time,' Highway Ghosts masterfully blend roots-rocking guitars, ragged-but-right vocals set to rustic melodies, and other good stuff that never goes out of style when it's done right. Echoing the late-night/early morning feel of alt-country progenitors such as the BoDeans and the Jayhawks, this is an auspicious debut that brims with equal parts heartache, swagger, and a dose of hard-won wisdom"
- Jonathan Perry, Boston Globe
..
CLICK HERE to read our feature article in the Patriot Ledger
"a tasty slab of country rock and roots"
- Chad Berndtson, Patriot Ledger

NEW ENGLAND AMERICANA FESTIVAL - Highway Ghosts featured in the Patriot Ledger article
"the band have put the essential parts together - well written songs, sound musicianship and solid production, and the end result is a more than solid debut showcasing the bands talents"
- Review in "Beat Surrender"
.. ..
You can call it 'Americana', 'Roots', or just plain 'Rock 'n Roll'; labels really don't matter to Highway Ghosts. Their goals are simple: write great songs, record high quality CDs, and perform as a solid live band. That's all.

But how do you balance the time constraints of a career, family, and home life with the demands of making great music? Highway Ghosts are on the road to finding that answer. Their debut CD After All This Time is an appropriate title for a band whose members are all approaching 40, but do not believe that you have to sacrifice everything to make a great album.

Highway Ghosts formed in 2007 when drummer Matt Slowick joined David DeLuca (guitar), Dan Cody (guitar) and Dennis Barry (bass) for an old fashioned jam session. They immediately knew they had something good, so they spent the next two years developing original songs which fit the style of Roots/Americana music. The songs tell familiar stories, from the heartache of "Taken" and "If You Were Mine" to the communal search for meaning in "In the End" and "Troubled Shoes", to the homesick yearning in "Home." Contributions from vocalist Ward Hayden (Girls, Guns & Glory) and keyboardist Jim Gambino (Swinging Steaks) enhance the album's musical potency. This CD represents everything that is important to Highway Ghosts: real people playing real instruments, rich vocal harmonies, and inspirational songwriting.

Highway Ghosts want people to enjoy their music as much as they love making it. Over the next several years, the band will work diligently to promote their music and establish a reputation as a highly acclaimed roots/Americana band.


Band memebers are:
David DeLuca - guitar and vocals
Dan Cody - guitar and vocals
Dennis Barry - bass and vocals
Matt Slowick - drums and vocals Look for us soon at a bar or club near you.
..
Member Since:
August 01, 2008
Members:
David DeLuca - Guitar, vocals
Dan Cody - Guitar, vocals
Dennis Barry - Bass, vocals
Matt Slowick - Drums, vocals

BOOKING / CONTACT:
david@highwayghosts.com
Influences:
(Oh...so many.....) The Who, Rolling Stones, Beatles, Townes Van Zandt, Swinging Steaks, Bob Dylan, Mason Profit, J Geils Band, Girls Guns and Glory, Ray Charles, Billy Preston, Gillian Welch, Audioslave, Bottlerockets, Derek and the Dominoes, Allman Brothers, Frank Zappa, Beth Hart, Drive By Truckers, Guy Clark, Toad the Wet Sprocket, Rush, Wilco, The Kinks, Led Zep, Son Volt, Jethro Tull, Cream, Neil Young, CSNY, John Hiatt, Steve Earle and many more.
Record Label:
Unsigned