Play

Play Next

Add to queue
Play

Play Next

Add to queue

631 plays

Play

Play Next

Add to queue

843 plays

Play

Play Next

Add to queue

11,183 plays

Play

Play Next

Add to queue

6,718 plays

Play

Play Next

Add to queue

6,802 plays
Genre: Dub / Reggae / Roots Music

Location Un

Profile Views: 76978

Last Login: 2/18/2013

Member Since 8/8/2006

Website www.Talawaproductions.com

Record Label Talawa Productions

Type of Label Unsigned

Bio

TALAWA REGGAE at MUSIKENS HUS 28 MAJ 2010; TALAWA REGGAE: HORACE CORN + RULERS BAND, rasta live ina Nordstan, Gothenburg city centre Sweden: Talawa exhibition: National Museum in Stockholm and Röhsska Muséet i Göteborg, Sweden: RASTA on Swedish 6Kr stamp. REBELLIOUS, PYGMENT & HORACE CORN TALAWA PRDS pre-sent: JahJah Bless The Love: HORACE CORN live inna Stockholm, Sweden: (below) TALAWA PRDS- Only Jah Alone: HORACE CORN live inna Sweden (below): Horace Corn was born in St Bess, Jamaica. Being very athletic, dramatic and humorous, he always had a part to play. At a very young age, his mother moved to Kingston. After finishing primary school, he joined her and the rest of the family. His horizons got broaden knowing the streets of Kingston, The Great Duke Reid, Treasure Isle and Sir Coxsone dodd Studio. Horace bought his first records of Alton Ellis, Gregory Isaacs, Burning Spear, Barry Brown, Bob Marley, Bob Andy and Black Uhuru from Joe Gibbs, Randys Record and Swing-a-Ling mobile truck Record Stores. Most of the records purchased at the time were on Sir Coxsons black&white label. In Kingston, he worked hard, studied and still found time to promote numerous stage shows with upcoming artists such as Admiral Tibet, Jessie Gender, Ronnie Twaite, Andrew Tosh (son of legendary Peter Tosh) amongst others. Later on Horace Corn went to England where he continued his love for the music as an ambassador and held shows with artists such as Johnny Osbourne, Chaka Damus, Vivian Jones, Lloyd Brown and others. In 1993 Corn Tree Production music company was born in the UK. The same year Horace Corn did his first recording at Survival Studio in Acton. Title "Baby youve been missing me" (12 inch), Corn Tree Productions record label. His second release was to be "Gunshot fe cease", a 12 inch vinyl, AA side. Here he combined with lyricist Rebellious (King Kojo), 1994. 1996, Horace Corn released She is my woman, 7 inch. He later recorded many Djs and singers. Singing B, a very prominent singer, got a 7 inch release on Corn Tree Productions with the song Life. 1997 saw the release of a double 12 inch vinyl, with the two chart tunes False Prophecy and Do Jah Works... ..The Most Corn cd album -and cassette became available in limited edition in 1998, and was widely promoted and distributed by Corn Tree Production and JetStar in the UK. This masterpiece was highly reviewed in magazines, such as The World Beat (USA) and Reggae Trade magazine in England... ..Horace went to Scandinavia and further into Europe to promote the musical vibes. In March 2001, Horace Corn brought legendary Twinkle Brothers with Norman Grant to Medborgarhuset in Stockholm, Sweden for the first time in their carrier. In 2003, Horace teamed up with Selam Music Promotions and brought ever living Junior Delgado to Stockholm, Sweden... ..Bands Horace Corn played with:Yarden, King Fari, Rulers, Roots Harmonics, Groove Killers, Reggaetarians, Ministry of Harmony, Riddim Force, High Valley, Natural Ways, Roots Defenders to mention some..... ..Horace Corn review in The Beat magazine:.. .....The arrangements are unusual with backing vocals that sound like at times three angels or a church choir contingent appearing when last expected. Equally unexpected was the sudden appearance of Twinkle Brothers Norman Grants distinctive backing vocals on Let your love light shine. The songs are superb. Holy Mama Africa, Out of your sleep and slumber and False Prophecy are only three of many tunes whose lyrics aim at a higher level of consciousness for all human kind. The recordings has a feeling that might alternatively be described as intimate or box-like, but once you adjust to it youll find its reminiscent of a similar feel in the recordings of Lloyd Bullwacki Barnes or . Holy of holy - Coxson Dodds Studio One. A thoroughly enjoyable turn-of-the-(next)-century roots effort from a new artist worth watching for..... ..MAHINDI is an upful Rasta man, who do not steal, cheat nor jealous others. I and I know that Selassie I is true living and mighty over all. Jah is the creator of I and I, Rastafari universally. King of kings, lord of lords, the conquering lion from the tribe of Judah has prevailed to be the prince of peace, ruler of earth. I and I do not eat bloody meat, neither drink alcohol, neither use drugs. I and I do not play any dishonest role to get material or vaniterial values. I and I work self sufficiently to acquire this livity I live. I and I make full use of life natural resources, mentally, physically and skillfully. As a Rasta man, I and I consume vegetables, herbs, fruits and ital juices. Cook I own food, bless it and give thanks for life. Who Jah love, no man curse. To eat from your own hands, what a joy! In the midst of the ocean, the fools are still thirsty. I live not for greed, neither for shallow knowledge, which has no use, but to observe and broaden this scope of love for life to its mentionable pinnacle...".. ..ROOTS VIBE BAND.. ..After performing under Talawa Productions management for two years, Mahindi Horace Corn is now in the studio recording live with his band Roots Vibe. Talawa Productions will soon be releasing a reindition of The Most Corn cd, plus extra tracks on his new album, title Serious Vibes!.. ..From 2004, Talawa Productions - artists management and record company - have been working with Mahindi Horace Corn and other artists whose names and profiles are mentioned on Talawa website... ..For more info: www.Talawaproductions.com..

Members

SHOW COMING UP! HORACE CORN, THE RULERS BAND, KULWA, JENNIRIE, RAS TONTO live in Nordstan, Göteborg:.. SIZZLA KALONJI: live ina GÖTEBORG, SWEDEN 22/10-09: HORACE CORN & TALAWA - blessed show King! Fire House band - more fire! blessed show! JAMAICAN COMPUTER EXPERTS WIN TOP AWARD: .... .. .. .. .. .. .... TALAWA PRODUCTIONS: ...... .. .. .. .. .. .......... ..TALAWA PRDS. show ina TANTOGÅRDEN, Stockholm, 8/3-08 with DUB JUDAH, ADHI PROPHET, RULERS BAND, HORACE CORN, PINK PANTHER, JAH ZEBI, MIKE and more: (Below) .. ..HORACE CORN - "SERIOUS TIME" live in OPERAEN, Copenhagen, DK, 6th of Oct 2007 with ROOTS VIBE BAND. (BELOW).. .... .. .. .. .. .. .... ..HORACE CORN - BIG FOOT live in DK (BELOW):.. .... .. .. .. .. .. ....

Influences

Sounds Like

..TALAWA PRODUCTIONS - "THE MOST CORN" RENDITION - "SERIOUS VIBES"..NOW AVAILABLE FROM CD BABY: http://cdbaby.com/cd/horacecorn..SEND YOUR ORDERS TO: Info@Talawaproductions.com
01:22 | 61 plays | May 19 2009
9 Songs | Sep 21, 2008

27 Songs | Oct 21, 2012
Bio:
TALAWA REGGAE at MUSIKENS HUS 28 MAJ 2010;
TALAWA REGGAE: HORACE CORN + RULERS BAND, rasta live ina Nordstan, Gothenburg city centre Sweden:
Talawa exhibition: National Museum in Stockholm and Röhsska Muséet i Göteborg, Sweden: RASTA on Swedish 6Kr stamp. REBELLIOUS, PYGMENT & HORACE CORN.
.. TALAWA PRDS pre-sent: JahJah Bless The Love: HORACE CORN live inna Stockholm, Sweden: (below)
TALAWA PRDS- Only Jah Alone: HORACE CORN live inna Sweden (below):
Horace Corn was born in St Bess, Jamaica. Being very athletic, dramatic and humorous, he always had a part to play. At a very young age, his mother moved to Kingston. After finishing primary school, he joined her and the rest of the family. His horizons got broaden knowing the streets of Kingston, The Great Duke Reid Treasure Isle studio was one block away on Bond street, not far from Oxford street, where Horace was staying, in the heart of western Kingston. Horace bought his first records of Alton Ellis, Gregory Isaacs, Burning Spear, Barry Brown, Bob Marley, Bob Andy and Black Uhuru from Joe Gibbs, Randys Record and Swing-a-Ling mobile truck Record Stores in Downtown Parade. Most of the records purchased at the time were on Sir Coxsons black&white label.
In Kingston, he worked hard, studied and still found the time to promote numerous stage shows with upcoming artists such as Admiral Tibet, Jessie Gender, Ronnie Twaite, Andrew Tosh (son of legendary Peter Tosh) amongst others.
In 1988, Horace Corn went to England where he continued his love for the music as an ambassador and held shows with artists such as Johnny Osbourne, Chaka Damus, Vivian Jones, Lloyd Brown and others.
In 1993 Corn Tree Production music company was born in the UK. The same year Horace Corn did his first recording at Survival Studio in Acton. Title Baby youve been missing me (12 inch), Corn Tree Productions record label. His second release was to be Gunshot fe cease, a 12 inch vinyl, AA side. Here he combined with lyricist Rebellious (King Kojo), 1994. 1996, Horace Corn released She is my woman, 7 inch. He later recorded many Djs and singers. Singing B, a very prominent singer, got a 7 inch release on Corn Tree Productions with the song Life. 1997 saw the release of a double 12 inch vinyl, with the two chart tunes False Prophecy and Do Jah Works.
The Most Corn cd album -and cassette became available in limited edition in 1998, and was widely promoted and distributed by Corn Tree Production and JetStar in the UK. This masterpiece was highly reviewed in magazines, such as The World Beat (USA) and Reggae Trade magazine in England.
Horace went to Scandinavia and further into Europe to promote the musical vibes. In March 2001, Horace Corn brought legendary Twinkle Brothers with Norman Grant to Medborgarhuset in Stockholm, Sweden for the first time in their carrier. In 2003, Horace teamed up with Selam Music Promotions and brought ever living Junior Delgado to Stockholm, Sweden.
Bands Horace Corn played with:Yarden, King Fari, Rulers, Roots Harmonics, Groove Killers, Reggaetarians, Ministry of Harmony, Riddim Force, High Valley, Natural Ways, Roots Defenders to mention some...
Horace Corn review in The Beat magazine:
...The arrangements are unusual with backing vocals that sound like at times three angels or a church choir contingent appearing when last expected. Equally unexpected was the sudden appearance of Twinkle Brothers Norman Grants distinctive backing vocals on Let your love light shine. The songs are superb. Holy Mama Africa, Out of your sleep and slumber and False Prophecy are only three of many tunes whose lyrics aim at a higher level of consciousness for all human kind. The recordings has a feeling that might alternatively be described as intimate or box-like, but once you adjust to it youll find its reminiscent of a similar feel in the recordings of Lloyd Bullwacki Barnes or . Holy of holy - Coxson Dodds Studio One. A thoroughly enjoyable turn-of-the-(next)-century roots effort from a new artist worth watching for...
MAHINDI is an upful Rasta man, who do not steal, cheat nor jealous others. I and I know that Selassie I is true living and mighty over all. Jah is the creator of I and I, Rastafari universally. King of kings, lord of lords, the conquering lion from the tribe of Judah has prevailed to be the prince of peace, ruler of earth. I and I do not eat bloody meat, neither drink alcohol, neither use drugs. I and I do not play any dishonest role to get material or vaniterial values. I and I work self sufficiently to acquire this livity I live. I and I make full use of life natural resources, mentally, physically and skillfully. As a Rasta man, I and I consume vegetables, herbs, fruits and ital juices. Cook I own food, bless it and give thanks for life. Who Jah love, no man curse. To eat from your own hands, what a joy! In the midst of the ocean, the fools are still thirsty. I live not for greed, neither for shallow knowledge, which has no use, but to observe and broaden this scope of love for life to its mentionable pinnacle..."
ROOTS VIBE BAND
After performing under Talawa Productions management for two years, Mahindi Horace Corn is now in the studio recording live with his band Roots Vibe. Talawa Productions will soon be releasing a reindition of The Most Corn cd, plus extra tracks on his new album, title Serious Vibes!
From 2004, Talawa Productions - artists management and record company - have been working with Mahindi Horace Corn and other artists whose names and profiles are mentioned on Talawa website.
For more info: www.Talawaproductions.com
Members:
SHOW COMING UP!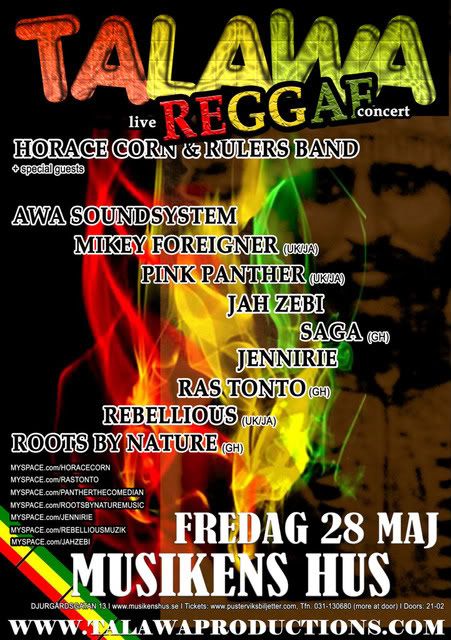 HORACE CORN, THE RULERS BAND, KULWA, JENNIRIE, RAS TONTO live in Nordstan, Göteborg: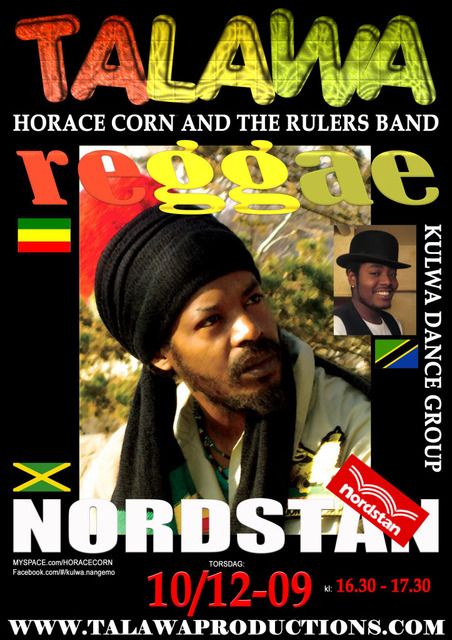 SIZZLA KALONJI: live ina GÖTEBORG, SWEDEN 22/10-09: HORACE CORN & TALAWA - blessed show King! Fire House band - more fire! blessed show!
JAMAICAN COMPUTER EXPERTS WIN TOP AWARD:
TALAWA PRODUCTIONS:
TALAWA PRDS. show ina TANTOGÅRDEN, Stockholm, 8/3-08 with DUB JUDAH, ADHI PROPHET, RULERS BAND, HORACE CORN, PINK PANTHER, JAH ZEBI, MIKE and more: (Below)
HORACE CORN - "SERIOUS TIME" live in OPERAEN, Copenhagen, DK, 6th of Oct 2007 with ROOTS VIBE BAND. (BELOW)
HORACE CORN - BIG FOOT live in DK (BELOW):
Sounds Like:
TALAWA PRODUCTIONS - "THE MOST CORN" RENDITION - "SERIOUS VIBES"
NOW AVAILABLE FROM CD BABY: http://cdbaby.com/cd/horacecorn
SEND YOUR ORDERS TO: Info@Talawaproductions.com