No recent updates in this category.
Why not...
sandra bamminger hasn't earned any badges yet... have you?
General

the curious, exciting, new, strange, spicy, forwardthinking, moving and bouncing...

visit homepage WATCH CHRISTINES DANCE FILM!

Music

a bit of it all... ninja tunes

,

bjork

,

tricky

,

amon tobin

,

gnarls barklay

,

handsome boy modelling school

,

billie holiday

,

eartha kitt

,

cornelius

,

radiohead

,

moloko

,

massive attack

,

portishead

, edgar jones jones...

Movies

Television

alias

,

24

,

black books

,

simpsons

,

south park

, jon stewart

Books

elmore leonard & various nonfiction

Heroes

jon snow, jon stewart, bjoerk, cornelia parker
About me:
House of Boing aims to add kinetics to people's lives in a bid to remind them of curiosity and excitement experienced most strongly in childhood. We try to fashion objects and environments re-connecting us to that childlike enthusiasm, the instant reaction to new and exciting objects and activities that a majority of "adults" have lost somewhere along the way. We are playing with the interaction and relation between wearer's and their clothing. What would happen if the clothes had a live of their own? What would be the wearer's reaction to this movement that was acting independently from them but was nevertheless increased by their own movement? Would they cease to move, or change and adapt their movements accordingly? Might it be possible to take a glimpse at the wearer's characteristics, perhaps more openly visible through this improvised, instant reaction and change of motion? new pics here!!
www.gegenalltag.at
(its the yellow dress with red sculptural sleeves and red cap hat)
www.houseofboing.com
music from our brilliant swedish friends Detektivbyran! click image to get to their myspace!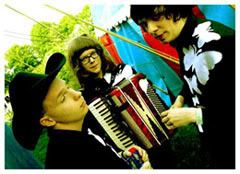 ..
http://www2.blibs.com/mytheme/myspace-contact-table.php
"> .. .. ..
Who I'd like to meet:
House of Boing with its instigator sandra bamminger is always looking for excitable and creative collaborators to busy ourselves on new innovative projects... we like sharing our ideas with fashion lovers, dancers, actors, acrobats, filmmakers, photographers, artists, designers, scenographers, musicians,.... you...


Status:

Single

Here for:

Networking, Friends

Zodiac Sign:

Taurus

Children:

Someday

Occupation:

clothing and hat designer