Play

Play Next

Add to queue
Play

Play Next

Add to queue

1,800 plays

Play

Play Next

Add to queue

21,151 plays

Play

Play Next

Add to queue

46,569 plays

Play

Play Next

Add to queue

52,154 plays


Hello ! Welcome to Forever Young's myspace :)
We formed this band at the end of 2007, we are from France. Marion (21 years old) does all the vocals and Guillaume (27 years old) writes and performs all the music ! Our songs are self-produced... Marion is so MAGICAL she has a heart of gold and a Chanel wallet full of butterflies. She loves chocolate waffles and playing frizbee! Will is so ADVANCED he can control the Sims with his mind. He likes asian food and playing Guitar Hero (easy level of course). Our plans for 2011 are to write/record more songs, and post them on Myspace ! We'll definitely start playing shows aswell. Feel free to leave us a comment, we'll always answer you back !!
Take care :D XOXO
-Marion&Guillaume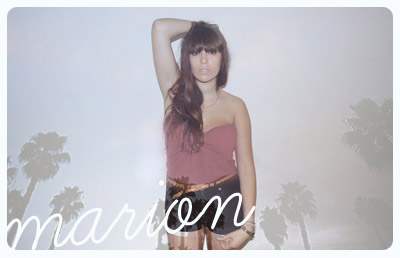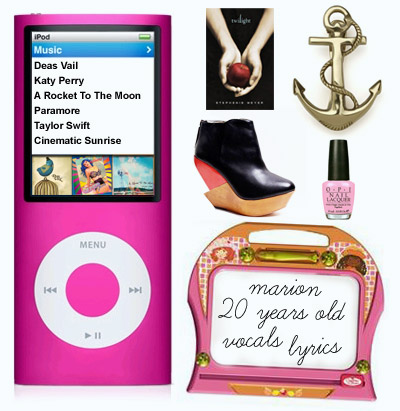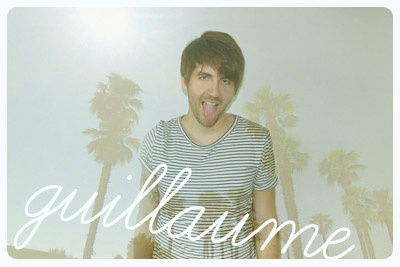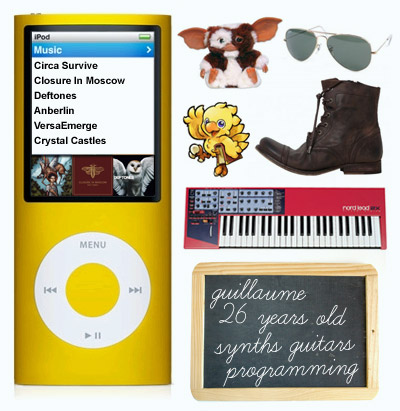 ELLE.FR (Juillet 2010)
"On a aimé leurs mélodies électro-pop légères aux arrangements dignes des pros […] un joli univers qui mérite d'être écouté et partagé."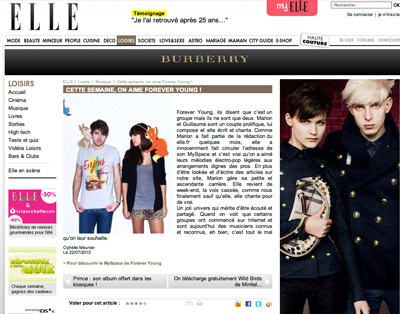 ROCK ONE (Mai 2009)
"Le mélange électro-pop saupoudré de mélodies sucrées fait de chaque nouvelle chanson un tube incontournable. Vraiment craquant !"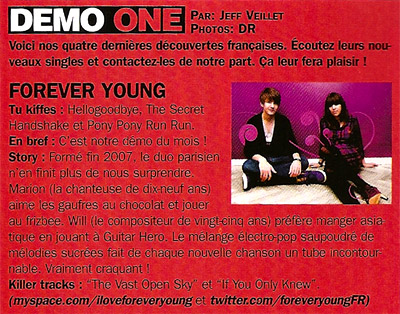 JUST JACK - All Night Cinema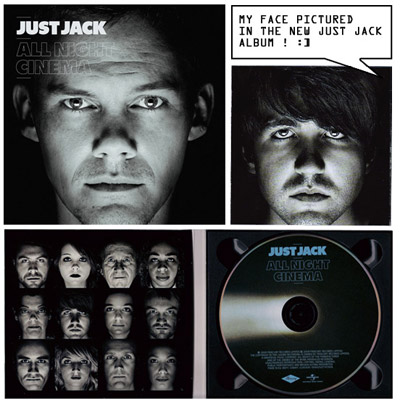 Genre: Electronica / Indie / Pop

Location Paris, Ile-de-France, Fr

Profile Views: 241142

Last Login: 6/26/2011

Member Since 1/16/2005

Type of Label Unsigned

Bio

Members

Influences

Sounds Like
Influences:
LIFE & many many bands

Air, Au Revoir Simone, Augustana, Bloc Party, Crystal Castles, Daft Punk, Death Cab For Cutie, Digitalism, Disney Parade, Feeder, Frou Frou, Hellogoodbye, High School Musical, Idiot Pilot, Imogen Heap, Innerpartysystem, Jack's Mannequin, Jimmy Eat World, Lady Gaga, Lostprophets, Massive Attack, Michelle Branch, Mute Math, Nintendo DS, Owl City, PlayRadioPlay!, Saosin, Shiny Toy Guns, Sigur Ros, Soulwax, Something Corporate, Stacy Clark, The Album Leaf, The Faint, The Killers, The Postal Service, The Rocket Summer, The Secret Handshake, Young Love, Zero 7



Sounds Like:

FOREVER YOUNG (NEW SONG UP!) has 20404 friends.