The hoarder in me has had to take a step back as my cupboards are crammed too full to serve decent function. With a boot sale fast approaching I have been frantically trying to be tough, and let go of things I not only no longer use, but will never use in the future.
Then I stumbled across the diary. The one hidden not only from prying eyes, but also from the most conscious parts of my own brain. I started it in 1989*, and had not added to it after about 1996, but every time I read it, I cringe at the horror that was me!
Again, I opened it up and poured over the same pages that I had poured out my emotions on all those years ago, and again, I thought it was pathetic. Sad and pathetic and......... disturbingly embarrasing. Every time I re-read the damn thing it sounds worse. The only good things are a couple of 'stories' and some clippings of newspapers, magazines etc. The rest is awful, desperate drivel from someone who, I would think, should have known better!
I've always kept it. It is, after all, a document of a period in my life. But today, I'm such a very different person, and I honestly could not think of one person in the world that I would feel ok about them reading that rubbish, even after I was dead.
I kept the clippings. I kept the novella (which, while also personally based, was at least well written), and then I went out in the rain and burned that fucker!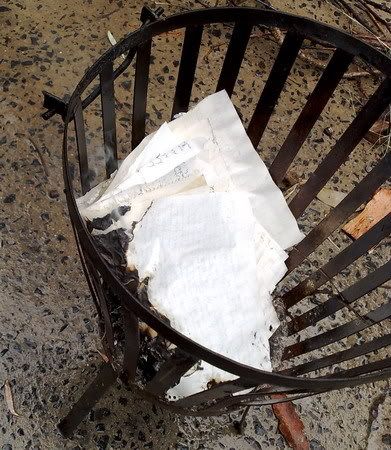 It's crazy. I had so much fun in those days too, but I never seemed to think they were important enough to write about.
Anyway. If you know me at all, you would know that letting go of something like that is, well, HUGE!
And I feel so good!
*Curiously, my opener, the front page of the whole sorry diary, is a story about Sonny. This is not a me being pathetic story, just my way of introducing myself, setting the scene, talking about a friend of mine before I launched into the squalor of my own emotional life. Funny, hey!
Like this blog? Support the writer.....
For Cool, Rock T-shirts, for Cool, Rock Babies and Kids, look no further than www.myspace.com/rocktshirtsforkids