No recent updates in this category.
Why not...
Kev Obrien hasn't earned any badges yet... have you?
General

VOTE FOR KEV OBRIEN ON THE DJ LIST!

Interests: My friends & family, my MUSIC, being single, being awesome, makin' it rain, baseball, far too much television for my own good, under-achieving, procrastinating, attempting to figure myself out, attempting to figure other people out at the same time, Coronas with lime, Grey Goose & Red bulls, NOT drinking Jaegermeister, not doing drugs, random make out scenes in bars, playing poker, traveling, being spontaneous, steak, cheese, bread, steak cheese and bread sandwiches, popping packing bubbles, sleeping late, web design, graphic design, showing up late, stickin' it to "the man", irrational spending, shopping cart destruction derby, clubbing, walking through Manhattan and acting like a tourist even though I'm not one, putting smiles on people's faces, people watching, making stupid noises, prank phone calls, drunk dialing, movies, funny news stories, and other stuff...

Music

Techno - Tech House - Minimal - Progressive House - Deep House - Electro - Minitech - MinimalProgressivelectronica - all those other weird sub-genres of dance music - hip hop - drum & bass

::// ..Favorites:.. Sasha, John Digweed, Dave Seaman, Akon, Saigon, Red Cafe, 2pac, Biggie, Depeche Mode, early NiN and Trent Reznor shit, Sebastien Leger, deadmau5, Adam K, Dousk, Trentemoller, James Zabiela, Tocadisco, Eric Prydz (Cirez D), Adam Beyer, John Acquaviva, Miss Kittin, Mistress Barbara, Loco Dice, Kolombo, Lutzenkirchen, Glenn Morrison, Mark Mendes, Steve Bug, Maetrik, Jimpster, Cobblestone Jazz, Rabbit in the Moon, Kimball Collins, Taylor, Adultnapper, M.A.N.D.Y., Wu-Tang, Dido, DJ Kool Kid, Cypress Hill, Sublime, Rage Against the Machine, Nirvana, Offspring, Fear Factory, Nine Inch Nails, LTJ Bukem, Jimmy Van M., Deep Dish, Metallica, Weird Al, Rick Ross, Bone Thugs & Harmony, Cassidy, Lil Wayne, Mike Jones, T.I., Three 6 Mafia, 2 Live Crew, Vanilla Ice, MC Hammer, Kanye West, 50 Cent, J. Hov, and tons more. too many to name, really!

Movies

Television

Books

..The DaVinci Code Cradle and All (Patterson), the Alex Cross series (Patterson), Midnight Club (yeah, Patterson again), Kiss the Girls (the literal Pimp, James Patterson), Fear and Loathing in Las Vegas

Heroes

..Chicken Parm, philly cheese steak
About me:
.. .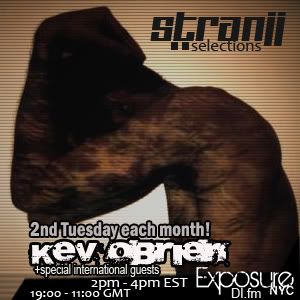 Download my April Stranjj Selections mix FREE!

To download: MP3 DOWNLOAD

..

This is Kev Obrien. This is Stranjj.
Inspired, and drawn into house music by legends such as Dave Seaman, Sasha & John Digweed; Kev Obrien's style of DJ'ing is directly influenced and focused on a technical, intricate and complex mixing style, that is rarely practiced by many of today's current flock of house DJ's. Currently residing in New York, Kev is one half of "Stranjjur", a trio of like-minded and musically twisted artists. Stranjjur is Christopher Craig, Francisco V. and Kev O'brien. The group's operations are currently based in Tampa and New york. Stranjjur plans to release their first single some time in the near future. Stay tuned.
Kev is also a member of the prestigious MyPromoPool DJ pool, which is home to greats such as Dave Seaman, Paul Van Dyk and Jody Wisternoff to name a few. He also contributes to the music industry by writing music reviews and articles for ProgressiveHouse.com, DI Magazine, Beatportal and datatransmission uk
You can catch Kev's monthly radio show on Proton Radio, representing DJMix.net and MyPromoPool.

Status:

Single

Here for:

Networking, Dating, Friends

Hometown:

Long Island, NY

Orientation:

Straight

Body type:

Average

Ethnicity:

White / Caucasian

Zodiac Sign:

Gemini

Smoke / Drink:

No / Yes

Occupation:

The Entertainer