Play

Play Next

Add to queue
Play

Play Next

Add to queue

5 plays

Play

Play Next

Add to queue

4 plays

Play

Play Next

Add to queue

4 plays

Play

Play Next

Add to queue

7 plays

Play

Play Next

Add to queue

497 plays
Genre: Indie / Melodramatic Popular Song / Soul

Location Brighton and Eastbourne, South, UK

Profile Views: 28200

Last Login: 4/16/2012

Member Since 10/24/2005

Record Label None

Type of Label Unsigned

Bio

...... .. BIOGRAPHY:.... "Iris And The Wolves write beguiling pop songs, imbued with a sense of drama, love and loss. Their music is an intoxicating blend of pop-noir with Fiona's deeply sumptuous crystalline vocals at the forefront - like a twinkling star set amid a dark musical landscape of bleeding hearts. .... Originally from the Scottish Highlands, Fiona took on a variety of careers ("a rather colourful CV..") before returning to her first love - making music. Now based in rural Sussex, Fiona hooked up with her current songwriting partner, pianist Dan Soanes ("he has the most beautiful hands ever seen on a man...!") and set to work writing the songs which will form the backbone of their first album as Iris And The Wolves..... Fiona's musical heritage is wide and varied, having studied violin, harp, piano and guitar; but her heart always led her to sing, and as such she developed a distinctive high soprano voice - which may surprise some listeners hearing her sing such deep, resonant honeyed notes on delicious songs such as "Creature". .... Not unlike Antony Hegarty (of Antony And The Johnsons), Fiona gently commands attention when she performs live, with a respectful hush descending upon the rapt audience; and rightly so - not only is her voice powerfully emotive - these songs tell of heartache, tragedy and loss, based on harrowing real-life experiences. .... "Deliverance" reveals the religious studies teacher who raped her when she was just 12; while "Lazuli" is about her father¹s death in an RAF crash when she was 16. "Creature" tells the incredible story of her newborn son's apparent death in a road crash while he was being taken via ambulance to hospital in London to have open heart surgery. Fiona witnessed his fragile body being brought out of the wreckage - he survived, brought back to life by an injured doctor and nurse. .... With 11 songs nearly complete, their as-yet-untitled debut album will soon be ready for release; the duo have been working alongside a surprising variety of producers such as Geoffrey Williams (Shaun Escoffery, Michael Jackson) and Ross McLean (Mawglee, The Lawless), who have given Fiona's strong songwriting skills a beautiful presentation. .... Welcome to the world of Iris and the Wolves…".... Boogaloo Stu, Brighton – September 2007...... ------------------------------------------------------------------------------------- Praise for "Creature":....""Boasting harmonies FedExed straight from heaven, this is a masterclass in how to do heartbreaking, lush arrangements with little more than a piano and a few sets of well-chosen tonsils. It's as if Annie Lennox were cool again."" Overplay Play and Rate Judges.... We have an EP available for download at www.emusic.com Search for our page and download our EP. emusic are still offering a free trial. Also to buy on iTunes, Amazon and Napster.... Vocals, songwriting, acoustic guitar, arrangements, bv's - Fiona Wallace Carville.... Recorded keys, arrangements, acoustic guitar, bv's - Dan Soanes.... Production on these tracks: Ross McLean aka The Lawless.... If you would like a copy of Deliverance, Lazuli or Stolen Kiss, please get in touch. Production on these tracks: Justin Gourlay and Ginger & Lime (Geoffrey and Georgina Williams). .... Photos by Paul Martin @Shotwell Photography and Dan Chapman @Concept Photography.....With thanks to the Dickens Tea Cottage, Eastbourne.... If you like us come and say hello..... .. ............Myspace Layouts.. - ..Myspace Editor.. - ..Hot Comments.. - ..Image Hosting....

Members

Fiona Wallace Carville - Songwriting, arrangements, vocals, acoustic guitar.... Dan Soanes - keys.... Tim Simmans - drums.... Sammy Turton - bass .... Tom Billington - guitars .... Ross - Arrangements, all production, extra instrumentation.... Ginger and Lime Productions and Justin Gourlay - production on Lazuli, Deliverance and Stolen Kiss.... Steve - bv's on 'Handmaiden'.... Recorded strings by Mike Simmonds........ ......

Influences

tea, Suzanne Vega, love, Kate Bush, mis-heard lyrics, Michelle Shocked, snogging, John Wyndham, PJ Harvey, Gabriel Faure, Tori Amos, Ian McEwan, betrayal, Alison Krauss, words, Margaret Atwood, Aretha, tragedy, Barbra Streisand, Daphne du Maurier, Goldfrapp, war, Angela Carter, Bjork, retribution, James Taylor, science, Jacqueline du Pre, Carole King, Al " The Reverend" Green, Maggie Smith in 'The Prime of Miss Jean Brodie', a full English in the Dickens Tea Cottage!!

Sounds Like

Auditory pleasure
No recent updates in this category.
Why not...
Bio:
BIOGRAPHY:

"Iris And The Wolves write beguiling pop songs, imbued with a sense of drama, love and loss. Their music is an intoxicating blend of pop-noir with Fiona's deeply sumptuous crystalline vocals at the forefront - like a twinkling star set amid a dark musical landscape of bleeding hearts.

Originally from the Scottish Highlands, Fiona took on a variety of careers ("a rather colourful CV..") before returning to her first love - making music. Now based in rural Sussex, Fiona hooked up with her current songwriting partner, pianist Dan Soanes ("he has the most beautiful hands ever seen on a man...!") and set to work writing the songs which will form the backbone of their first album as Iris And The Wolves.

Fiona's musical heritage is wide and varied, having studied violin, harp, piano and guitar; but her heart always led her to sing, and as such she developed a distinctive high soprano voice - which may surprise some listeners hearing her sing such deep, resonant honeyed notes on delicious songs such as "Creature".

Not unlike Antony Hegarty (of Antony And The Johnsons), Fiona gently commands attention when she performs live, with a respectful hush descending upon the rapt audience; and rightly so - not only is her voice powerfully emotive - these songs tell of heartache, tragedy and loss, based on harrowing real-life experiences.

"Deliverance" reveals the religious studies teacher who raped her when she was just 12; while "Lazuli" is about her father¹s death in an RAF crash when she was 16. "Creature" tells the incredible story of her newborn son's apparent death in a road crash while he was being taken via ambulance to hospital in London to have open heart surgery. Fiona witnessed his fragile body being brought out of the wreckage - he survived, brought back to life by an injured doctor and nurse.

With 11 songs nearly complete, their as-yet-untitled debut album will soon be ready for release; the duo have been working alongside a surprising variety of producers such as Geoffrey Williams (Shaun Escoffery, Michael Jackson) and Ross McLean (Mawglee, The Lawless), who have given Fiona's strong songwriting skills a beautiful presentation.

Welcome to the world of Iris and the Wolves…"

Boogaloo Stu, Brighton – September 2007

------------------------------------------------------------------------------------- Praise for "Creature":

""Boasting harmonies FedExed straight from heaven, this is a masterclass in how to do heartbreaking, lush arrangements with little more than a piano and a few sets of well-chosen tonsils. It's as if Annie Lennox were cool again."" Overplay Play and Rate Judges

Vocals, songwriting, acoustic guitar, arrangements, bv's - Fiona Wallace Carville

Recorded keys, arrangements, acoustic guitar, bv's - Dan Soanes

Photos by Paul Martin @Shotwell Photography and Dan Chapman @Concept Photography.

With thanks to the Dickens Tea Cottage, Eastbourne

If you like us come and say hello.

..

Myspace Layouts - Myspace Editor - Hot Comments - Image Hosting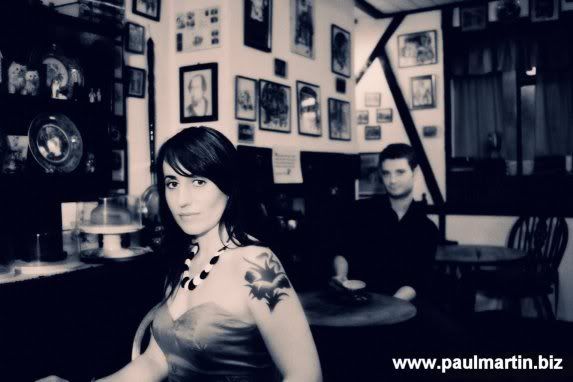 Influences:
tea, Suzanne Vega, love, Kate Bush, mis-heard lyrics, Michelle Shocked, snogging, John Wyndham, PJ Harvey, Gabriel Faure, Tori Amos, Ian McEwan, betrayal, Alison Krauss, words, Margaret Atwood, Aretha, tragedy, Barbra Streisand, Daphne du Maurier, Goldfrapp, war, Angela Carter, Bjork, retribution, James Taylor, science, Jacqueline du Pre, Carole King, Al " The Reverend" Green, Maggie Smith in 'The Prime of Miss Jean Brodie', a full English in the Dickens Tea Cottage!!
Sounds Like:
Auditory pleasure
Record Label:
None