What Have I Got To Lose? - Live at Lake Jualbup - January 2011
Jane Germain, Ian Simpson, Adam Gare & The Yahoos
Comin' Down From God - Live at Lake Jualbup - January 2011
Jane Germain, Ian Simpson, Adam Gare & The Yahoos
Jane Germain, Ian Simpson & The Yahoos - Live at Lake Jualbup - January 2011
Compilation
Jane Germain, Ian Simpson & The Yahoos - Live at the Seaview
When You Come Around Here
- from the album, Chinese Whispers
03:01 | 34 plays | Sep 26 2011
Jane Germain & Ian Simpson
Jane Germain, Ian Simpson

& The Yahoos


Individually respected by their music-industry peers and acclaimed by domestic and international audiences, the chemistry between Jane Germain, Ian Simpson & The Yahoos (John Reed, Fred Kuhnl, Norm Leslie & Reuben Kooperman) creates an audience reaction of feel good entertainment and delight.

The individuals in this vibrant band have collectively attracted a sackful of music industry awards – at last count seven Gold Guitars, an Aria Award, WAMI nominations, four WA Country Music Awards for best Vocal Group or Duo performance – and widespread critical praise.

Fans already know what to expect from these talented performers whose combination of country, blues, swing and bluegrass, as well as their ready acceptance of musical influences from other cultures, is marking new territory on the national music scene.

In a move to Sydney at the age of 21, Ian began working with Country and Western legend Slim Dusty until his death. Ian was a founding member of the multi-award winning band The Flying Emus.. He is a renowned session player and has recorded and toured with luminary Australian musicians such as Paul Kelly, Keith Urban, Lee Kernaghan and Graham Connors.

Working together, Jane and Ian represented Australia at the World Expo in Shanghai in 2010. This reprised earlier tours of China in 2004, 2006 and 2008, which saw the release of Jane's "Chinese Whispers" album – an innovative fusion of upbeat bluegrass, blues with haunting, traditional Chinese influences.

In 2010 Jane and Ian released their first duo album "Lonesome Road".

2011 was another great year, with Ian winning a Gold Guitar for Instrumental of the Year at Tamworth, from the album he recorded for the ABC with John Kane, "The Banjo"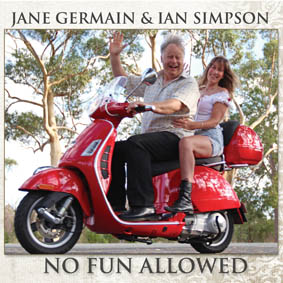 Jane Germain and Ian Simpson's new album No Fun Allowed features songs they have been creating together in their own style - ranging from raging bluegrass, hard driving blues, to swing and down-home country.

Songs such as "Listen to What You Know" - a lesson in life, "Why Do You Hate Me So Much" – a love song gone wrong, to the rollicking banjo of "Banjo Pickin' Girl" will delight lovers of real music. This album also features Jane and Ian's tribute to their favourite vocal duos – including the Louvin Brothers and Delmore Brothers. Jane and Ian play almost all of the instruments on this recording and welcome the addition of Adam Gare on mandolin and fiddle on some tracks. Jane makes a debut appearance playing clawhammer banjo on three tracks.

Jane and Ian will launch their new album, No Fun Allowed on the 9th March 2012 at Kulcha in Fremantle, WA. Joining them will be special guests ex-Cowpersons Adam Gare and Fred Kuhnl ..