commented on Dan's profile

"Dear Friend

Are you Pink Frankeinsten ?



Waouuh great to have news from Bardot a Go Go i 've some new releases to send you-please get in touch i'm working on a project you will dig -




"
Jean-Emmanuel Dubois hasn't earned any badges yet... have you?
General

Music, design, all the avant guards (but i hate 80% of modern conceptual art-but i'm always interested by the 20 % remaining), low brow, mid brow and some lowbrow stuff. Comics, geek litterature, expensive imported design magazines, cool fanzines. All kinds US subculture (i'm french & USA subculture never cease to amaze me), strange cults, italian, mexican, .... exploitation cinema, Los Angeles & Hollywood (a subject of fascination too). I dig Scott Fitzgerald, Philip K Dick, Guy Debord, Alan Moore, Jack Kirby, Thomas Pynchon , Jean Lorain....My interests are too many too mention-let say i think that curiosity is an important value

Music

http://profile. myspace. com/index. cfm?fuseaction=user. viewProfile&friendID=38935259

French pop,

yéyé

,

sunshine pop

,

krautrock

,

psychedelic rock

,

Bubblegum

, XIX century composers & pop in all it's shapes & from various countries from the 60's to now. Vintage electronic music,

film music

,

funk

,

soul

,

early dub & ska

,

sitarsploitica

,

post punk

,

Bubblegum pop

,

electronica

,

children music

,

garage rock

,

indie-pop

,

weird african funk

,

early industrial stuff

,

tropicalismo sounds

,

bossa nova

,

garage rock

,

indie pop

,

old school hip hop

,

soundtracks- & much

, much more et:

Movies

1-Toute l'oeuvre de J.X Williams (dont Peep Show) 2-The Touchables (Robert Freeman) 3-Nuits rouges/ l'homme au 100 visages/Shadowman (Georges Franju) 4-Danger Diabolik (Mario Bava) 5- The Monkees' Head (co-écrit avec Nicholson) 6-The Trip (Roger Corman) 7-Showgirls (Paul Verhoeven) 8-2001 a space Odysey (like everyone) 9-Skidoo (Oto Preminger) 10-La jetée (Chris Marker) 11-Mister Freedom (William Klein) 12-The saddest music in the world (Guy Maddin) 13- La Montagne sacrée (Jodorowsky) 14-Los Olvidados (Luis Bunuel) 15-The other side of the wind (i love unfinished movies) 16-Killers in black tights/Ore Ni sawaru to abunaize (Yasuharu Hasebe) 17-La Salamandre (le cinéma suisse à un jour existé avec Alain Tanner) 18-Par ou t'es rentré on ta pas vu sortir & le Furher en folie (exaequo) 19-Toomorow 20-The Comitee 21-Mondo Hollywood (Carl Cohen) 22-Jeu de Massacre 23-Psychomania 24-Comment réussir quand on est con et pleurnichard 25-Vivre la nuit 26-Petulia (Julie Christie she makes me so misty) & so many others

Television

Life on Mars

,

Heroes

,

les compagnons de Baal

,

la poupée sanglante

,

Fantomas (version Helmut Berger)

,

The Wire

,

La Brigade des maléfices

,

American Dad

,

Futurama

,

Belphegor

,

l'homme aux cents visages

,

L'ile au 30 cercueils

,

Colargol

,

Lolek & Bolek

,

les Shadoks

,

the Prisoner

,

Space 1999

,

Wild wild west

,

Twilight zone

,

the Avengers

,

outer limits

,

OZ

,

The sopranos

,

The Shield

,

Six feet under.

Books

A confederacy of Dunces (Kennedy Toole) Valis ( P.K Dick) Voyage au bout de la nuit (Celine) La société du spectacle (Debord) Les extraordinaires aventures de Kavalier & Clay (Michael Chabon) American Gods (Neil Gaiman) L'Aleph (José Luis Borges) Visages cachés (Dali) books by or about Jacques Rigaud, Jacques Vaché, Picabia, Arthur Cravan, René Daumal... & Political books by Orwell

Heroes

Patrick McGoohan, Philip K Dick, Dan Clowes, Claude Jade, Steve Ditko, Jim Steranko, Matt Groening, Brian Wilson, Pychon,Mike Alway, Barbara Steele.
About me:
Vendredi 16 Octobre une soirée que nul cinéphile ne peut manquer! Une soirée proposée par Martyrs of pop/Jean-Emmanuel Deluxe & provocateur pictures- Présentation: .. Réserver impérativement à : lasocietedecuriosites@gmail.com (sinon vous ne pourrez pas entrer et il n'y aura pas d'exception) Ouverture des portes 19h30. Traiteur japonais à disposition. JX Williams Direction Présentation par Noel Lawrence ( provocateur pictures DVD label:
http://www.provocateurDVD.com
et curator de festivals :
http://www.dffla.com/events-cityofangles.php
) des films récemment découvert du légendaire cinéaste underground américain JX Williams et mise en contextualisation de l'influence de JX Williams sur le cinéma français de la nouvelle vague à Zanzibar. Noel Lawrence grand collectionneur cinéphage devant l'éternel est également l'éminence grise du mythique Other Cinema à San Francisco. Il est passé maître en détournements iconoclastes. Ce soir il nous propose une étude ludique de tous les cinémas des films d'exploitations au cinéma expérimentaux, ainsi qu'un voyage à travers l'Amérique "interdite". Noël Lawrence est investi d'une mission celle de faire enfin découvrir J. X. Williams, le cinéaste dont "certain" voudraient vous faire cacher l'existence est enfin révélé au grand jour. JX Williams est un créateur fascinant dont la vie et l'oeuvre sont étroitement liés avec la maffia, Kennedy, les pratiques occultes, le satanisme et le parti communiste. JX Williams a osé révéler les complots maffieux et les manipulations du gouvernement américain. Quand on sait que J.X Williams a inclus dans ses films les Kennedy et Frank Sinatra dans des documents privés et compromettants l'on comprend pourquoi "les pouvoirs en place" ont tout fait pour effacer le cinéaste de l'histoire du cinéma. Noël Lawrence tel un moine soldat doublé d'un archiviste nous permet enfin de découvrir l'influence majeure de J.X Williams sur le cinéma contemporain. En ce moment Noël Lawrence et Jean-Emmanuel Deluxe travaillent de concert à l'élaboration d'un ouvrage pour l'éditeur Camion Blanc sur tout le parcours hallucinant de J.X Williams. Un chapitre entier sera consacré à la relation et l'influence souterraine que J.X Williams à eu en France auprès de Jean-Luc Godard, Pierre Clémenti, Sylvina Boissonnas, Phillipe Garrel, Jean-François Bizot, Patrick Eudeline, Marie-France, Bulle Ogier, Valérie Lagrange, Zouzou, Catherine Ribeiro, les éditions Champ libre, Jacques Losfeld, Maurice Girodias mais aussi auprès des figures mondaines que furent Karl Lagerfeld, Fabrice Emaer, Phillipe Morillon, Yves Mourousi, Paquita Paquin, Inès de la Fressange et tant d'autres. Le label de J.E Deluxe (Martyrs of pop) prépare ce qui sera le premier DVD officiel de JX Williams. Un événement pour tous les cinéphiles déviants. Il est temps que la France découvre J.X Williams- Le cinéaste interdit. pour voir un extrait
www.youtube.com/watch?v=wbRXf2vfyYs
Programme: Présentation de l'oeuvre de J.X Williams par Noël Lawrence. Vous saurez enfin pourquoi ce cinéaste est aussi majeur que sulfureux. (avec la participation de Jean-Emmanuel Deluxe) Part 1 Psych-Burn (3 mins.) Satan Claus (3 mins.) The Virgin Sacrifice (9 mins.) The Showdown (8 mins.) Part 2 Peep Show (46 mins.) Psych-Burn 1968 | 16mm | 3:00 "'Psych-Burn' est un pilote pour le programme "love-in Tonite" de la chaine ABC. Ce projet de rock show psychédélique destiné à exploiter la jeunesse hippie est tombé à l'eau à cause des responsables de la chaîne. Du coup JX s'est amusé à projeter ce "Psych-Burn" lors d'une réunion interne de la chaîne. Des têtes sont alors tombées... Satan Claus 1975 | 16mm | 3:00 Au milieu des années 70 JX Williams en était réduit à travailler en tant que projectionniste dans une salle sordide du downtown L.A. Pour se venger de son atrabilaire et malhonnête patron J.X Lors d'une matinée enfantine a projeté ce "Santa Claus" qui à valu au cinéma le procès de parents outragés!! Merry Christmas, you cheap bastard!" The Virgin Sacrifice 1969 | 16mm | 9:00 (extrait) Avant 'Virgin sacrifice', J.X Williams ne savait pas vraiment ce qu'était un film maudit. Le film "Incubus" par exemple à terrorisé son producteur parce que le neveu du réalisateur est mort pendant le tournage. Quand on sait que Roman Polanski et Sharon Tate ont assistés à la première du film. Mais tout cela n'est que fariboles comparé à ce film maudit qui sent le souffre. Il faut dire que le producteur du film était un membre éminent de la Church of Satan. Après trois overdoses sur le tournage, une faillite et l'explosion d'une voiture le film est resté dans les annales des productions cauchemardesques. Aujourd'hui après l'incendie du laboratoire du studio et la perte des négatifs il ne reste plus que ces neuf minutes de film au son fort endommagé. Maudit, vous avez dit maudit? The Showdown 1975 | 16mm | 9:00 Montage ou Clint Eastwood (période Dirty Harry) et Steve McQueen (période Bullitt) se disputent à coup de calibres le trône du meilleur flic de San Francisco. Peep Show 1965 | 16mm | 46:00 Chicago 1961: C'est La guerre des syndicats. Un passager de Taxi se menace lui même avec son arme. Tentative de suicide? Non l'homme à simplement envie de parler. Il sait qu'un contrat courre sur lui et qu'il n'en a plus pour longtemps. Attachez vous ceintures vous allez traverser à bride abattue les rues sanglantes de Chicago, les lieux sexuellement "chaud" d'Hollywood et les arcanes secrets du pouvoir à Washington (là ou les vrais décisions sont prises). Retenez votre souffle...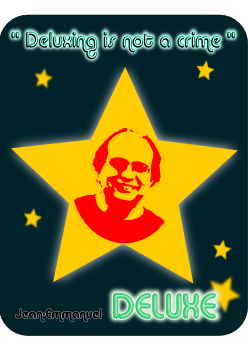 Mon nouvel ouvrage chez Scali il est beau non?
Préface de Christophe Lemaire
Tirage collector de 100 ex avec compilation exclusive de Mike Alway (él records) disponible sur
www.cahiersdurock.com
uniquement
Interview de Bertrand Burgalat pour Gonzai.com :
Hello,.. i'm a journalist writing for several magazines Standard (
www.standardmagazine.com
), Technikart & Gonzai webzine I've written for US fanzines too, like Scram (
www.scrammagazine.com
), Roctober (
www.roctober.com
), I've written for US book: "lost in groove" & UK publication the idler (
www.idler.co.uk
). I did wrote two books on pop culture: "Le Dico du rock au cinema" (Scali) & Bubblegum & sunshine pop: "la confiserie magique" (Les Cahiers du rock) I'm working on new projects such as a book on JX Williams (a cult & fascinating filmaker) & M Frog /Jean-Yves Labat de Rossi (Todd Rundgren french keyboardist & electronic rock pionnier who live for 10 years in Woodstock in the mist of the hippy show biz- With it's co-creator Mort Todd on the drawing bard i'm writing the comic stories of Mr Krime- I'm a "whatever i fancy playing from my collection" D.J, a record collector, comics/comix fan & i love incredibly strange movies. I'm also a recording artist & used to run the label euro-visions before it went silly due to problems i prefer not to expose here (people can be nasty, i can unfortunately tell you). So i've worked & discovered for France people like April March, Pete Aves, The Witch Hazel sound & so on- I've released a "tribute to Alain Delon & Jean-Pierre Melville" with my great friend Alexander Faem featuring Helena Noguerra, April March, Bertrand Burgalat, Saint-Etienne & many more. I've launched a new label. At the moment i'm working on my new album too with the fantastic guests (like Alexander Faem, April March, Sean O' Hagan) & the direction of Alexander Faem, Kevin Coral & Mathieu Bournazel- Hopefully live shows will follow- Il faut venir Cheers JED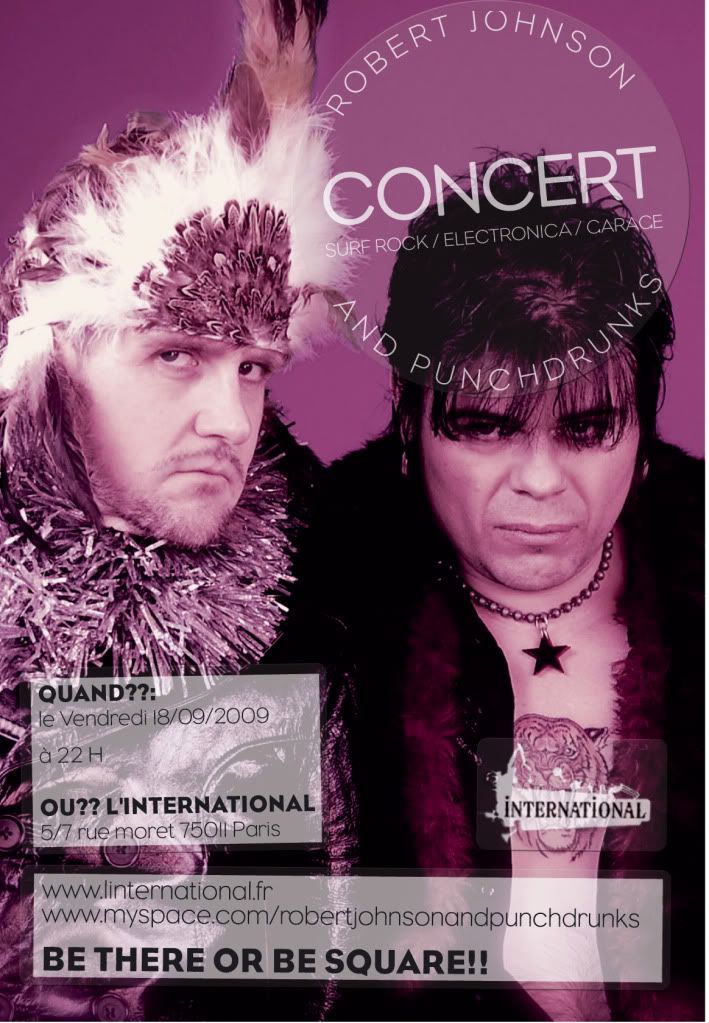 ..
David Lloyd
Your results:
You are Dr. Doom
| | | |
| --- | --- | --- |
| Dr. Doom | --- | 70% |
| Magneto | --- | 65% |
| Apocalypse | --- | 63% |
| Lex Luthor | --- | 60% |
| Two-Face | --- | 55% |
| Dark Phoenix | --- | 55% |
| The Joker | --- | 51% |
| Venom | --- | 51% |
| Mr. Freeze | --- | 42% |
| Juggernaut | --- | 35% |
| Mystique | --- | 31% |
| Poison Ivy | --- | 31% |
| Catwoman | --- | 31% |
| Green Goblin | --- | 27% |
| Kingpin | --- | 23% |
| Riddler | --- | 15% |

Blessed with smarts and power but burdened by vanity.

Click here to take the Supervillain Personality Quiz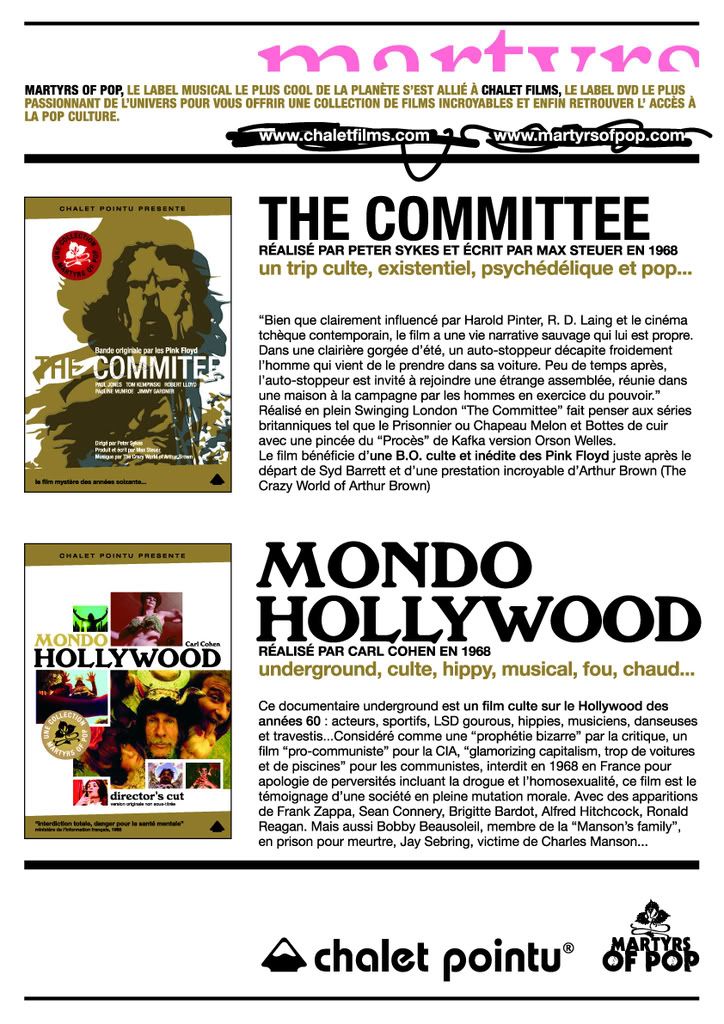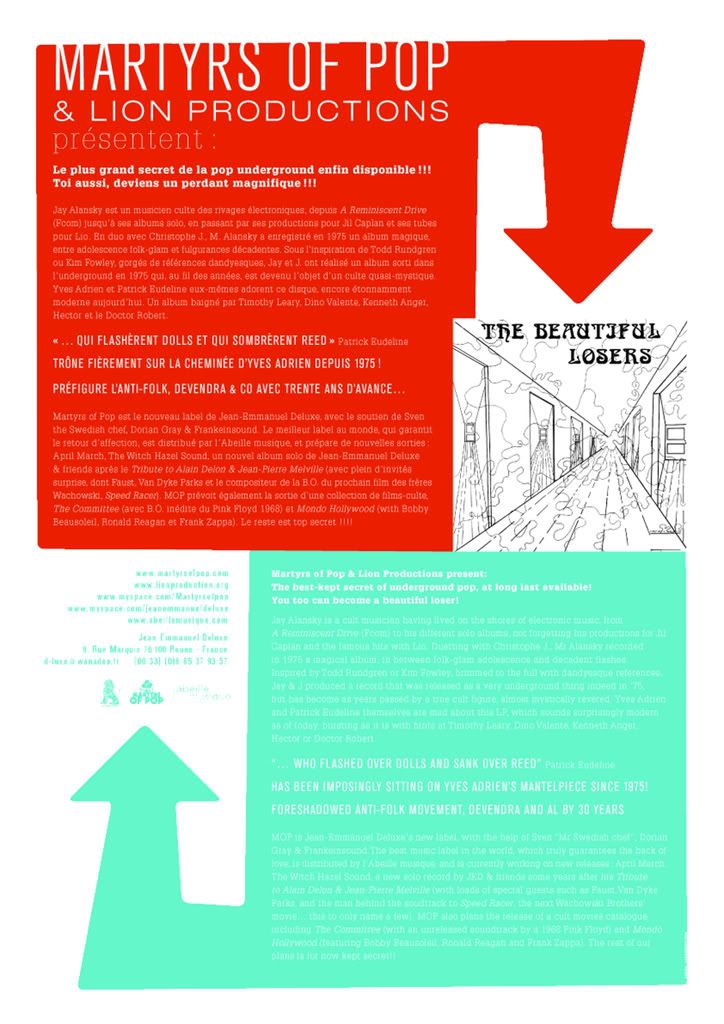 Petition
Spot
Jean-Emmanuel DeLuxe - EVENE
http://www.evene.fr/celebre/biographie/jean-emmanuel-deluxe-39176.php
Who I'd like to meet:
People with more than one interest in life who are curious by nature. and i like to meet "femmes fatales" of course, but whose het-male would not like to? I would like to meet god too. I'm not sure god do not exist. I would like to meet Van Dyke Parks, Brian Wilson, Randy Newman, Jim Steranko, Patrick McGoohan, Paul McCartney, William Klein, Dean Torrence,Marc Ryden, Peter Bagge, Dan Clowes,Peter Fonda, Roger Corman, Jane Fonda, Claude Jade, Phil Spector, Betty Page, Sharon Stone, Lucy Liu, Scooby Doo, Christopher Walken, William Dafoe, James Wood, Kris Kristopherson, Jessica Lange, Karen Cherryl, Alan Moore & Roger Nichols... Philip K Dick partie 1....
envoyé par dictys
.. Documentaire de Thomas Cazals sur Philip K Dick ou j'apparais- and a new video interview
Status:

Single

Orientation:

Straight

Height:

5' 8"

Religion:

Agnostic

Zodiac Sign:

Aquarius

Children:

Undecided

Smoke / Drink:

Yes / No

Education:

College graduate

Occupation:

Writer & entertainer
Music
Production
Producer