Who I'd like to meet:
You see the name "Jesse James" and you might think you know the story, This new book blows accepted history out of the water!
Check out the New Book at www.jessejamesintexas.com or at bookstores near you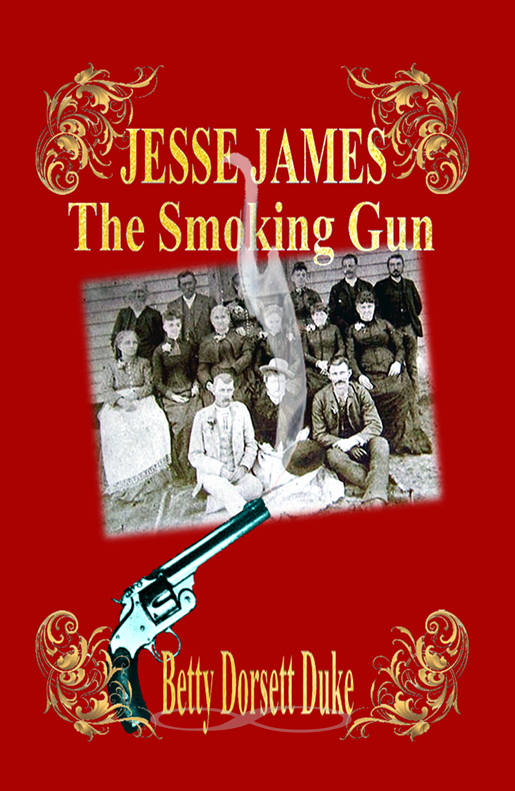 If you'd like to know how I really lived and died, you can find out more about me at Betty Dorsett Duke's websites:


http://www.thetruthaboutjessejames.com http://www.jessejamesintexas.com

The Truth About Jesse James

by Betty Dorsett Duke at

Amazon.com
---
---
---
---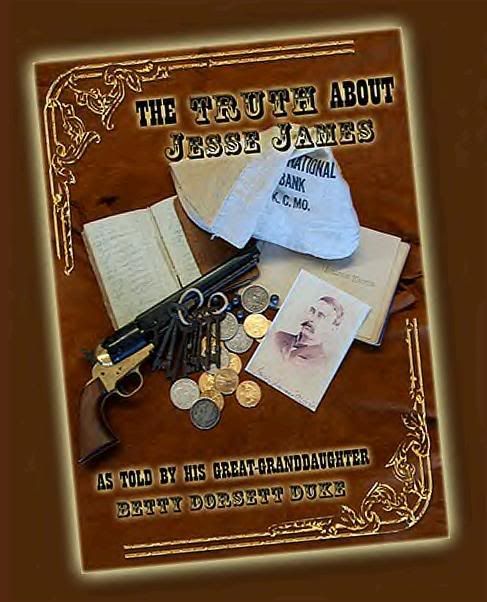 ©
Betty Dorsett Duke's provocative new book will convince many that despite DNA results highly touted as proving Jesse James died as history reports, he lived up to his legend and got away with his own murder. The author presents findings from her investigation of the 1995 exhumation of his reported grave in Missouri showing why the subsequent DNA results are tainted. The author also shows why Bob Ford wasn't a dirty little coward, but instead helped the famous outlaw pull off one of the biggest hoaxes in American history. As his great-granddaughter Duke makes a matching photo case providing persuasive evidence that Jesse James lived up to his legend by getting away with his own murder, assumed the alias of James L. Courtney, hightailed it to Texas, and lived to tell his grandchildren stories about his amazing exploits.
Printed: 676 pages,
6x9, perfect binding,
black and white interior ink
Price: $24.25(Paperback) - shipping already included (per book) with price. ISBN: 978-0-6151-8608-5
---
---
'The Truth About Jesse James' Book Review by Emmett C. Hoctor

Nebraskan Emmett Hoctor earned his Master's Degree in history. Mr. Hoctor conceived the idea to exhume Jesse Woodson James' reported grave in Kearney, Missouri for DNA testing, and is very disappointed in the subsequent tainted DNA results.
"I have been asked to give my impression of Betty Duke's newest masterpiece of a book: "The Truth About Jesse James." To this request I gladly assented. I have known Mrs. Betty D. Duke for nearly a decade. And I can truthfully state that I have never met a person with more tenacity in my life.
Her recent compendium of 664 pages is replete with research that took a decade to be acquired and placed into a pleasing writing style for the beginning Jesse James student; to the die-hard fanatic who prides themselves as being "up" on every obscure item concerning the history of Jesse James (that American History has appointed) to her Great Grandfather who she contends is "the real Jesse James!"
Take her explanation or leave it. The history of others who have claimed Jesse Woodson James faked his death in 1882 is presented in all its complexities. And to, is the commentary on the bogus scientist James E. Starrs; who comes across as less a scientist and even more, less a man. This well researched and painstakingly written compendium concerning all things Jesse James, is a must read for all scholars who want to be included in the latest scholarship.
It is the reviewers humble opinion that this book ought to be given some kind of medal for its many merits. It is a truly monumental work that is replete with the new research and previously published material with a new face to enhance the subject matter. Get ready for the eye strain for once you pick up this book you surely will not be able to put it down until the final page. I repeat myself: this is a masterpiece and should be recognized as such"---"for those about to think!"
Emmett C. Hoctor

---
---
....
..........
..
Status:

Married

Orientation:

Straight

Religion:

Christian - other

Zodiac Sign:

Virgo

Smoke / Drink:

No / No

Occupation:

Outlaw
Play

Play Next

Add to queue

Play

Play Next

Add to queue

Play

Play Next

Add to queue

Play

Play Next

Add to queue

Play

Play Next

Add to queue