Les Anges Au Plus Haut Des Cieux - NOUVEAU !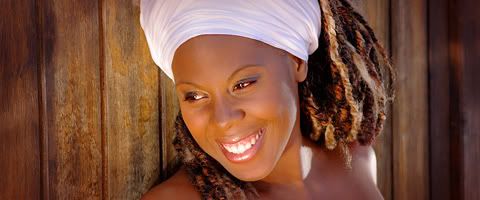 Elle est une artiste au talent hors du commun, et son public du moment l'a considère comme la plus américaine des chanteuses de Gospel francophone. Le rédacteur en chef de Gospel-Magazine l'a ainsi nommée : «La perle authentique du Gospel Francophone». Jessica c'est une voix unique dans la francophonie. Une générosité scénique qui est le strict reflet de sa nature profonde. Ainsi le public la perçoit tel quel est, sans artifices, avec comme seule arme de séduction, son talent qui conquit à chaque fois et sans exception, un public toujours plus nombreux. Ceux qui viennent l'applaudir pour la première fois en concert n'en ressortent jamais indemne... Sur scène, Jessica est un volcan qui fait trembler le sol : une musique percutante, elle arrose abondamment son auditoire en émotions fortes... les frissons sont garantis par l'organisateur à l'entrée, ou rembourse le billet le cas échéant !

. . . . . . . . . . . . . . . . . . . . . . . . . . . . . . . . . . . . . . . . . . . . . . . . . . . . . . . . . . . . . . . . . . . . . . . . . . . . . .

Son parcours scénique l'a conduit à conquérir de nouveaux et différents publics par son charisme et sa volonté que son Gospel s'ouvre aux autres... Son énergie a déjà recueilli l'attention des professionnels puisque que seulement un an après le lancement de sa carrière, Jessica est récompensée aux Prix Sacem 2010 et devient la meilleure interprète féminine ! S'en suit des scènes avec Marcel Boungou, Maggie Blanchard, Caribbean Gospel Festival, direction des chorales Gospel Up et Gospel Season pour les 30 ans de Kassav', choriste pour Richard Smallwood, Mémorial du Dr. Martin Luther King, Nominée à 9 Semaines et 1 Jour, tournée européenne avec Joann Pickens, collaboration avec Tori Robinson, ou encore la 1ère partie du célèbre Kirk Franklin !


Jessica Dorsey véhicule une culture et une musique nourrie par un terroir favorisant la diversité d'expression. Ainsi, c'est tout naturellement qu'elle s'oriente vers le Gospel des églises qu'elle fréquente en famille, et forge peu à peu sa culture musicale dès son enfance. Elle intègre parfaitement cet univers si proche de sa culture. Une musique venue des Etats-Unis, mais qui prend racine dans les souffrances de l'esclavage, et se transforme en expression positive pour les générations à venir…

Ce Gospel qui était exclusivement noir-américain depuis les années 30 a été naturellement adopté depuis près de 20 ans, par la population afro-antillaise de la nation, qui retrouve en lui une branche commune historique, mais aussi spirituelle. Jessica Dorsey, forte des influences musicales de sa Martinique natale, et des nouvelles influences propres à sa génération, devient le fer de lance du Gospel francophone à travers le monde. Elle est régulièrement sollicitée par les médias des Dom-Tom, des USA, du Canada...
Genre: Gospel / R&B / Soul

Location Fort-de-France, Fr

Profile Views: 243309

Last Login: 1/10/2013

Member Since 9/2/2007

Website www.jessicadorsey.com

Record Label Angelsway Music

Type of Label Indie

Bio

Members

Jessica Dorsey : Lead Vocal // Fabrice Pognon : Piano/Keyboards // Joël Feugarol : Drums // Jonathan Martinvalet : Bass // Gospel Up Choir // Director/Programming : Jacques E. Camara

Influences

Lalah Hatterway, Jill Scott, Rachelle Ferrell, Kim Burrell, Rizen, Karen Clark Sheard, The Clark Sisters, Léona Gabrielle, Thierry Fanfant, Tony Chasseur, Jean-Michel Rotin, Whitney Houston, Beyoncé, Mariah Carey, Deborah Cox, Diana King, Pati Labelle, India Arie, Joss Stone, Luther Vandross, Eric Bennett, Joe, Lashun Pace, Kirk Franklin, Il Divio, Andrea Boccelli, Dee Dee Bridgewater, Cece Winans, Ceecee Mickaella, Aretha Franklin, Mahalia Jackson, Kirk Whalum, Tonès, Kierra Sheard, Byron Cage, Marvin Sapp, Fred Hammond, Marcus Miller, Walter Basley, Ben Tankard, Yolanda Adams, Dorinda Clark-Cole, Nathalie Wilson, Casino Light, Kenny Garrett, Kenny G, Debra Killings, Laureen Hill, Fugees, Kelly Price, Alicia Keys, Angie Stone, Mary J. Blige, Malavoi, Dissonnance, Faith Evans, Dru Hill, Anastacia, Kwak, Jagged Edge, Joann Rosario, Lisa Mc Clendon, Donnie Mc Clurkin, Richard Smallwood, Charisse Wilson, Vanessa Bell Armstrong, Martha Munizzi, Bebe Winans, Marvin & Vicki Winans, Commissionned, Lamar Campbell, Hezekiah Walkers, The Murrills, John P. Kee...

Sounds Like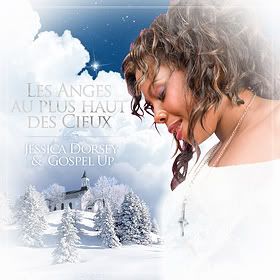 Les Anges Au Plus Haut Des Cieux. Voici la chanson de Noël de Jessica Dorsey issue du titre "I Can Hear The Angels" de Donald Lawrence et Tri-City Singers. Une nouvelle version en français/créole et interprétée avec la chorale 'Gospel Up''. "Les Anges Au Plus Haut Des Cieux", un titre à vous procurer d'urgence pour embellir vos journées et célébrer Noël avec ce refrain inoubliable. Acheter le single.
. . . . . . . . . . . . . . . . . . . . . . . . . . . . . . . . . . . . . . . . . . . . . .

••• Tous les single et albums de Jessica Dorsey sont disponibles sur toutes les plateformes d'achat en ligne.
Jessica Dorsey has 24190 friends.