Play

Play Next

Add to queue
Play

Play Next

Add to queue

2,953 plays

Play

Play Next

Add to queue

447 plays

Play

Play Next

Add to queue

210 plays

Play

Play Next

Add to queue

125 plays

Play

Play Next

Add to queue

117 plays
Genre: Blues / Classic Rock / Jam Band

Location Caboolture, Queensland, AU

Profile Views: 43126

Last Login: 1/6/2013

Member Since 1/15/2006

Website http://members.optusnet.com.au/~jimmcallister

Record Label Jim McAllister Entertainment

Type of Label Indie

Bio

.. .. .. .... Hi, I'm Jim McAllister. I've been playing the guitar since 1971, starting on acoustic. In 1972, I bought my first electric guitar, a Hofner. I've been into the Blues since before I could even play. I'm unashamedly fondest of the British Invasion Blues artists of the 1960s, including Eric Clapton, Alvin Lee, and early Jeff Beck. I learned of the Blues firstly through the British guys and even though I have an extensive collection of African American Blues music, my heart is still anchored in the formative music that first made me realize I needed to play the Blues myself. "You don't choose to play the Blues, The Blues chooses You" is as true today in my life as it's been in those of everyone who lives and breathes The Blues. That notwithstanding, I also love Classic Rock and I've managed to combine the two genres and develop an individual style that owes equal portions to both. I have been in and out of bands since 1972, but always worked a day job. I have been a vehicle builder, a spraypainter and a truckdriver, while playing guitar for fun in my spare time and gigging occasionally when my bands could get the work. .. .. From 1978 till 1988, I didn't play in public because there was nowhere to play thanks to disco. My spare time during these 11 years was taken up by doing competitive Powerlifting. I have lifted weights since 1966. Because it's my nature to try to be the best I can be, I threw myself into it and enjoyed a long career, the highlight of which was winning the Australian Drug Free Championship in the 100 kg division in 1986. I was Runner-up in the Superheavyweight division in 1988 and was ranked Top 10 in the World from 1986 to 1989. .. .. I knew if I waited long enough disco would die out, and sure enough it did. I came back playing in a '50's and '60's band, then played lead guitar in the top originals band in Queensland, winning the Sunny Award in 1993. I then formed the good-rockin' James Gang, and gigged sporadically until 1997. After being made redundant from my truck driving job after 15 years, I decided to pursue a full-time career in music. The James Gang broke up at exactly the same time and at the encouragement of my drummer, I went solo. .. .. I've been a full-time professional musician since October 1997. My reportiore consists of songs by Gary Moore, ZZ Top, Stevie Ray Vaughan, George Thorogood, Cream, Deep Purple, and many other classic Blues/Rock artists. I keep it as real and as live as a soloist can, given that I play to backing tracks. Since June 2005, I've also been a member of TALIZMAN, a three-piece band playing much the same music as I do as a soloist. Click on the link below to go check out my other site that features TALIZMAN'S songs and pictures as well as more of my personal pics. .. .. .. .. TALIZMAN.. myspace page.. ...... For more complete information on what I do and my band TALIZMAN, check out my website by clicking the banner below. .... .. .. .. .. .. .. ...... ...... ..Copy and paste this banner to your myspace... ...... ...... .... Your results:....You are ..Hulk.... ............Hulk.. ........ 100%.. ......Spider-Man.. ........ 70%.. ......Green Lantern.. ........ 65%.. ......Robin.. ........ 65%.. ......Supergirl.. ........ 55%.. ......Superman.. ........ 50%.. ......The Flash.. ........ 50%.. ......Batman.. ........ 50%.. ......Iron Man.. ........ 40%.. ......Catwoman.. ........ 30%.. ......Wonder Woman.. ........ 25%.. ...... ..You are a wanderer with..amazing strength... .... ...... Click here to take the Superhero Personality Quiz........ Actually, I'm The Thing....Any Questions? .......... ........ .......... ............Myspace Layouts......Myspace Graphics......Myspace Backgrounds......Myspace Comments......Myspace Codes...... ............Myspace Layouts......Myspace Graphics......Myspace Backgrounds......Myspace Comments......Myspace Codes........ You see me on the horizon, I always come alone... Traveling the highways, no friend to call my own... Come into your city, don't care how near or far... Hard as nails, a loner, I live by my guitar..... I live my life my way, follow my own code... Living for my music, and the never-ending road... You won't understand me, I walk a different path... Fire burning in my heart, can't do things by half..... You ask me what drives me, as if you'd understand... Never had it easy, never had no helping hand... People try to shut me down, but I won't go away... The Blues and me are partners until my dying day..... Iron in my fingers, and gravel in my throat,.. Everything I feel comes out in every note... Honor in my heart, I've paid up all my dues. .. Don't care what you call me, I'm the Black Knight of the Blues.

Members

I work on my own for most of my gigs. I use backing tracks that don't have guitar and vocals on them because that's what I do. It sounds to the audiences like a full band... I also front a three piece band called TALIZMAN. We play similar music to what I play on my own. Please click on the link provided to view TALIZMAN's site..... ......

Influences

Gary Moore, Alvin Lee, Ted Nugent, Leslie West, ZZ Top, Cream, Zakk Wylde, The Beatles, Guns 'n' Roses, Billy Thorpe, Rory Gallagher, Johnny Winter, Steppenwolf, The Allman Brothers, Gov't Mule, Free.... ........ Gary Moore, Blues guitarist without equal!! .... ........ Alvin Lee, another legendary Blues/Rock hero!.... ........ Another Blues/Rock legend in the making ....

Sounds Like

A cross between all of the above with a heavy bias towards Gary Moore, Alvin Lee and Leslie West
commented on Alvin Lee's profile

"Rest in peace old friend . . . ."
Bio:
..
Hi, I'm Jim McAllister. I've been playing the guitar since 1971, starting on acoustic. In 1972, I bought my first electric guitar, a Hofner. I've been into the Blues since before I could even play. I'm unashamedly fondest of the British Invasion Blues artists of the 1960s, including Eric Clapton, Alvin Lee, and early Jeff Beck. I learned of the Blues firstly through the British guys and even though I have an extensive collection of African American Blues music, my heart is still anchored in the formative music that first made me realize I needed to play the Blues myself. "You don't choose to play the Blues, The Blues chooses You" is as true today in my life as it's been in those of everyone who lives and breathes The Blues. That notwithstanding, I also love Classic Rock and I've managed to combine the two genres and develop an individual style that owes equal portions to both. I have been in and out of bands since 1972, but always worked a day job. I have been a vehicle builder, a spraypainter and a truckdriver, while playing guitar for fun in my spare time and gigging occasionally when my bands could get the work.
From 1978 till 1988, I didn't play in public because there was nowhere to play thanks to disco. My spare time during these 11 years was taken up by doing competitive Powerlifting. I have lifted weights since 1966. Because it's my nature to try to be the best I can be, I threw myself into it and enjoyed a long career, the highlight of which was winning the Australian Drug Free Championship in the 100 kg division in 1986. I was Runner-up in the Superheavyweight division in 1988 and was ranked Top 10 in the World from 1986 to 1989.
I knew if I waited long enough disco would die out, and sure enough it did. I came back playing in a '50's and '60's band, then played lead guitar in the top originals band in Queensland, winning the Sunny Award in 1993. I then formed the good-rockin' James Gang, and gigged sporadically until 1997. After being made redundant from my truck driving job after 15 years, I decided to pursue a full-time career in music. The James Gang broke up at exactly the same time and at the encouragement of my drummer, I went solo.
I've been a full-time professional musician since October 1997. My reportiore consists of songs by Gary Moore, ZZ Top, Stevie Ray Vaughan, George Thorogood, Cream, Deep Purple, and many other classic Blues/Rock artists. I keep it as real and as live as a soloist can, given that I play to backing tracks. Since June 2005, I've also been a member of TALIZMAN, a three-piece band playing much the same music as I do as a soloist. Click on the link below to go check out my other site that features TALIZMAN'S songs and pictures as well as more of my personal pics.
.. TALIZMAN myspace page..
For more complete information on what I do and my band TALIZMAN, check out my website by clicking the banner below.
Copy and paste this banner to your myspace.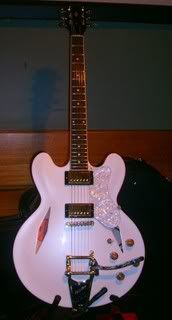 Your results:
You are

Hulk
| | | |
| --- | --- | --- |
| Hulk | --- | 100% |
| Spider-Man | --- | 70% |
| Green Lantern | --- | 65% |
| Robin | --- | 65% |
| Supergirl | --- | 55% |
| Superman | --- | 50% |
| The Flash | --- | 50% |
| Batman | --- | 50% |
| Iron Man | --- | 40% |
| Catwoman | --- | 30% |
| Wonder Woman | --- | 25% |

You are a wanderer with
amazing strength.

Click here to take the Superhero Personality Quiz
Actually, I'm The Thing....Any Questions?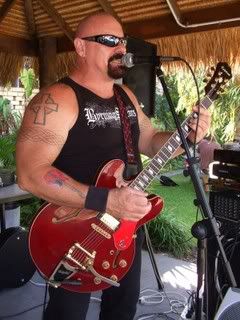 ..
You see me on the horizon, I always come alone.
Traveling the highways, no friend to call my own.
Come into your city, don't care how near or far.
Hard as nails, a loner, I live by my guitar.
I live my life my way, follow my own code.
Living for my music, and the never-ending road.
You won't understand me, I walk a different path.
Fire burning in my heart, can't do things by half.
You ask me what drives me, as if you'd understand.
Never had it easy, never had no helping hand.
People try to shut me down, but I won't go away.
The Blues and me are partners until my dying day.
Iron in my fingers, and gravel in my throat,
Everything I feel comes out in every note.
Honor in my heart, I've paid up all my dues.
Don't care what you call me, I'm the Black Knight of the Blues.
Member Since:
January 15, 2006
Members:
I work on my own for most of my gigs. I use backing tracks that don't have guitar and vocals on them because that's what I do. It sounds to the audiences like a full band.
I also front a three piece band called TALIZMAN. We play similar music to what I play on my own. Please click on the link provided to view TALIZMAN's site.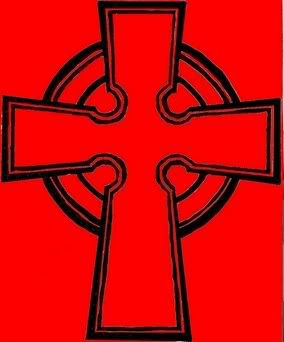 Influences:
Gary Moore, Alvin Lee, Ted Nugent, Leslie West, ZZ Top, Cream, Zakk Wylde, The Beatles, Guns 'n' Roses, Billy Thorpe, Rory Gallagher, Johnny Winter, Steppenwolf, The Allman Brothers, Gov't Mule, Free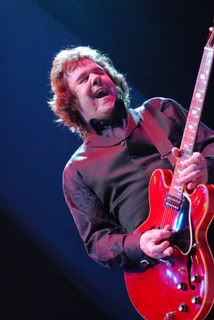 Gary Moore, Blues guitarist without equal!!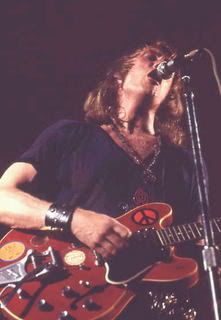 Alvin Lee, another legendary Blues/Rock hero!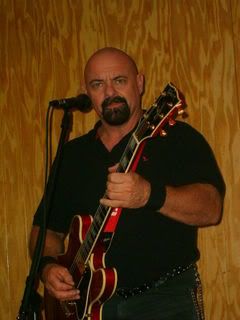 Another Blues/Rock legend in the making
Sounds Like:
A cross between all of the above with a heavy bias towards Gary Moore, Alvin Lee and Leslie West
Record Label:
Jim McAllister Entertainment